Eco Spotlight: SnapPower SnapRays Guidelight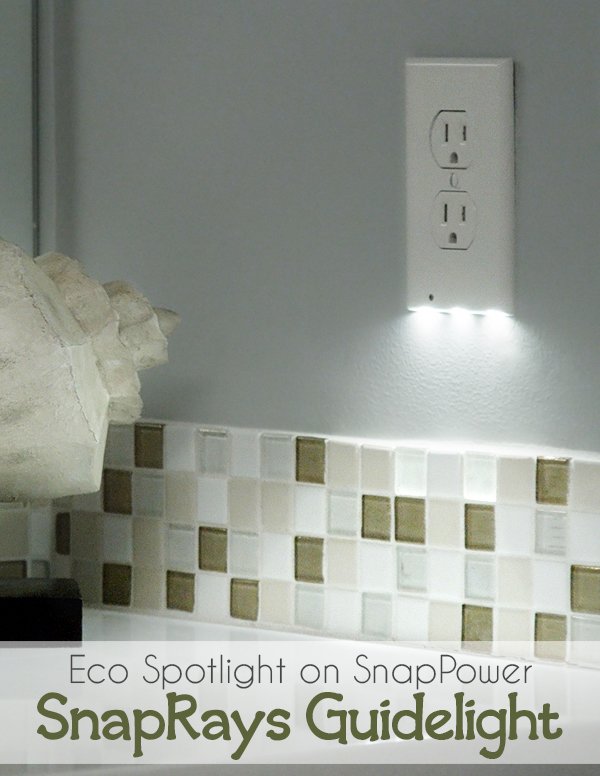 Nighttime can be a scary time for little ones. Whether it's creepy creaking noises, shifting shadows, or nondescript monsters, they all have one variable in common. Each of these things is made unbearable by darkness.
Using a nightlight seems like the logical solution, right?
But, they're not ideal.
Traditional nightlights are rife with issues. They tend to be energy hogs that take up an outlet, work sporadically and, admittedly, don't look very appealing. It's tough to find one that works for any duration of time, meaning that they end up tossed into the garbage.
There's another option, though! SnapPower offers an easy, safe, attractive, energy-saving option. Their ingenious SnapRays Guidelight takes the place of your outlet cover in order to offer safe, reliable lighting while still providing users access to all outlets (and an ability to insert outlet safety plugs!).
The system installs quickly and easily, with no additional wiring or electrical know-how needed. Equipped with a super-smart sensor and LED lights, which last over 25 years and use less than 10 cents of energy per year, these by far beat any other system on the market.
Now, your little one can slumber calmly accompanied by the soft, beautiful light or traipse to the bathroom in the middle of the night without tripping or turning on a bright hallway light. Come daylight, the LEDs automatically turn off and the entire unit blends into the rest of your decor, whatever it may be. You can also rest easily knowing that your child is safe, no longer worried that the bulky old-fashioned nightlights might break or get pulled out by curious little fingers while Mom and Dad are asleep.
The SnapPower company has come to find success in an incredibly short amount of time. Launching with the SnapRays Guidelight in March 2014, SnapPower has already won a plethora of awards, including Handy Magazine's 2014 Innovation Award, This Old House's Top 100 New Products of 2014, 2015 International Builders Show's Best Indoor Living Product and Overall Best in Show. It has been featured by Forbes, c|net, Business Insider, Mother Nature Network, and more. With industry awareness like that, it's hard not to sit up and pay attention.
SnapPower's ultimate goal in their products is to create simple and convenient solutions to power home electronics and automation devices with their innovative prong technology. They hope to provide customers with a unique line of products that solve some of the most basic (and long unsolved) issues in today's homes. With the SnapRays Guidelight and their forthcoming USB charger, they are sure to meet this goal and only grow from there.
As parents, it's good to know that a company like SnapPower is creating products that meet so many important factors. We all strive to live simpler lives, so it's encouraging when a product can answer our basic problems while maintaining intelligent function with beautiful form at the same time. Knowing that the Guidelight was created in this model, with our exact needs in mind, makes SnapPower a company we happily trust to welcome into our homes, even at night.
*This article was part of a collaboration with our advertising partner, SnapPower.