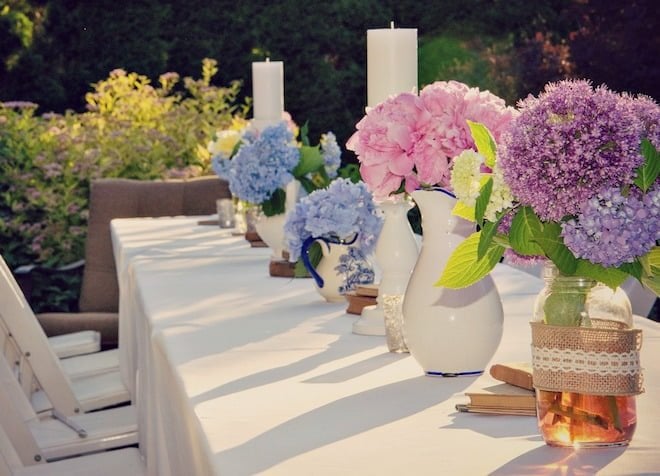 Celebrating the joining of two people is a beautiful thing. If you're hosting a bridal shower, you can make it even more beautiful by giving your favorite bride a shower that's both good for her and the planet.
There's no need to think you have to do everything listed here. Choose the tips that work best for you as the planner and your guest of honor. The goal is to keep it eco-friendly, but, of course…fun!
Create an eco-friendly atmosphere for your bridal shower
There are many ways to decorate a space in an eco-friendly fashion to create a beautiful, natural, celebratory atmosphere for your green bridal shower. Doing so will set an earth-friendly mood that's festive and worth talking about.
Choose eco-friendly table centerpieces | This can include things like soy-based candles, potted plants, or recycled glass vases filled with organic flowers. Better yet, grow your own plants and flowers and use them to decorate your bridal shower.
Skip disposables | Instead of things like streamers, balloons, and confetti that will just be thrown away when the party is over, decorate with items that are repurposed and can be reused once the party is over. Things like succulents, handmade garlands from pretty fabrics, strings of home grown flowers, or kitchen towels that double as gifts.
Table linens and dishes | Let's face it – flimsy plastic tablecloths and disposable plates can be a bit on the tacky side. They're also wasteful and resource-consuming. Use cloth linens, real serving dishes and utensils, and dishes and glasses. And if you don't have enough, borrow some from a friend, or pick up some at a thrift store and drop them off again after the shower is over.
Select a sustainable bridal shower menu & skip party favors
The next thing to tackle is what to serve your guests. Good food helps people feel comfortable and gets them talking… all the more with healthy, local choices! Here are some tips for planning a sustainable menu for your bridal shower crew:
Serve local, organic, or fair trade items | You'll find that you can buy organic fruits and vegetables, Fair Trade coffees and teas, as well as flowers! Visit your local farmer's market – no matter the season – and build your menu around what's seasonally available.
Bake (or buy) a healthier bridal cake | The bigger health food stores have bakeries now, and many offer an impressive selection of cakes and pies made from better ingredients. If you're up to the challenge of baking yourself, you'll love some of these ideas for inspiration:
Gluten-free Strawberries & Cream Cake
Vegan, Gluten-free Lemon Layer Cake
Paleo Friendly Cupcakes
Strawberries & Champagne Cake Balls
Green favors | Don't send your guests home with something that'll just be trashed when the walk in their front door. Make your bridal shower favors (if any) ones that are practical and eco-friendly. Choose items made from biodegradable, recycled, recyclable, and natural ingredients, and ensure that they're high quality. Better yet, send guests home with the plants or floral centerpieces!

Help the bride select sustainable wedding gifts
In addition to working with your bride to select green gifts for her registry (she may do it on her own if she's a green bride), make it easier for your guests to help with these tips:
Display showers | These are really fun and much simpler than conventional bridal shower gift giving. Instead of everyone bringing wrapped gifts, have them bring unwrapped gifts and skip the gift opening. It'll cut down on paper consumption and make for a wonderful talking piece!
Reusable wrappings | Encourage guests to wrap their gifts in reusable "wrappings" like tea towels, linens, fabric gift bags, or fabric wrapping scarves.
Experience gifts | Instead of another "thing," give the bride something that helps make the wedding planning process easier. Think along the lines of giving them a couple's massage gift certificate or pitch in to help with the expense of a green wedding planner. Create a crowdsourcing page to help cover some of the cost of their honeymoon.
Give back | Ask the guests to bring a little something extra in honor of the couple's big day… such as financial donations for the bride's favorite eco-charity or items for the local animal shelter.

Latest posts by Amity Hook-Sopko
(see all)