Healing from the Heart: Fabula Nebulae Handcrafted Natural Skincare
Fabula Nebulae is a woman-owned family business dedicated to providing families with safe, natural, handcrafted, and unique skincare products. We're delighted to share their story and amazing products with you.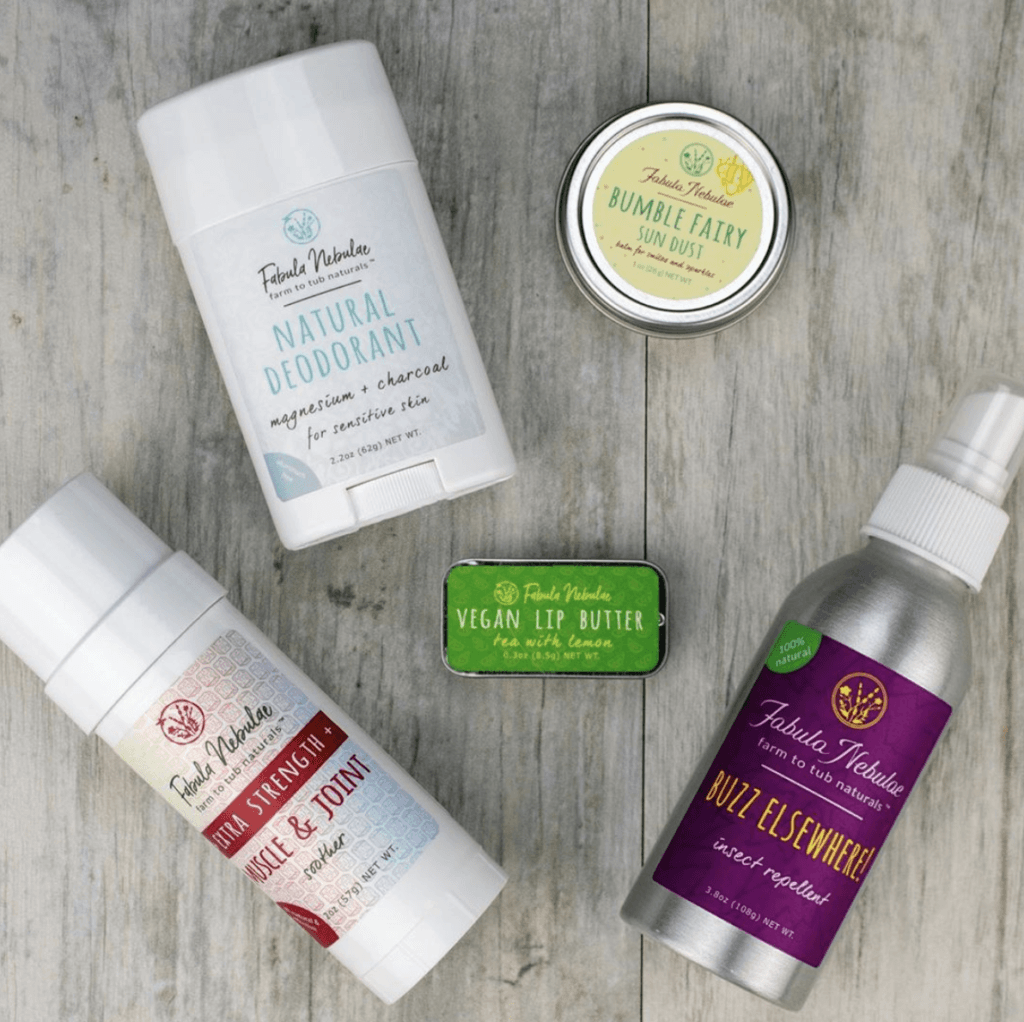 Becoming a parent has a way of making us look at our lives through a whole new lens.
Doesn't it sometimes seem like navigating the sea of choices we're suddenly faced with is almost as overwhelming as suddenly having a little one to care for day and night?
We have to make decisions about the big things – like choosing the name that will fit just right, and feeding, sleeping, and diapering; but now even the everyday things like dry skin, a runny nose, and stinky armpits now warrant responsible decision-making!
"How do I choose non-toxic products that are healthier for everyone, but also do the job well?"
"How do I soothe everyday scrapes and bumps?"
"What will help prevent and treat diaper rash, and works with our cloth diapers?"
"How do I help when my child has frequent bad dreams?"
Community is Important
It's wonderful to have a community to turn to, whether family, a local parenting group, or an online community & resource. As a publication, we take great pride in being a resource for parents, and we're thankful to have the opportunity to learn about and connect with companies that meet the standards we care so deeply about — and that parents can trust.
One such company is Fabula Nebulae — a small, conscientious family business that makes skincare products for the whole family, to help naturally care for that delicate baby skin, and all of those boo-boos that pop up during childhood (and beyond).
Fabula Nebulae is mama-owned and family operated – and we do mean completely – from their product development to photographing, from their website to shipping! The family behind the the brand has poured love into their products, and they strive to create each concoction with great care — as if they were making them for their own children. After all, they are, and that's how the products began.
Fabula Nebulae Beginnings
When trying to navigate caring for their own children's ultra-sensitive skin, they discovered it was difficult to find high-quality, effective, natural choices.
While working in pediatrics and medical research, Pasaka decided to take a scientific approach. She poured so much trial and error into countless batches of salves until she hit upon the recipe that worked so well, not only for her own children, but for friends and family as well.
When their youngest was born, the family found themselves unexpectedly homeschooling, and Pasaka left her training and a full-time job to invest her efforts directly in the education of their three children.
As the kids blossomed, so did the budding business. By word of mouth, the family's natural skincare products gained a following enthusiastic enough to push the venture to become a true company. Pasaka's brother, Justinas, came on board, and with a lot of hard work Fabula Nebulae soon turned into a full-time, family affair.
She tells us how the products are carefully developed, "A background in science and research commanded careful consideration of ingredients, thorough exploration of their qualities and, especially safety: meticulous testing and tweaking of recipes before finally sending them off to people we love with yet another note saying, 'would you like to try this one as well?'
Sensitive skin and sensitive noses in our home required that the formulations be gentle, safe, mild, and as hypoallergenic as possible. For this reason, the base is almost always Quiet the Storm."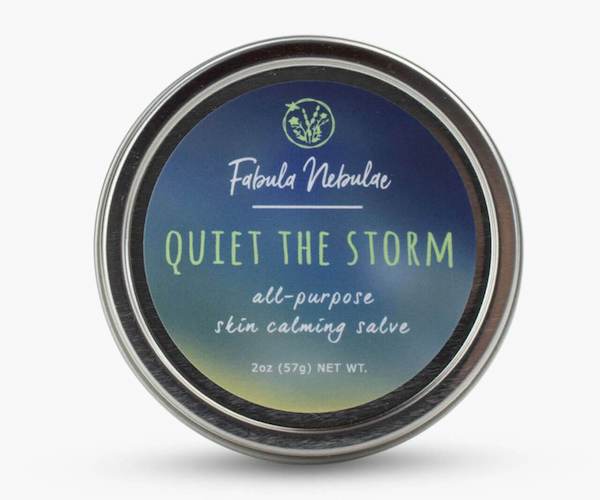 "Most all our products have a story: Desert Rain came about when Mom wished for something lighter than Quiet the Storm for her hands. Monsters Away was mixed up in an exhausted effort to help our little boy make it through midnight nightmares.
The Muscle and Joint Soother was made for Dad after a day cutting fields on the steep slopes in West Virginia made his back ache. Bumble Fairy Sun Dust, a fun balm with a happy scent and just a touch of glitter was mixed up for a sweet friend's little girl who broke her arm and couldn't go to school her very first day of kindergarten."
"Fabula Nebulae products are made with much love, care, and precision. Everything from mixing, pouring, labeling, and shipping, to photography, web design, and communication, is done by our own hands. Our three kiddos are taught at home, but they also learn so much working alongside their family."
Those lovingly family-made salves and solutions can now help your own little ones, too. Whether they have sensitive skin or not, you may be surprised at the usefulness of the Fabula Nebulae line of products.
Products That Heal
Take the adorably-named Monsters Away! Good for kids age 2 and up, this blend of flowers and essential oils and can be used on your child's chest or pressure points to reduce anxiety and calm their nerves at bedtime (you know, the time when monsters are most likely to strike!).
Whether it's from the weather, teething, or just mysterious dryness, Fabula Nebulae's Chapped Cheek Balm is one you'll feel comfortable letting the whole family use. Including their calming salve, this blend helps soothe and protect, chapped faces.
But Fabula Nebulae's ultimate product offers a solution we can all use. How often do we deal with our families' general skin irritations, for real? All. The. Time. With a mix of flowers, butters, and essential oils, Salve to Quiet the Storm does it all. Apply it to scrapes, minor burns, eczema, cuts, chaffed skin, insect bites and stings (hello, summertime!), diaper rash, and even at every diaper change to help prevent diaper rash.
Oh, and did we mention that it's cloth diaper safe? (Although they wisely advise that you test it out on a small section of one of your diapers since many factors can affect your diaper's absorbency.) This item seems like it would make a useful addition to any first-aid kit or medicine cabinet in our homes, doesn't it?
And just in case we didn't love the ethics and care behind all Fabula Nebulae does already, one of their core family principles is making sure they do their part to leave a better world for their children. That's something we can all get behind.
To this point, every sale helps Fabula Nebulae give back to Bee Informed, a non-profit organization that studies bee populations and health on a large scale, and analyzes the pooled data in an effort to better understand honey bee decline. As Fabula Nebulae states, "Their mission and efforts align closely with our values, our personal concerns, and our products. When you purchase our products, you join us in supporting their important work."
And isn't that what community is all about?
Whether it's a parenting community where everyone shares ideas and support, or simply individuals who come together to try to make the world a better place, it's companies like Fabula Nebulae that help us all make safer choices for our families… and for the families around us.
*This article is part of a collaboration with our advertising partner, Fabula Nebulae.
Save