In our Holiday 2020 issue, you'll find everything you need to enjoy a season where all is calm and all is bright. This issue is packed with festive ideas to bring joy to your family this winter. The winter holiday season is a time most of us have wished we could slow down and enjoy more. Maybe 2020 is the year to make that happen.
Several friends (and loads of social media acquaintances) have shared how they're craving the sense of comfort and nostalgia the holidays bring.
Over the years, I've thought a lot about what makes this time of year special and how we can focus more on what brings us joy. For me, it's being present with my family and remembering, when things get too busy or stressful, that people are more important than things or events. That's why I can't wait for you to read Carolina King's article on creating an intentional holiday. From big family traditions to the smallest, spontaneous moments, she shares meaningful ways to make special memories with your family.
And what would this time of year be without a focus on gratitude? Aaronica Cole brilliantly explains how when we feel like we don't have much to be thankful for, that's the time we need gratitude the most.
Other standouts from our Holiday 2020 issue are Janet Lansbury's assessment (including real life parenting in action examples) on how kids really learn empathy, Peggy O'Mara's compassionate take on eliminating food deserts, Sandy Kreps' tips for kindly asking family and friends to cut back on toys this year, a super informative interview with our favorite holistic dentist, Dr. Mark Burhenne, and our annual eco holiday gift guide. 
You'll also find a gorgeously tasty Apple Cranberry Pie from Rebecca Neidhart of Good Things Baking and a nourishing Sweet Potato, Apple, and Sage soup from Krysten Dornik's Happy Healthy Holidays cookbook.
OUTSTANDING GREEN BRANDS
As you read the Holiday 2020 issue, be sure to take a look at the products and services offered by our advertising partners.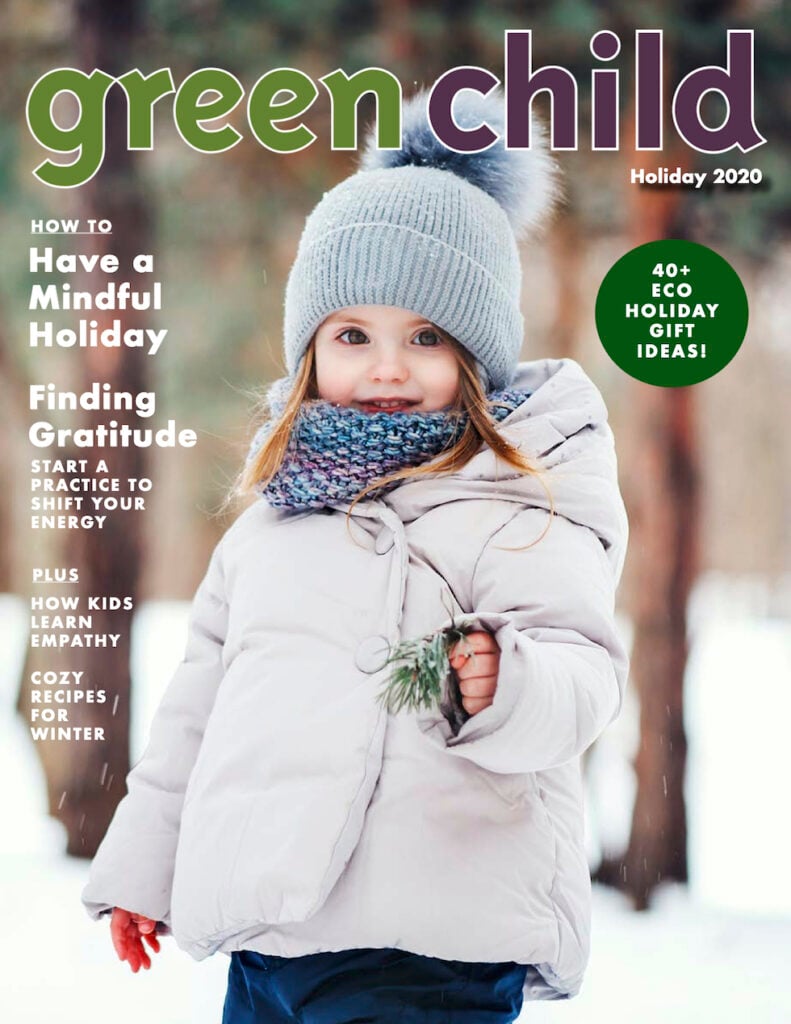 We only work with brands we trust and use ourselves. Plus they're the reason we're able to offer the magazine at no cost to you.
Wiwiurka Toys – Functional, handcrafted toys inspired by Pikler, Montessori and Waldorf promoting active and creative play, especially gross motor development. 
Oak Meadow Homeschool Resources – Choose between homeschool curriculum you use independently OR their distance learning program (great for parents of older homeschoolers because Algebra!)
Earth Mama Organics – Green Child readers can get 25% off Earth Mama's safe, non-toxic care products – including their gift sets – for little ones and pregnant, nursing, postpartum mamas with code MamaHugsGC at this link.
Candlewick Press – With book titles that encompass all ages, from board books to e-books, high-end novelty to cutting-edge fiction, Candlewick press brings to life the stories you love.
Charlie Banana's mission is to create a better world for baby by connecting eco-conscious parents to superior, reusable cloth diapers. They believe that the smallest steps – or tiniest humans – can make a huge difference in the world.
Naturepedic, by far our favorite luxury GOTS-certified organic, brand of nontoxic mattresses for the whole family to help reduce non-genetic childhood cancer cases. They work with The Max Cure Foundation to push for policy reform on hazardous chemicals in consumer household products, while raising awareness on the correlation between toxic chemical exposure and childhood cancer, and preventative action parents can take.
Delilah Home creates high-quality, 100% organic cotton GOTS certified and nontoxic hemp products that are better for your health and for the environment. You can save 20% with code GREEN20.
CBD Plus Oil – This organic hemp-derived oil is versatile and has many healing benefits – including pain relief, sleep aid, and inflammation reduction.
Joovv Go – Science shows the benefits of red light for reducing inflammation, improving skin, joint help, regrowing hair, and reducing oxidative stress. The Joovv Go is a portable red light therapy model at a great price. It's also small enough to fit in your purse. FDA-approved, battery-powered and rechargeable, it's ideal for face, hair, neck, or any sore muscle or joint.
Berkey Water Filters – We use the Big Berkey in our homes to make sure our families aren't consuming heavy metals, pharmaceuticals, and other toxins.
We always love hearing your thoughts about our digital magazine. Tell us what you think of the Holiday 2020 issue on Instagram or Facebook.
Be sure to get your free subscription to Green Child, so you never miss an issue.
Wishing you a merry and bright holiday filled with joyful moments and plenty of time to enjoy them!

Latest posts by Green Child Magazine
(see all)