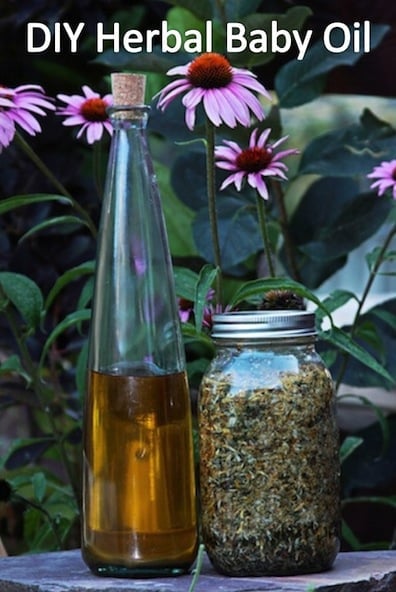 Gardening is a family affair at our house. My toddler loves to pluck handfuls of tomatoes and strawberries and stuff his mouth to bursting. We call him the chipmunk.
My four year old daughter helps me water and harvest a rainbow of yummy fruit and vegetables and then delights to help prepare them in the kitchen.
On the other side of the yard we have the herb garden.
The kids are learning that Mother Nature gives us food to fill our bellies, but she also gives us herbs to make us feel better. Whether it's a scraped knee, a tummy ache or a cold, the beautiful, fragrant herbs can help us heal it away.
One of our staple home remedies is an herbal baby oil.
My little son has dry, sensitive skin and tends to get eczema on his legs. We massage him with this oil after each bath and it keeps his skin moist and healthy. We pick the skin-soothing plants, dry them and infuse them into oil. If you don't have these herbs in your yard, you can easily buy them online or at your local health food store.
DIY Herbal Baby Oil Ingredients
How to make your own herbal baby oil
There are different ways to infuse the herbs into the oil. The old-fashioned method is to mix the ingredients in a glass jar with a tight-fitting lid and let it sit in a sunny spot for 2 to 4 weeks. Shake the jar every day and, after a few weeks, strain the oil with a cheese cloth. If you want you can add a few drops of an essential oil such as chamomile, lavender, or rose.
A faster method is to place the ingredients into the top of a double boiler or into a crock pot. Use very low heat to slowly warm the mixture since the herbs can burn easily and ruin your batch. You have to be especially careful if using a crock pot as they tend to get too hot even on the low setting. To play it safe, you can heat the ingredients for half an hour in the crock pot, turn it off for a half an hour, and then repeat.
Slowly warm the mixture for an hour or two, strain with a cheese cloth and, if you desire, add a few drops of essential oil. You can keep this herbal baby oil handy in a glass jar or bottle and massage your little one with it after their bath or before bed.

Latest posts by Alia Einstein-Diez
(see all)