Green Spotlight: Jack Johnson's All At Once Social Action Network
Each month, we highlight a green nonprofit or movement that inspires us. For Earth Month, it seemed fitting to shine the spotlight on Jack Johnson's All At Once organization. (Plus, with this timing, there may still be time for you to find tickets to one of Jack's shows this year.)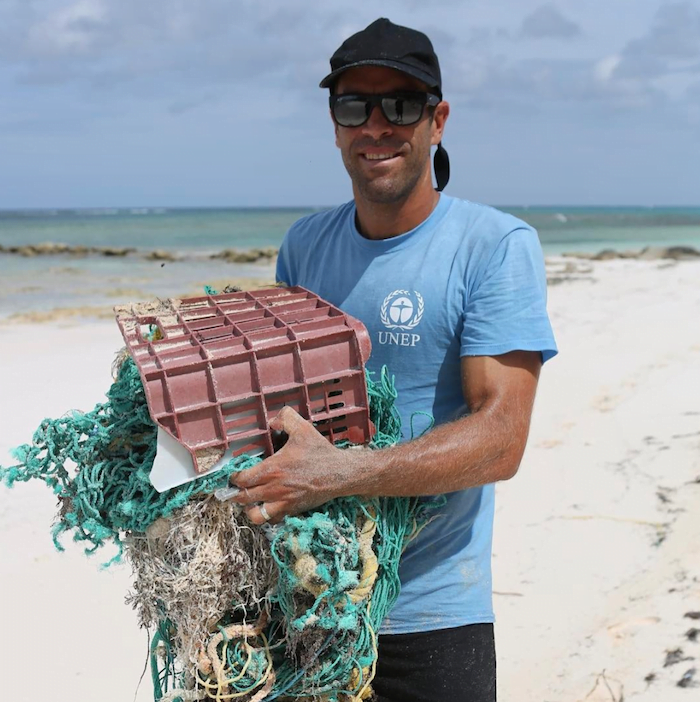 Jack Johnson's tour has been doing its part to go plastic-free for more than a decade.
Jack's music may be chill, but the songs he writes are also deep and meaningful. You'll find plenty of references to environmental and social issues with some anti-consumerism and political nods sprinkled in.
And we have a feeling his wife Kim, whom he calls the brains and ambition behind the tour greening, is every bit as thoughtful and smart. We love that they're using their privilege and his fame to shine a light on these pressing issues.
The Evolution of All At Once
The name of one of Jack's songs (All At Once) became an appropriate title for the efforts they were inspired to put forth as Jack realized the environmental impact of his tour. After the shows, he says he'd look out from the stage at a sea of plastic bottles and think of the waves and beaches back home in Hawaii. It made him question whether touring was the right thing to do.
Luckily for his fans, he didn't give up touring. He found a way to make it more sustainable – and not just for his own show.
All At Once network partners work locally to support sustainable food systems and find creative solutions to reduce plastic waste, and the tour's eco riders call for recycling centers, the use of reusable bottles, water-refilling stations, and a request that venues offset their energy consumption. Once a venue realizes the financial savings from these initiatives, they're more likely to keep them in place full time.
Jack Johnson's Village Green
Village Green pre-show activities are fun… especially if you love staying in the loop on local causes and green projects. The volunteers are outgoing and knowledgable. And they may even let you stand under their tent in a downpour.
Donations to local causes are voluntary, but once you see the work these groups are doing in your community, you'll probably want to help them out. Plus Jack matches donations made at the shows.
When you download the Jack Johnson tour app and visit the booths, they'll help you scan the codes to get enough stamps on your All At Once passport for your free stainless steel pint cup. You can fill your cup at their water stations all night for free or take your cup to concessions and they'll use it for any beverage. Did we mention that this also enters you for a chance to win seats on the stage?
You can also pledge to take a green action and share your photo on social media with their hashtags #AAOPlasticFree or #AAOLocalFood and find your pic at the Capture Your Commitment page — if you scroll far enough you'll see a photo of these familiar faces: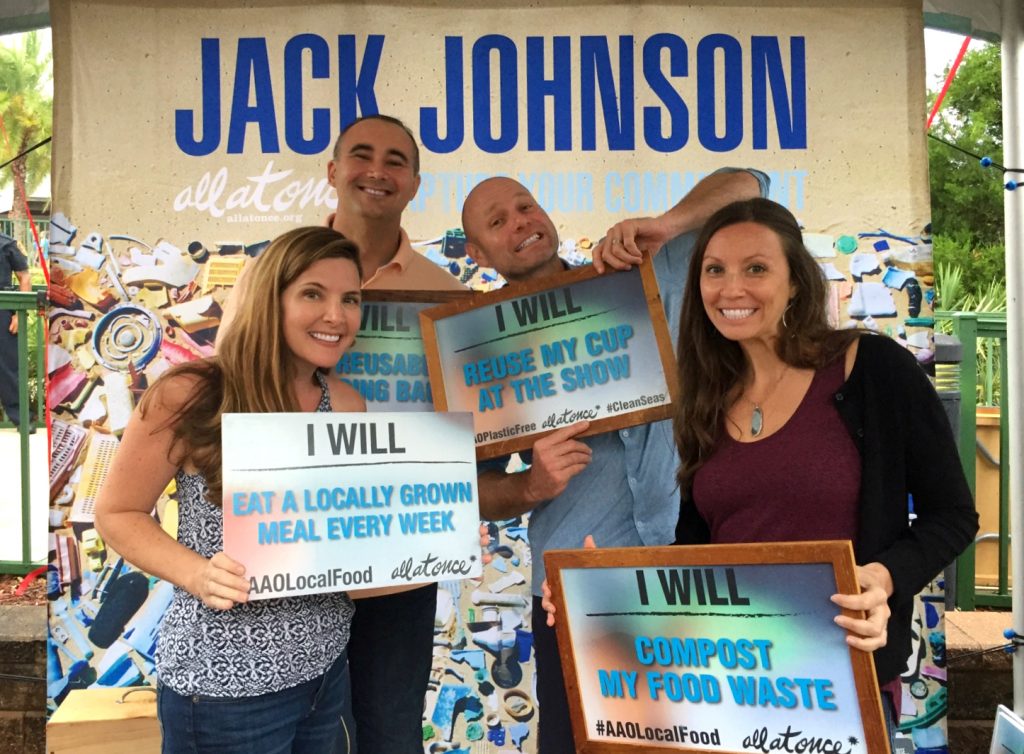 Jack Johnson Tour Greening Highlights
Jack and Kim Johnson are clearly people who walk their talk. You don't have to look far to find their efforts to give back financially and with the use of their own time and energy. What they've done to minimize the impact of the tour AND educate his fans is no small accomplishment.
Some highlights from the 2022 tour greening report are…
56,000 reusable pint cups were sold or given to fans to reduce single-use plastic waste​
26,000 single-use plastic bottles were eliminated by providing free filtered drinking water at the All At Once water stations at every show​
More than $1.5 million was directed to 256 All At Once nonprofit partners​
161 local farms were supported by the Farm to Stage catering program​​
More than 4,527,200 pounds of carbon were offset through support of US Clean Energy Initiatives
If you need an idea for date night or a mini vacation take this one, have no guilt, and run with it. If you can't get a sitter, it's a kid-friendly show, and you'll see all ages there.
Jack Johnson's Meet the Moonlight Tour continues through June 2023. You can find the tour schedule here.
And keep an eye on All at Once for all kinds of sustainable inspiration.