Jen Boulden on Parenting & Living Your Passion
With many lessons learned after a half career in NYC media startups, in 2001 Jen Boulden placed her bets on an inevitable green business revolution and received a "green MBA" from GWU.
After graduating she co-founded Ideal Bite, a daily email publication dedicated to "light green living." Within a few short years, Ideal Bite amassed a following of over a half-million subscribers and was acquired by Disney, at which point Jen Boulden decided it was time to renovate her home in L.A., get married, have a few kids, and help others create the life of their dreams.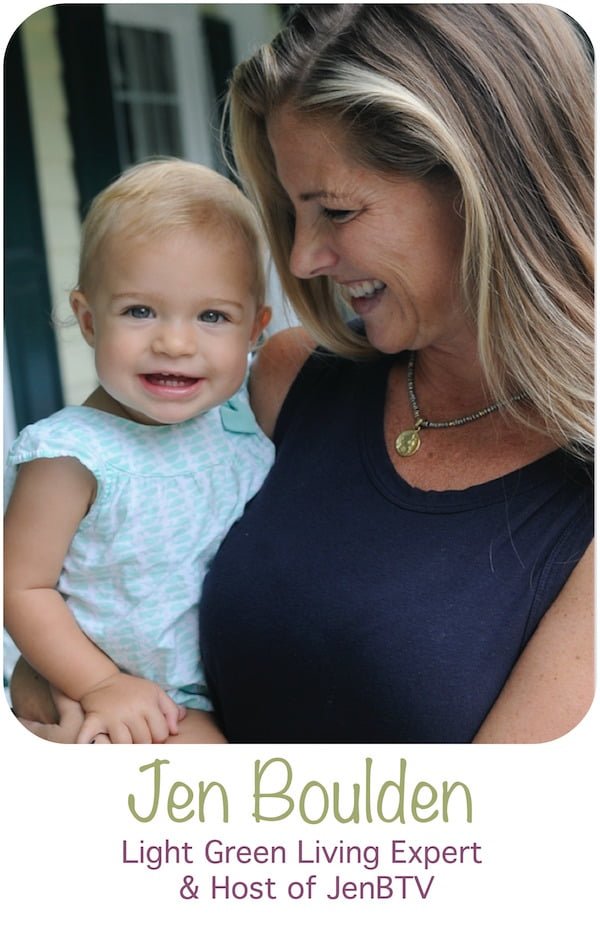 We're thrilled to speak with Jen Boulden about life lessons, parenting, and what she's up to since Ideal Bite's buyout.
Favorite food: cereal
Favorite vacation spot: Ojai Valley Inn & Spa
Favorite way to practice self-care: Not traveling too far or too much, and riding my horse as many days a week as possible.
Words to live by: "Now I see the secret of the making of the best persons. It is to grow in the open air and to eat and sleep with the earth." – Walt Whitman
How would you say your life has changed since becoming a parent?
Jen: It hasn't really changed that much. HA! Kidding. Of course it's a total and complete upside down life changer. Beyond the obvious such as less time for yourself, I've noticed that it has opened my heart up in ways I never knew possible.
Ideal Bite was our first favorite green newsletter. You've been away from it for several years now. What made you decide to start JenBTV?
Jen: Subscribers of Ideal Bite kept emailing and asking me to start something again, that nothing had filled the void left by our green, sassy daily email being closed down by the acquiring company. I didn't want to rely on email to communicate my "light green living" concepts any more because people's inboxes are already so jammed up, plus I wanted to evolve the dialog beyond just tips into discussions and connecting the dots. So I chose a video blog format of sorts, and ended up launching it on the same week I had my first baby.
In terms of it being an important issue, the issue is that it's hard to really get people dialed into green living concepts when they are super busy just keeping their life rolling, especially with kids and/or a full time job! So I try to make it fun, relevant, and the concepts easy to incorporate.
Any advice for the new m

oms ou

t there?
Jen: I love what one nurse told me when I was worried about handling my newborn. She said, "don't worry, they don't break." And it's true – they are a lot more resilient than we think. This helped me sort of relax about having to do everything "just right."
Any advice for someone looking to live his or her passion?
Living your passion is a dream for most, an aspiration. I think it's actually more discouraging when people compare their jobs to their passions. For example, one of my passions is to ride horses, yet I know I am never going to get paid to do it. So what I focus on instead is having good goals, and going after them, one directionally and without regret. This brings happiness and a "flow state."
What would you like to go back and tell your 20-something self?
1. Wear sunscreen.
2. Don't smoke.
3. Be nicer to older people because you will be one soon.
What's the biggest lesson you've learned from your work?
I was incredibly fortunate in that I was able to accomplish a whopper of a goal, and played a big part in helping bring green mainstream. It was partly due to that age old quote about "luck is what happens when preparation meets opportunity," in that I had been preparing for quite sometime to be able to brand and grow a green media company, and the opportunity presented itself because green really did hit a high note around 2007, putting Ideal Bite on the map (and all over the magazines and TV).
My lesson came after; when I attempted to do a few other pretty huge things, and sort of assumed I could just wave my magic wand. The economy had changed, but I didn't let that daunt me. My life had changed, but I didn't take that into consideration. Looking back I wish I would have just relaxed a bit more, and accepted "what is" instead of trying to force another huge success. I've definitely made parts of my life harder than they had to be.
And with my first baby, I don't remember a chunk of his babyhood because I was so concerned about getting left behind. Now I realize that's pretty stupid. Thank God I had a second. While I'm not wired to be a full time at-home parent, I am incredibly grateful and present with her – with both of my children – at every opportunity I get.
Keep an eye out for Jen's latest projects at JenBTV.