Curb your sugar cravings and help relieve brain fog with this keto chocolate fudge – complete with healthy fat, protein, and the tart punch (plus antioxidant boost) of goji berries.
During my second pregnancy, I developed gestational diabetes. I've suffered from PCOS for most of my adult life, so I wasn't super shocked when my doctor delivered that bundle of news at my 20-week appointment.
Although I try to keep a check on my sugar intake in general, I found that I became extraordinarily sensitive to any sort of sugar. My head would pound, my stomach would turn, and I would need a nap immediately. I knew what was happening in my body before I had the blood work to tell me. And holy mother, I was bummed to figure it out.
My amazing doctor, who is also a midwife, helped me troubleshoot and figure out how to support my body and my baby. I tried not to let the obvious anxiety overtake me. I sometimes succeeded, but often not.
If you've ever had fertility troubles that resulted in a much wanted rainbow baby, well, you know. Anxiety is kind of your BFF.
You worry about things you could never imagine as a non-pregnant human. Those worries, if you are very lucky, only consume part of your day in isolated, easily managed bursts. If you're less lucky, they wash over you at every hour, sucking you down a flooded rabbit hole of mostly-baseless-but-some-legitimately-founded fears.
Gestational diabetes turned out to be the former for me.
One of the first adjustments I made was cutting out sugar. I know, basic. That didn't feel hard, mostly because I felt like complete trash after eating an orange or nibbling my favorite gluten-free cookie. But the carbs were coming for me, and I had to kick them out, too.
This was HARD.
I found myself struggling to feed myself during this time. That's not surprising. We are constantly multitasking as pregnant women. Even when we are sleeping, we are still growing another human being with our bodies.
Keto Chocolate Fudge to the Rescue
Multitasking on that level requires brain space and physical energy and adding extra things like taking care of other children that are already outside of your body, working, etc., sucks that energy right out of my bones and makes my brain a void and dusty place to store incomplete to-do lists and memories of my early 20's that I wish I could forget. What little space remained for daily tasks was thoroughly absorbed by my family and making sure I just kept us all alive.
I knew that whatever changes that I had to make to my diet would need require very little effort and easy access and eatability. A quasi-Ketogenic approach seemed like my best bet.
This keto chocolate fudge saved me. Fat, protein, chocolate, with the tartness of a goji berry and the crunch of cacao nibs always hit the spot and kept my blood sugar down while giving me tasty fuel for the day.
My brain also appreciated the hit of fat and the brain power boost it provided.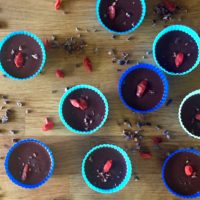 Ingredients
1

bag Lilly's Dark Chocolate Chips

1

cup

nut or seed butter

Note: Plain tahini is my favorite, but it definitely adds a deep earthiness to the fudge.

2

Tbsp

butter or coconut oil

1

tsp

vanilla extract

1/2

tsp

Garam Masala spice

2

Tbsp

cacao nibs

2

Tbsp

Goji berries
Instructions
In a double boiler, melt chocolate chips, the nut or seed butter of your choice, and butter.

Stir until smooth and glossy.

Remove from heat, and stir in vanilla extract and garam masala.

In mini muffin tin or silicone mold, spoon mixture until it fills 3/4 of the space.

Sprinkle cacao nibs and goji berries on top.

Refrigerate for one hour until firm.

Store in the refrigerator or freezer for up to three months in an air tight container. But don't worry, they won't last that long!