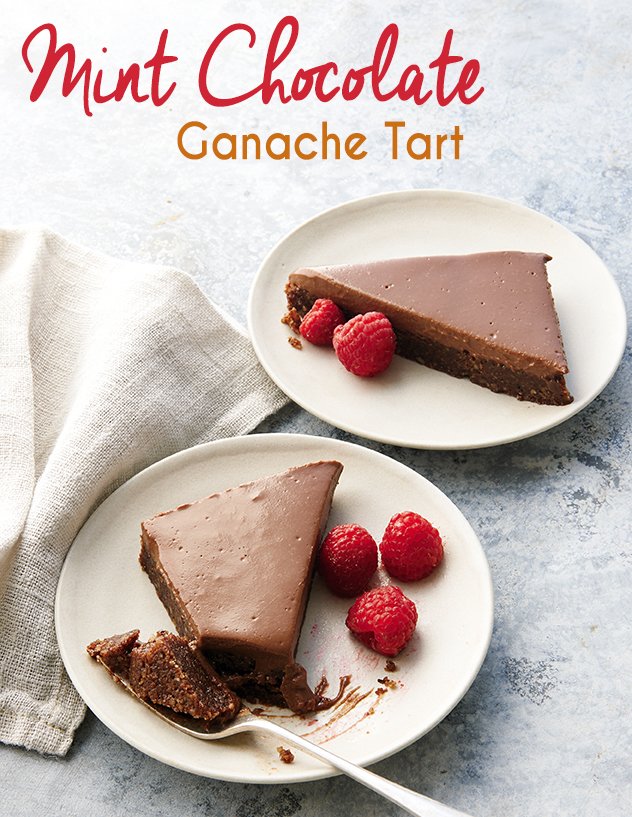 Say the chefs at Ravens' Restaurant: "We put our Chocolate Ganache Tart onto the menu more than 14 years ago. We tweak it continuously to ensure that we remain excited by this, our most popular dessert."
"The crust has changed many times–from somewhat of a chocolate piecrust, to a chocolate walnut crust, and, in this iteration, a gluten-free chocolate, almond, and hazelnut crust. The almonds are from nearby, and we have recently started growing our own hazelnuts. We added mint 2 years ago and haven't looked back."
"A refreshing and satisfying dessert that diners often leave saying, 'I can't believe it's vegan!'"
Mint Chocolate Ganache Tart
Ingredients
Crust
1 1/4

cups

almonds

1 1/4

cups

hazelnuts

1/4

cup

cane sugar

1 1/2

tablespoons

cacao powder

3/4

teaspoon

salt

6

tablespoons

coconut oil

softened

1/2

tablespoon

vanilla extract Water

as needed
Filling
1/2

box

12 ounces silken tofu (Wildwood SprouTofu preferred), drained

1/2

cup

water

1/2

tablespoon

vanilla extract

1

teaspoon

mint extract

or 1/2 bunch fresh mint

1/2

cup

unbleached cane sugar Scant pinch of salt

1/2

cup

semisweet vegan chocolate chips
Instructions
To make the crust
Preheat the oven to 350°F.

In a food processor, combine the almonds and hazelnuts. Grind the nuts to a very fine consistency. Add the sugar, cacao powder, and salt and pulse the ingredients. Pour the mixture into a large bowl. Add the oil and vanilla and toss, adding water until the mixture sticks together.

Press the mixture into a 12" x 12" baking dish and bake for 10 minutes, or until brown. Let cool before pouring the filling on top.
To make the filling
Place the tofu, water, vanilla, mint, sugar, and salt into a medium saucepan. Mash the tofu lightly into smaller pieces with a potato masher or whisk. Bring the mixture to a boil. Reduce the heat and let simmer for 15 to 20 minutes, or until the liquid reduces and the tofu turns light brown. Turn off the heat, add the chocolate chips, and stir until melted.

Place the mixture in a high-speed blender and blend until smooth. Pour into the cooled crust. Refrigerate for at least 2 hours, or until well chilled. Slice and serve cold.

Any remaining filling can be refrigerated. It will stiffen when cool, but can be melted down over low heat or in a double boiler and poured into a pre-baked tart shell.
Notes
Reprinted from Living the Farm Sanctuary Life by Gene Baur with Gene Stone. © 2015 by Gene Baur. Photographs © 2015 by Rodale Inc. By Permission of Rodale Books. Available wherever books are sold.
Latest posts by Green Child Magazine
(see all)