Oscha Baby Slings And How They Promote Baby Bonding Time
The connections we make with our babies are some of the most empowering, meaningful aspects of parenting. In essence, baby bonding time fosters trust-building, awareness of a safe space, and the development of deep, emotional relationships.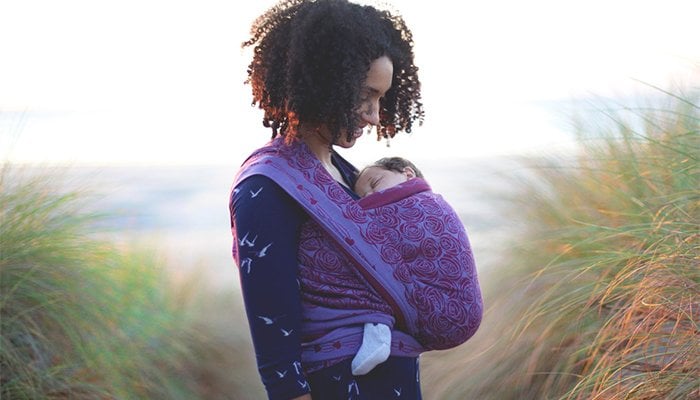 Babywearing is one simple way to bond with your baby every day. Baby slings and wraps can help a little one bond with their parents by gaining a sense of security. And whether with a woven wrap, ring sling, or structured carrier, the closeness of babywearing offers a plethora of other benefits too.
Babywearing can help reduce crying and symptoms of colic and reflux. It can also encourage positive brain development through constant positive touch and interaction. And babywearing can enhance healthy hip and spine development while also reducing the chances of flat head syndrome. A baby can also better develop their core muscles while in a sling or wrap. Plus babywearing can offer temperature regulation benefits and kangaroo care opportunities for premature babies.
The Benefits of Babywearing Extend to the Whole Family
Your baby isn't the only one who can benefit from babywearing. The practice has been known to reduce cases of postpartum depression by increasing  levels of oxytocin. This is a hormone released during labor and breastfeeding that helps to lessen anxiety and depression. Oxytocin is also released when you hold your baby close. So, babywearing can benefit dads as well as moms.
Parents can also benefit from the ease of mobility that babywearing provides adults. Babywearers can carry on with their day-to-day tasks while using both hands, say if they have to care for other children or run errands.
Further, other caretakers can enjoy the closeness and convenience that babywearing has to offer. Grandparents, aunts, uncles and friends can bond with your baby and keep them feeling comfortable and secure.
A Company Founded on Quality and Care
Oscha Slings founder and co-director Zoe Masters knows all about these benefits. "When my daughter was only 16 months, I gave birth to premature twin boys," Zoe tells us. "It was hard to juggle everyone's needs; luckily I already used slings with my little girl so I knew how helpful they are. It was wonderful to be able to comfort the babies, whilst getting daily tasks done and spending quality time with my toddler."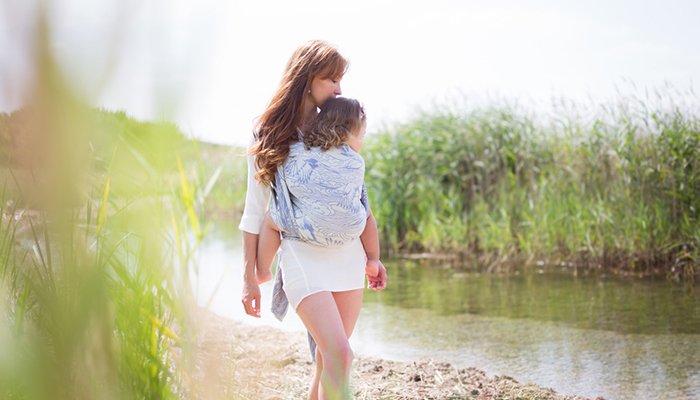 One of Zoe's favorite parts of babywearing is the mobility it allows. "I really enjoyed the freedom that comes with being able to go anywhere, it was easy to maneuver through busy streets or go for a walk in the Scottish countryside."
There is an unbroken babywearing tradition within Zoe's family. The Welsh nursing shawl was used for generations by Zoe's father and Oscha co-founder Mike Masters' grandmother's family. His own mother was carried in one until she was 3-years-old, and Mike used a carrier with his own children.
Because of this personal experience and a love of art and design, Zoe was inspired to begin weaving wraps that were designed and crafted with both parent and baby in mind.
Oscha Offers Baby Bonding Time and Ethical Manufacturing
Born in 2011, Oscha Slings has always used ethically sourced yarns of the finest quality. And have paired the quality construction with unique, timeless and fashionable designs. As a small family business with a workshop near Edinburgh in Scotland, Oscha was the first jacquard woven sling company in Great Britain.
Woven wraps are a perfect way to carry and support your child from birth onwards as they mimic the feeling of a snug and secure hug from the wearer. Easy to use, a wrap supports the natural, ergonomic position of the baby as she snuggles against you.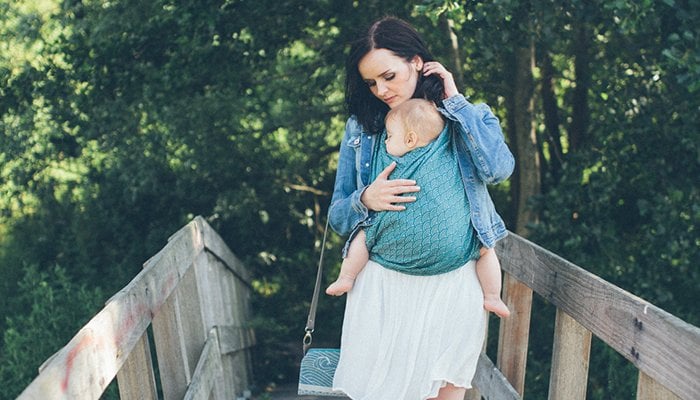 The team at Oscha Slings believes in creating products that have a low environmental impact. And they are committed to help grow the local economy. Because of this, their gorgeous fabrics are all woven in the UK. And all manufacturing is carried out in Scotland, with the majority being undertaken in-house. They value the skills of their small, diverse team and encourage its creativity and development.
Collaborations with artists from around the world helps the company come up with unique, themed collections. Their styles take inspiration from the natural world, with a focus on Scottish culture and landscape as well as links to Japanese culture through the Japanese branch of the family.
The Babywearing Way
The family and team behind Oscha Slings would like to welcome you into its own clan's tradition. Join the parents, grandparents, uncles, and even friends who have enjoyed the baby bonding benefits that come along with carrying their children. Their mission is to spread the joy of babywearing with other families, and they hope that their wraps will allow you to do that in complete comfort and style.
[easingslider id="15619″]
*This article was part of a collaboration with our advertising partner, Oscha Slings.