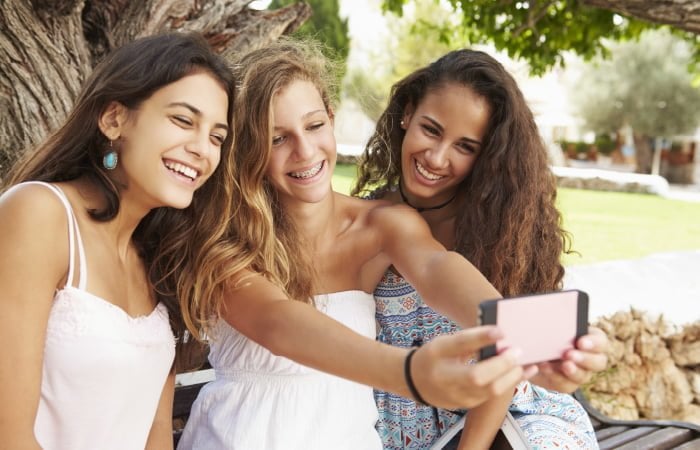 It takes a fair amount of self discipline to manage the responsibility of a cell phone – and most kids are not ready for that before middle school, if then. In fact, since the prefrontal cortex is not fully developed until the mid-20s, middle schoolers are famous for not having as much impulse control as we'd like.
Middle schoolers have a hard enough time managing the temptations of social media, sexting, and addictive games on computers. Handing them a phone that they can use constantly, without your supervision, is like handing a child an addictive substance and then not monitoring them.
So it's natural to worry when your child is ready for her first cell phone, even if you think he or she is generally responsible. Yes, this device is an instrument of connection, and it will allow you and your child to be more connected when you're apart. But it's also a symbol of separation, a reminder that your child is now spending enough time at a distance from you – and other supervising adults — to need it.
Worse, it's a harbinger of the dangers lurking in the outside world that threaten to pop up and menace your child at any time, without you there to stop them.
A Guideline for Creating Your Family's Cell Phone Rules
Many parents think a contract with their child is unnecessary or silly. But a written agreement is a great way for your child to step into this new responsibility without you over-parenting.
When that first cell phone comes with written rules and responsibilities in the form of a signed agreement, young people learn how to handle them responsibly. If you ask your kids what they think the rules should be, and negotiate until you're happy, they will "own" those rules.
Here are some suggested rules to get you started…
Never send anything you wouldn't want forwarded to everyone in your school, your principal, and your parent. Remember that everything you send can become public.
Always ask before you forward a text or photo. Be respectful. How would you feel if someone forwarded an unflattering photo of you?
Always ask before you take a photo or video. Even once someone has given you permission to take a photo, ask before you post it.
If someone asks you to send a sexy photo, remember that even with Snapchat, the picture can be copied and forwarded to others. Anyone could see it. It happens all the time to great kids. Just don't send it.
If you receive a sexy photo, immediately delete it from your phone, tell your parents, and block the number so you can't receive more. Possession or distribution of sexual pictures of people who are underage is illegal.
Never broadcast your location or post your cell number.
Never respond to numbers you don't recognize
If you receive an unsolicited text, that's spam. Don't click on it. Instead, tell your parents so they can report the problem and have the caller blocked.
Don't download apps without your parents' permission
Don't wear your cell phone on your body and don't use it if you can use a landline. Cell phones are always looking for a signal, and that means they're sending out waves that you don't want going through your body. Cancer? Maybe. We don't know enough yet. So why not just be cautious?
Set up your charging station in the living room so your phone is not in your room at night.
No cell phones out of your backpack while you're in class. And of course turn the sound off.
Have a life. Don't feel obligated to respond to texts right away and don't text until homework is done, during dinner, or after 9pm.
L8R – Later! If you're driving, turn off your cell phone and put it in a bag where you can't reach it in the back seat. (Make sure you have directions before you start out.)
Monitor your phone usage to prevent addiction. Our brains get a little rush of dopamine every time we interact with our phones. Why is that a problem? Because it can distract us from other things that are important but maybe not so immediately rewarding, like connecting with our families, doing our homework, and just thinking about life.