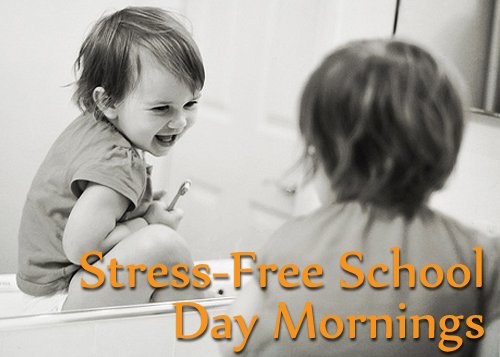 With school starting, now is the time to set routines in place that help ease your children through the transitions of their day.
For school-age, preschool and day care kids, the three most important transitions to manage are morning, the after-school transition, and evening/before-bed.
Creating simple routines can make the day go smoother:
Morning
Encourage children to take responsibility for getting themselves ready for the day. A chart of each step of the "getting ready" process can cut down on the number of reminders you have to give.
Have a standard rotation of simple breakfast options, including a few "to go" items for those extra-crazy mornings. Crockpot oatmeal, toast, yogurt, cereal and fruit are all easy, healthy choices. Muffins, bagels or breakfast bars make good "to go" options.
Associate tasks with specific times, such as what time you should be eating breakfast, and use a timer or cell phone alarm for reminders to get going. If you know you need to leave the house by 7:30, set an alarm to go off at 7:20 and again at 7:25 to prod you out the door.
Keep screen time off-limits in the morning. Once kids get involved in a show or electronics, it's often difficult to get them to shut down and go. If your children are ready early, encourage them to play or read until time to leave.
Padding extra time into the routine can save you from disaster, since anything from a missing shoe to a spilled milk cup can throw everything off schedule. Figure out how much time you really need to get out the door (time yourself for a week to get an accurate number), then add 15 minutes.
After-School Transition
When kids get home, they're usually hungry. Make healthy snacks easy by putting snack bins in the fridge and pantry so kids can help themselves. The pantry bin can hold trail mix, raisins and energy bars, while a fridge bin may have yogurt, fruit or other healthy snacks.
Encourage kids to change out of school clothes as necessary, and hang up any uniform pieces that need to stay neat. If your kids have after-school activities. Now is the time to change into appropriate clothing and get gear into the car.
If you like your kids to do their homework immediately after school, establish this routine from the first day and stick to it. Set up a homework station at a desk, or keep supplies in a portable container if the dining table is being called into service.
The Evening Routine
Check your calendar so school events, appointments and meetings don't sneak up on you. Also check your weather app, so you know if you'll need cold weather gear, umbrellas or extra sunscreen.
Set up a "launch pad" area for bags, keys and other items you'll need for the day. Pack backpacks, musical instruments and sports equipment the night before to ensure you have everything. Check your child's homework and ensure his backpack is packed before he goes to bed, so permission slips, lunch money, gym clothes, and school projects aren't forgotten.
Prepare lunches the night before, and pack any snacks children need for school or after-school activities. Line up lunchboxes and water bottles in the fridge to grab and go in the morning.
Choose clothing the night before and make sure to include underclothes, shoes and accessories. Hang the outfit on the closet door knob so your child knows exactly what she is supposed to wear.
Make sure everyone gets enough sleep. A child (and a parent) who is well rested will have a much easier morning that one who repeatedly hits the snooze button. Also, waking kids gently, with kind words, hugs and kisses, helps ease children into the day more positively than barking "get up!"
Top Photo Credit: demandaj via photo pin cc
Latest posts by Sandy Kreps
(see all)