Snoop Dogg's Affirmations Song Teaches Mindfulness to Kids
"Today's gonna be an amazing day!" Start your child's morning on a positive vibe with Snoop Dogg's affirmation song.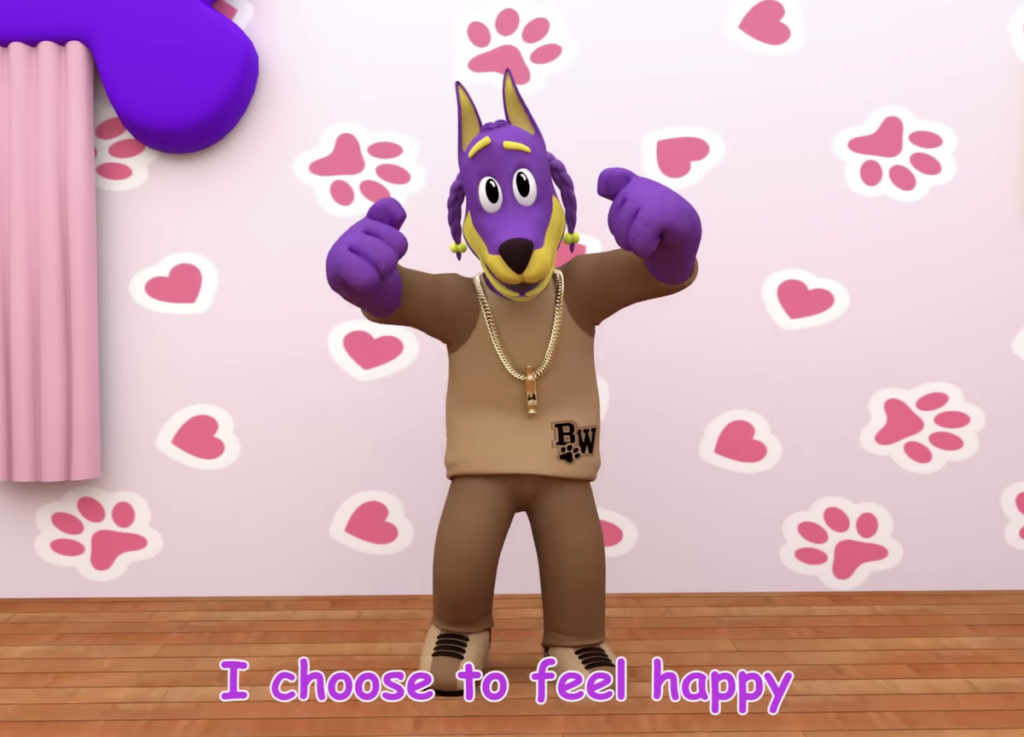 Because we share so many meditation resources for kids, I'm pretty aware of the kid-focused mindfulness tools out there. So imagine my delight when I walked into pilates class in a not-so-cheerful mood, and my favorite teacher, Meg, said, "You know what you need? Snoop Dogg's affirmations!"
Then she turned on the catchiest, sweetest, and let's be honest – smoothest – positive jam for kids. And instantly twelve grown women smiled, laughed, or nodded their heads.
Well, some looked at each other like, "huuuh?" but I bet they grooved about the rest of their day singing, "There's no one better to be than myself."
Snoop Dogg's YouTube Channel for Kids: Doggyland
The affirmations song is part of rapper and producer Snoop Dogg's YouTube Channel that launched last year. Doggyland includes a colorful cast of dogs who use song, dance, and rap to teach social emotional development and the power of positive affirmations to toddlers and kids up to age 8.
The Doggyland & Snoop channel shares new educational songs each Tuesday. They sing about reading, letters, numbers, colors, animals, good habits and hygiene, acceptance, and inclusion through modern remixes of classic nursery rhymes and original songs.
"As a father, grandfather, and longtime youth football coach, it's always been important to me to build positive and educational environments for all children. We wanted to bring our show to YouTube and YouTube Kids which provides free access to everyone, so all the kids can enjoy it," Snoop Dogg said.
"I've always wanted to create a series that lets kids be kids and is truly representative of the culture with everything from the music to the characters."
The Benefits of Positive Affirmations for Kids
Affirmations are a simple and fun way to teach kids mindfulness. Author and founder of Hay House, Louise Hay said that saying an affirmation was like planting a seed in the ground. Feeling good and having positive thoughts helped nourish the soil for the seed to grow. "The more you choose to think thoughts that make you feel good, the quicker the affirmations work."
Snoop Dogg's affirmation song includes simple phrases kids can relate to like:
My feelings matter.
I get better every single day.
I choose to feel happy.
My family loves me so much.
I care about others.
I learn from my mistakes.
I'm surrounded by love.
Every problem has an answer.
These statements can help them overcome negative thoughts and develop a strong sense of self.
Since its launch in May 2022, Doggyland has more than 93 million views with about 12 million of both affirmations songs. But Snoop Dogg hopes kids don't just jam along with Doggyland's songs.
He wants them to take the messages to heart. "You can just be you and be accepted in Doggyland, and that's what these characters represent—diversity. So kids can learn to love each other from the beginning."
The song continually goes viral on Instagram and TikTok, with parents saying they enjoy the car ride playlist as much as their kid does. And the adorable Savannah McConneaughey even made up her own lyrics to the affirmations song.
How does Snoop Dogg sum up the reason behind his work for kids?
"Hate is what's taught. Love is what's in their heart."
You can also find the song on Spotify, Amazon, and Apple Music.
If you're looking for more mindfulness resources for kids, subscribe below or check out our guided meditation scripts.