Mother Nature might be teasing us with warmer weather, but the Spring 2013 issue of Green Child Magazine brings a hot reader favorite — our 3rd Annual Eco Baby Gear Guide!
You'll find our top picks for safe, non-toxic baby items. We searched high and low for the safest, most convenient and eco-friendly baby items… so you don't have to do the guess work. From nursing to babywearing and diapers to bedding… we've got you covered.
Our Spring issue is also filled with ways to bring natural fun and meaning to Earth Day, Easter, Arbor Day, and Screen Free Week! You'll find everything from eco-friendly crafts and healthy recipes to Spring Break travel safety, fundraisers that count, natural discipline for every age and stage… and one of our Executive Editor's favorite articles… The Green Mom's Guide to Spring Sports Season!
So settle in and read this issue from cover to cover for all your favorite natural parenting and eco-friendly living ideas. Or if it's nice outside, take your tablet and enjoy Green Child while you soak up some early spring Vitamin D.
Be sure to grab your FREE subscription to Green Child Magazine. As always, we love to hear what you think. Jump into the conversation and share your thoughts on Twitter, Facebook, or Pinterest.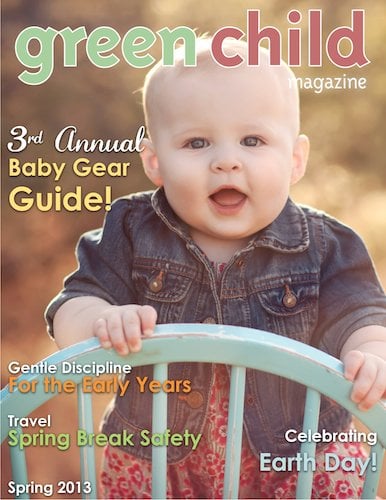 Latest posts by Green Child Magazine
(see all)