The Summer 2020 Issue of Green Child Magazine
In our Summer 2020 issue, you'll find everything you need to enjoy a relaxing, fun Summer with your family!
Summer is ripe for spending time in nature, eating seasonally, and enjoying plenty of downtime. Browse this breezy issue to learn more about creating your own victory garden and boosting your child's microbiome. We're also covering the main chemicals pregnant women should avoid.  
As always, you'll find positive parenting advice, book recommendations, healthy recipes, fun ways to enjoy the summer with your family, and a special guided meditation script for kids.
Be sure to get your free subscription to Green Child, so you never miss an issue. Pin the cover to share or save to read later.
OUTSTANDING GREEN BRANDS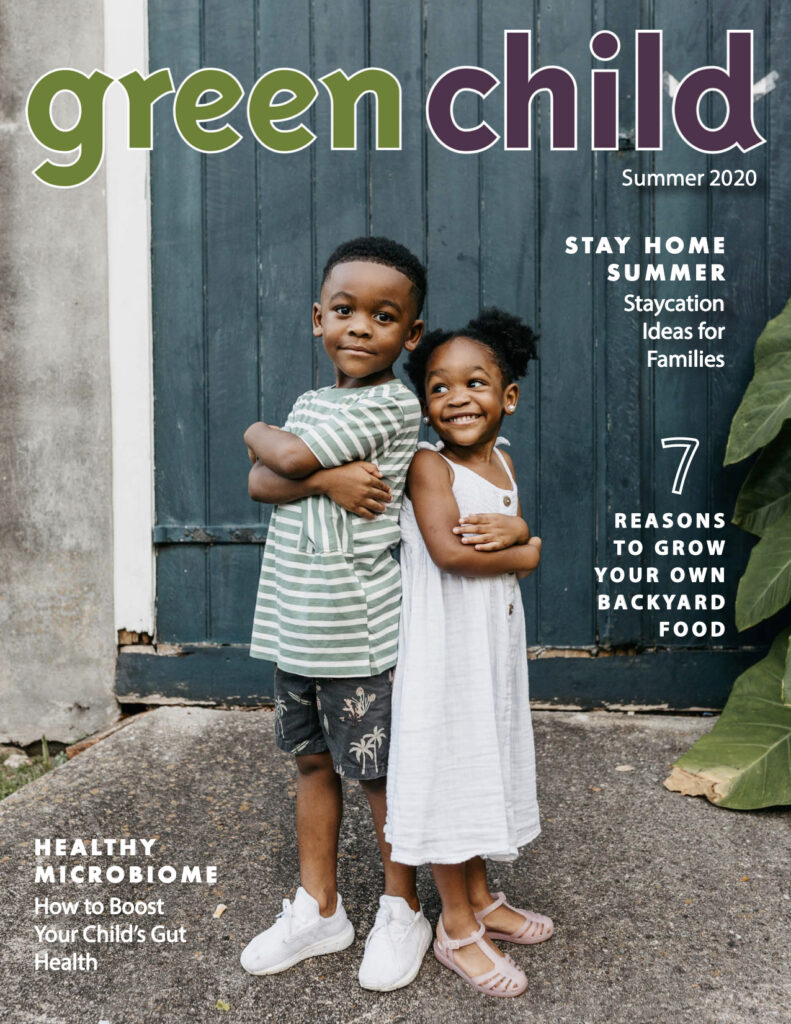 As you read the Summer 2020 issue, be sure to take a look at the products and services offered by our advertising partners. We only work with brands we trust and use ourselves. Plus they're the reason we're able to offer the magazine at no cost to you.
Earth Mama Organics – Green Child readers can get 25% off Earth Mama's safe, non-toxic care products for little ones and pregnant, nursing, postpartum mamas with code MamaHugsGC at this link.
Pique Tea Crystals unique teas are composed of supercharged 100% organic tea crystals, which are Cold Brew Crystallized, meaning they deliver maximum antioxidant capacity – 6x the antioxidants of tea bags and 20x the antioxidants of bottled tea.
CBD Plus Oil – This organic hemp-derived oil is versatile and has many healing benefits – including pain relief, sleep aid, and inflammation reduction.
Joovv Go – Science shows the benefits of red light for reducing inflammation, improving skin, joint help, regrowing hair, and reducing oxidative stress. The Joovv Go is a portable red light therapy model at a great price. It's also small enough to fit in your purse. FDA-approved, battery-powered and rechargeable, it's ideal for face, hair, neck, or any sore muscle or joint.
Naturepedic, the leading luxury GOTS-certified organic, nontoxic mattress brand, renown for its baby crib mattresses, is on a mission to help reduce the rising incidences of non-genetic childhood cancer cases. They work with the nonprofit The Max Cure Foundation to push for policy reform on hazardous chemicals infiltrating everyday consumer household products, while raising awareness on the correlation between toxic chemical exposure and childhood cancer, and preventative action parents can take.
Delilah Home creates high-quality, 100% organic cotton GOTS certified and nontoxic hemp products that are better for your health and for the environment. Save 20% with code GREEN20.
We always love hearing your thoughts. Tell us what you think of the Summer 2020 issue on Instagram or Facebook.