Yams are a nice departure from potatoes and offer an increased selection of important minerals benefiting bone development! Yams are also known to increase fertility, so this is a fun dish to incorporate throughout your parenting process.
The rice mixture in this dish can also be easily saved to incorporate into other dishes throughout the week so you may wish to double or triple the rice batch so you can cook once and enjoy all week long!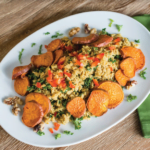 Print Recipe
Sweet Yams with Rice
Ingredients
For the yams
4

cups

sliced yams

1/2

cup

raw agave nectar

1/4

cup

olive oil

1

tsp

sea salt

1

tsp

cinnamon

optional
For the rice
4

cups

cooked basmati rice*

2

cups

chopped raw kale

1/2

cup

finely chopped walnuts

1/2

cup

diced red bell peppers

1/2

cup

shredded carrots
For the rice sauce
1

cup

diced red bell peppers

2

tablespoons

coconut aminos

2

tablespoons

raw agave nectar

2

tablespoons

extra-virgin olive oil

1

teaspoon

sea salt
Instructions
Preheat the oven to 350ºF.

Prepare the yam segment of the dish by blending the agave, oil, sea salt, and cinnamon.

Toss the yams in this mixture, coating each segment, and lay flat on a nonstick baking sheet or in a shallow glass baking dish.

Bake for 45 minutes until yams are cooked all the way through. Pierce with a fork to ensure yams are soft before removing. Note: Check doneness at 35 to 40 minutes, as moister yams will cook more rapidly than drier yams.

Prepare the sauce for the rice by blending all ingredients until well combined.

While the yams are baking, cook the basmati rice by bringing 4 cups water to a boil on the stovetop. Add 2 cups rice, bring to a simmer, and cover for 15 minutes.

In a mixing bowl, toss together warm rice and sauce until well combined.

Add in the walnuts, kale, and bell pepper and toss again.

Remove the yams from the oven.

To serve, scoop the rice mixture on top of the yams, layered in a bowl, or place the entire mixture onto a platter with the yams around the rice for group serving. Enjoy warm.

Latest posts by Green Child Magazine
(see all)