The Smart (and Sustainable) Way to Buy Baby Clothes
Baby clothes – they outgrow them in a blink. It's worth it for your bank account and the planet to follow these smart and sustainable ways to buy baby clothes.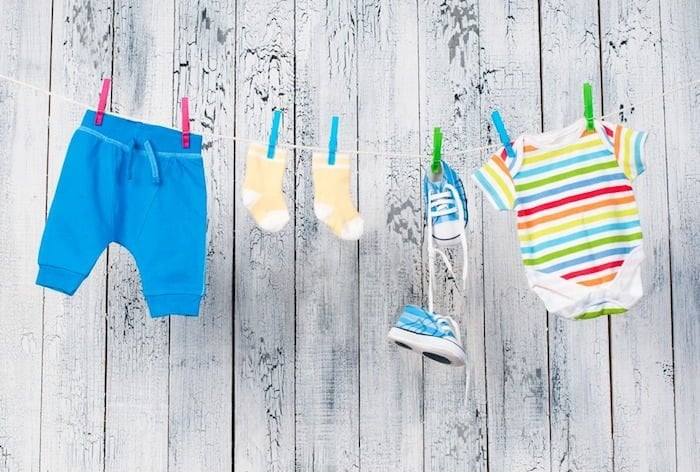 There's no faster fashion in the world than that of babies. This thought didn't cross my mind until I had kids. But then, it hit me like a ton of bricks – or more appropriately – like a laundry basket full of barely-worn onesies.
Babies can go through an entire wardrobe of clothing in a matter of months, or even weeks.
When my first child was 6 months old, I remember the overwhelming feeling of guilt as I packed away an entire bin of mostly unworn clothing… many items still with tags. It was so wasteful. It was so excessive. "This has to change," I thought, "but how?"
Well, being ever so slightly Type A, I decided to…
1. Identify what was driving this excessive purchasing
2. Determine feasible steps I could take toward sustainability
After a bit of trial and error, I was amazed at how easy it was to create a positive shift in the way I participated in the infant layette world.
I've boiled my thoughts and experience down to 6 steps you can take for the most sustainable (and cost-effective) baby clothing experience.
Take the Community Approach
Just like parenting, the road to sustainability is one that shouldn't be traveled alone. Community is the key to our success. Thankfully, community comes in many forms these days. Yes, you could take a bin of barely worn baby threads and gift them to the new mama down the street.
No babies on your street? Try posting pics of your items on local social media groups. You can even large websites that are specifically designed to connect you to communities all over the country, with the intent of selling or sharing clothes. The options to share clothing are endless. This first step towards baby clothes sanity, allows you to extend the life of a garment and build relationships in the process.
Buy Only as Needed
This step takes a bit of self-restraint but you will save a ton (of both money and wasted textiles) in the end. If you're like me, you frequently ask yourself things like, "Do my little ones have jackets for the coming rain?" "Do they have long pants for colder weather?" Being prepared is good. However, when it comes to baby clothing, advanced purchasing can be quite problematic. Just like the weather, growth spurts are far unpredictable in advance.
When you think to yourself in August that it will cool down in October, and that's the time your little one should fit into 6 months clothing, it doesn't mean that either of those things will be true. You may end up with the warmest fall on record and a baby who grows like a weed and passes right through the 6-month clothing stage. Resist the urge to pre-buy and wait until you're certain of baby's size.
Choose Quality, Clean Garments
Cotton is the world's dirtiest crop. Period. Conventionally grown cotton accounts for roughly 4% of the world's crops, but uses 25% of the world's pesticides. Due in part to their size, and skin-time in contact with textiles, babies are far more vulnerable to the toxic effects of pesticides than adults.
We must be as careful about what we put ON our babies, as we are about what we put IN our babies. Even with thorough washing, some chemicals cannot be removed from garments and will then be taken in and processed by our skin (the body's largest organ). Organic clothing = healthy clothing!
Opt for Gender Neutral
I'll skip the part about hyper-gendered clothing being oddly sexualized, demeaning, and creepy (i.e. clothing that say things like, "Future Diva" or "Little Bruiser"), and stick to the part about how hyper-gendered clothing is doing a number on the environment.
Not long ago, babies were just babies; not little men, or little women. By branding clothing as being for a boy or girl ONLY, clothing companies have doubled the odds of you having to purchase entire wardrobes from one kid to the next. Sticking to neutrals allows you to focus on the beauty of your babe and opens up your options for future clothes sharing.
Get Smart About Sizing
Want to cut your purchasing in half? Follow this one step. Currently, if you walk into a baby store, you will find the clothing separated as such: Newborn, 0-3 months, 3-6 months, 6-9 months, and so on. Historically, this was not the case for sizing. Until recently babies were clothed in just 3 sizes, yep, that's it, Small, Medium, and Large. It used to be okay to have your baby in a onesie that was just the tiniest bit snug, or just a touch too loose at the legs – apparently that is not the social norm now.
By dividing sizes up into such small increments, clothing purchases for the first year of life double – seriously, double! Good news though, there are wonderful companies making the switch back to the 3 size model. Often you can find these companies online or in small boutiques.
Upcycle When Possible
I'm no crafting queen, but when it comes to upcycling clothing there are a few projects even I have mastered. With just a tiny bit of work you can double the life of your favorite garments. The easiest project by far is converting winter clothes into summer clothes.
A basic hem is about the extent of my sewing talent and that's all that it takes to turn a pair of pants into shorts or a long-sleeved shirt into a T-shirt. If you're skill level exceeds mine, you can really have a blast with this step, making a memory quilt out of your child's favorite t-shirts, or even making your own headbands. The possibilities are truly endless, and again, the more you use an item, the less need there is to purchase new items!
With just a few of these steps, you can positively influence sustainability and change the paradigm for over-purchasing. Here's to living small and making big changes!