Travel for Good — Volunteer Vacations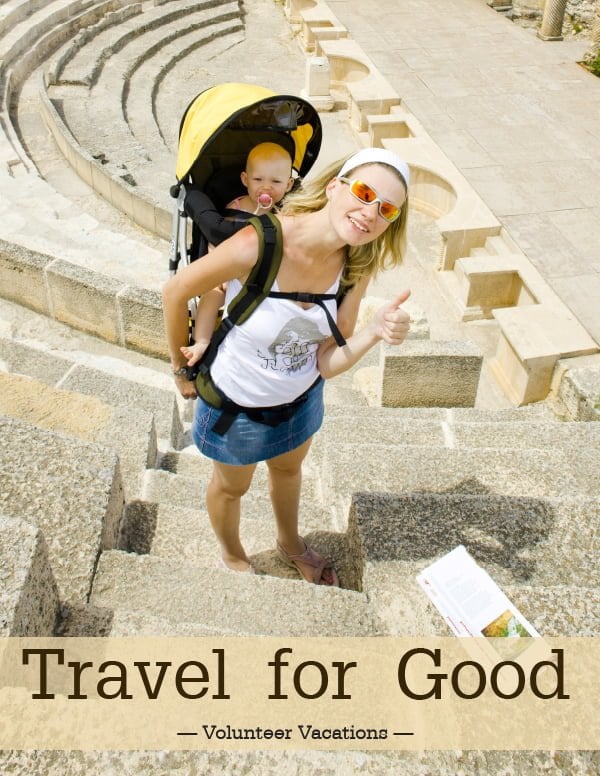 As their children get older, many conscious families look to Ecotourism for their annual family vacation. Essentially it is responsible travel, replacing indulgent vacations that are either no longer affordable… or just don't feel right to green-minded travelers.
The Travel Industry Associations of America says nearly 56 million Americans have taken some form of volunteer vacation, and nearly twice as many are looking for options to "travel for good."
You'll get a chance to soak up the local flavors and culture, while making it a meaningful trip. By choosing ecotourism, your money encourages developing nations to protect their natural resources and preserve the local culture.
Just a few examples of volunteer vacations are:
Resettle earthquake victims in Haiti
Care for endangered wallabies in Australia
Observe and record marine life to help protect coastal ecosystems
Help women learn trades to support their families and villages
Prepare meals for the homeless
Tutor students (locally or abroad)
For more ideas, check out the endless possibilities at IdeaList, Volunteer Abroad, The International Ecotourism Society, Peaceful World Travel, and Responsible Travel.
Responsible travel starts in the planning stage
Taking green travel a step further, we consider what it takes to set yourself up for a sustainable trip before you ever leave the house. The good news is: today, there are more options than ever for greening your vacation.
Several commercial airlines have updated fleets of planes with winglets, which reduce drag and carbon dioxide emissions by about 5 percent.
Go a step further and invest just $20 in clean energy or forestry projects to help offset your travel carbon footprint. ClimateTrust is a reliable organization to help you find your ideal donation.
When you arrive at your destination, be sure to take advantage of public transportation like buses and ferries. Or soak up the local culture by walking from place to place.
Even if an eco-friendly hotel isn't available, you can still do your part:
Reuse your sheets and towels
Bring soap and shampoo in reusable containers and pass on the complimentary ones
Always turn off the lights and A/C when you leave the room
Recycle your newspaper, guide maps, water bottles, etc.
Be sure to patronize local establishments. Dining at a neighborhood spot is better for the local economy than going to a chain restaurant.