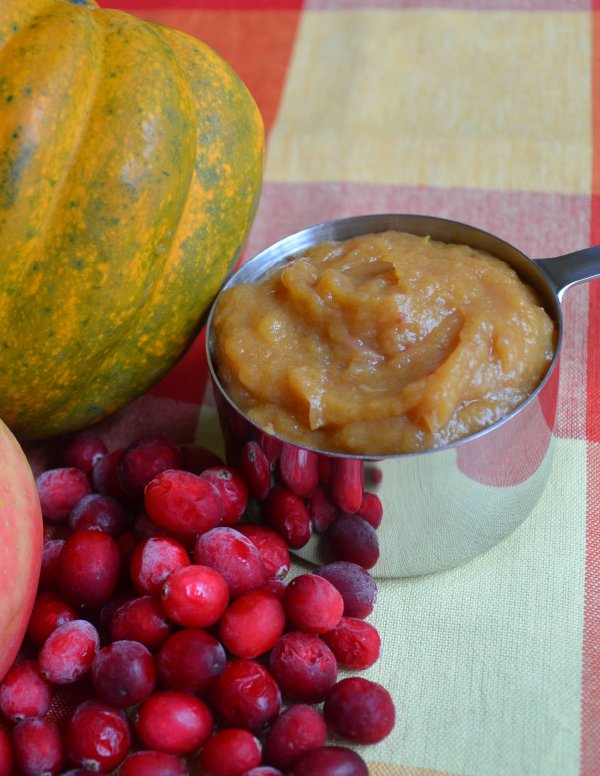 A taste of fall! I love this time of year so much and all of the delicious flavors that come along with it.
Winter squash mixed with apple, cranberry and cinnamon is a perfect meal for your baby to enjoy as the weather turns crisp. This puree also makes a great after-school snack for your toddler and big kid. Royce had 2 servings after school yesterday – yum!
This recipe is suitable for babies 7-9 months and up, toddlers, big kids and adults.
Always make sure the consistency of your baby's food is one she can handle and before combining food, make sure she has tried each one individually first.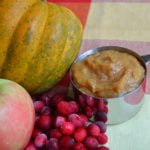 Print Recipe
Winter Squash, Apple, & Cranberry Puree
Ingredients
1

winter squash

Acorn, butternut or pumpkin, sliced in half lengthwise with seeds and stringy fibers removed

3

organic apples

washed, peeled, cored and chopped. Most varieties of apples work, just avoid tart, like Granny Smith.

1

cup

of cranberries

rinsed in a strainer under running water. Fresh or frozen are OK, avoid canned.

2

teaspoons

of cinnamon

buy organic whenever possible, it is less likely to have been irradiated.
Instructions
Preheat your oven to 425 degrees and line a baking sheet with unbleached parchment paper. Place the squash cut side down on the baking sheet. Put the baking sheet into the oven on the middle rack and roast the squash for 35-45 minutes. It is cooked through when the squash can easily be pierced all the way through with a fork.

While the squash is cooking, pour water into a pot until it is about 1" deep and bring to a boil over high heat. Put the apples and cranberries into a stainless steel steamer basket and place the steamer basket into the pot. Make sure the water doesn't touch the bottom of the basket. Cover with a tight fitting lid and steam for about 7 minutes, until the apples and cranberries are soft and cooked through.

Remove the squash from the oven and let sit for about 5 minutes. Once cool, you should be able to just peel the skin off. Place the cranberries into a food processor and pulse until smooth. Push the cranberry puree through a fine mesh strainer to remove any tough pieces of the cranberry skin.

Put the cranberry puree, squash and apples into a food processor and pulse until smooth and creamy. You can also place them into a large mixing bowl and blend with an immersion blender. Add the cinnamon and stir to combine. Add more cinnamon if desired.

This puree can be stored in an airtight container, like our Sage Spoonfuls jars, for up to 3 days in the refrigerator and up to 3 months in the freezer.

Enjoy this taste of fall!
Latest posts by Liza Huber
(see all)