Your Yard Matters for Hummingbirds and Other Crucial Pollinators
If April showers bring May flowers, then what do May flowers bring?
Hummingbirds!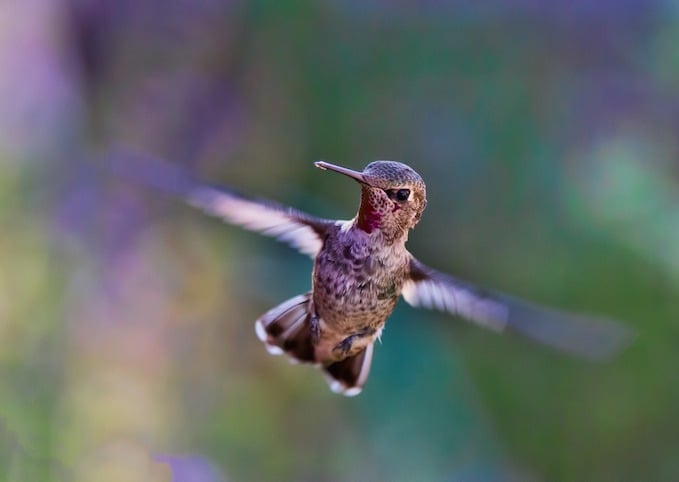 The National Audubon Society encourages hummingbird fans nationwide to grow native plants that help these cherished birds thrive. Audubon's one-of-a-kind bird-friendly native plants database makes it easy to find the right plants and where to purchase them, by simply typing in your zip code.
Flowers are beginning to bloom, and hummingbirds are starting to return to rural, suburban and even urban areas from their southern winter sojourns. Hummingbirds visit our yards, looking for nourishment from our gardens and feeders. Many migrate hundreds to thousands of miles and must eat several times their weight in nectar daily to stay alive.
Their spring arrival—or year-round presence—in yards varies across the country. In addition to urban development, current studies point out new potential challenges to migrating hummingbirds caused by a changing climate. Shifting bloom times of nectar plants and an earlier arrival of spring on their wintering and breeding grounds pose threats as revealed in Audubon's groundbreaking research.
Hummingbirds also play an important role in pollinating flowers along with bees, moths, butterflies and bats. Pollination is a crucial part of a healthy ecosystem, as well as the human food supply. Yet for the first time ever in U.S. history, seven species of bees were recently added to the endangered species list. To help prevent an ecological crisis, growing native plants in one's yard that benefit these birds and insects can have a significant impact.
If you don't have a yard, you can still help by creating a native plant container garden on your patio, rooftop, or balcony. Hummingbirds are specialized for nectar-eating; their hovering flight, long bills, and grooved tongues are ideal for feeding at flowers. Follow these steps to maximize the potential of your hummingbird-friendly yard:
Fill your yard with native, nectar-rich flowering plants including annuals and perennials, vines, shrubs, and trees. Even a

window box

or hanging basket can help.

Choose red or orange tubular flowers to attract hummingbirds: Salvia, penstemon, and honeysuckle are hummer favorites.

Group similar plants together and choose species with different blooming periods so that there will be a steady supply of flowers nearly year round.

Leave some sticks and small branches on bushes and trees to enable ready perches for hummingbirds.

Eliminate or minimize the use of pesticides in your yard.  Hummingbirds consume many small insects in addition to nectar, and they as well as butterflies will benefit from a pesticide-free space.

Encourage your neighbors to make their yards hummingbird friendly. An entire corridor of habitat is much more valuable than scattered patches.

Audubon's

Plants for Birds database

 makes ecologically friendly landscaping choices a snap. It's the first to use your zip code to find native plants best for your local birds.
To learn more fun facts about hummingbirds, what species to expect in your area, and how to photograph these beautiful birds, visit www.audubon.org/features/celebrate-hummingbirds
If you plant it, the birds will come. For gardening tips, DIY's and more, visit audubon.org/plantsforbirds
What's that other bird outside your window? Download Audubon's free app today and get an award-winning field guide at your fingertips, audubon.org/apps