Solar energy is renewable, boosts the value of your home, has a great return on investment, and helps ensure a safe and clean environment.
Solar energy is repeatedly proving to be more affordable for more and more homeowners, especially due to the recent extension of the Energy Policy Act of 2005 or Solar Investment Tax Credit (ITC).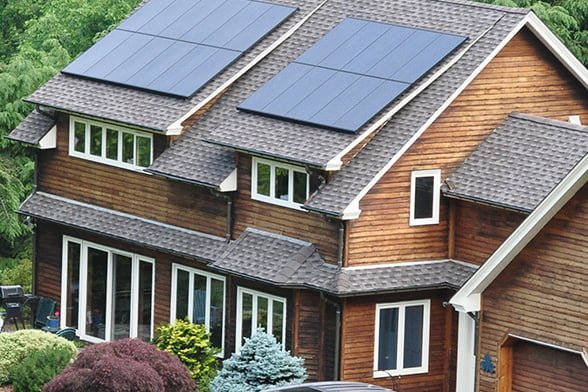 The ITC provides an incentive of up to 30 percent of your costs on your federal tax return when you choose to power either your residential or commercial property with solar energy. It will be valid at this rate until December 31, 2019, at which time it will decrease each year until December 31, 2021, when it remains indefinitely at 10 percent for commercial consumers and dissolves completely for residential.
"Not all tax credits are created equal, but all strive to promote a healthier economy in one way or another," Perkins said.
As a renewable energy, solar is beginning to play a vital role in the American life by creating higher paid jobs, global competitiveness, and lower energy costs for both businesses and homeowners. Solar Energy Industries Association (SEIA) reports that the ITC has assisted in cost decline for solar customers, fueled dramatic growth in solar installations and created hundreds of thousands of jobs.
A study was conducted by NC Clean Energy Technology in which they discovered that solar PV customers in America's 50 largest cities who had invested in a 5 kW solar PV system saved on average between $44 to $187 per month during the first year.
Not all solar paneling companies are alike. By taking full advantage of the free home consultation offered by most companies, you can determine if this is the right company for you by asking these simple questions.
As a customer, will I own the system or will you lease me the equipment?
Some solar panel companies will offer you the option of leasing the solar paneling equipment. While leasing lowers the monthly cost of power, it does not allow you to participate in cost savings associated with ownership.
"With more and more solar financing options becoming available, in most cases you can go solar for $0 down and still pay less than your current electric bill," said Shaun Alldredge, co-owner and co-founder of Legend Solar. "In most cases, purchasing the solar panels outright will give you the best return on your investment."
What types of tax credits will I qualify for by installing solar panels?
The cost savings of using solar energy is a huge selling point for paneling companies, so most will be well informed about the tax credits. To build incentive, the federal government will extend a tax credit equaling 30 percent of the gross cost of the system.
In the state of Utah, for example, the government will grant a $2,000 tax credit for residential installations and a 10 percent credit for commercial properties that convert to solar energy and help contribute to a clean environment. But, you need to own the system in order to reap the rewards.
Will the solar power company handle everything from A to Z?
There's a lot more to solar that just slapping some solar panels on your house. A reputable solar company will determine your needs for power and balance that with your home's capability to produce power, which includes your home's position, sun hours and roof space for the panels. The company should design a plan that's unique for your circumstances.
The company should also take care of the permitting process and all engineering necessary to be sure the equipment is installed correctly and safely. Some cities enforce certain zoning laws that may restrict the use of solar paneling.
Most solar paneling companies will be aware of those codes. Also, if you happen to live in an HOA, some solar paneling companies will handle the approval process for installing panels in these communities as well.
You'll want to ask the company who will install your solar panels. If the solar company is installing it directly, then they can stand behind that installation. If they sub out the installation to a sub-contractor, then you need to make sure that the subcontractor is licensed appropriately. If they aren't licensed, you could be jeopardizing your federal tax credit. And having a subcontractor adds another layer of potential problems if something goes wrong.
Is there a warranty on my solar power system, and what does it cover?
With such a large investment, it's a good idea to understand the solar company's warranty—not only on the equipment but also on the power that is generated. The best solar companies warranty their panels for 25 years. You should also ask if the warranty covers not only the reinstall or repair of the parts, but also removal and shipping.
Panels are projected to continue working for up to 50 years—with some loss in efficiency. To make sure your panels are working efficiently, ask if the solar company offers lifetime monitoring, allowing you to watch the live production of your system.
The final thing to consider is if the solar company will be around for the warranty period. And, are there any protections for you if that company goes out of business. Solar is so new that there are only a few companies that have been around to fulfill their warranties. Evaluate whether or not your solar provider will be around for yours.

Amy Osmond Cook, Ph.D., is a freelance journalist based in Southern California and mother of five. She enjoys writing about healthy living, entrepreneurship, and technology trends. She is a proud user of solar power and aspires to one day drive a Tesla.

Latest posts by Amy Osmond Cook (see all)