5 Ways to Shop Secondhand for Back to School
Who says a new school year has to mean an expensive new wardrobe? Shopping secondhand for back to school not only helps you consume less, it can help you save money big time.
Kids are constantly growing, and buying expensive new back to school clothes can really add up. Combine that with the price of school supplies this year – was it just us or did they double? – and you've got plenty of reasons to try to save where you can.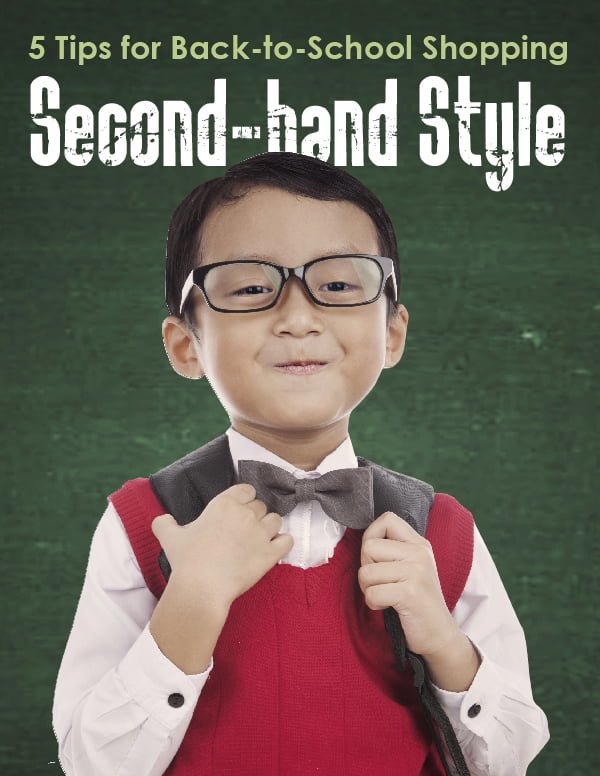 Some 70% of consumers say they are now open to buying resale items, according to ThredUP, a popular site for online second hand finds. Over the past several years, the demand for resale has exploded, as fashion forward folks look for ways to save money without sacrificing their personal style.
Many resale boutiques and online stores have a surprising amount of quality top brand items, at a fraction of the cost for both adults and children. There also may be even more items available than before, as spending more time from home has led to much needed closet purges.
It's simply smarter shopping!
"Buying resale is also a great way to practice living more sustainably," explains Sierra Cortazzo of Kangaroo Kids, an upscale children's & maternity resale and gift boutique. "As much as we might love shopping retail, many of our favorite brands rely on fast fashion; inexpensive clothing produced in mass quantities that follow the latest trends."
Some retailers in the fast fashion industry may also be unethical, underpaying their workers and ignoring the safety of their employees. Not to mention, fast fashion is one of the most pollutive industries in the world, contributing to our carbon emissions and landfills. It's important to ask ourselves what we can change about our lifestyle that may seem small but can actually have a huge and positive impact on the environment.
Here's how to make the most of your secondhand back to school shopping.
1. Start early
Thinking ahead can save a great deal of money and help you reuse the outgrown clothes or school uniforms of friends or family members. The later you wait, the more you'll be tempted to just grab whatever you see in the stores out of desperation!
2. Make a list
A basic list of items needed along with the items you already have on hand will help you refrain from overstocking your child's closet. Simplifying with kids is one of the keys to living more consciously. Just like with having too many toys, over-stuffing the closet is more likely to bring decision-paralysis and confusion.
3. Visit your local second-hand stores often (if possible)
While you'll likely want to purchase new socks, tights, underwear, etc… you'll find great deals on shoes, shirts, pants, and coats at your local thrift or consignment shops.
A huge key to shopping successfully at these shops is having your list in hand. Second-hand or resale store inventory turns over nearly weekly. Make a habit of scanning through the racks for items still missing from your list whenever possible.
4. Accept hand-me-downs gracefully
Because we've been eco-conscious and fairly frugal since my husband and I married, we're always thrilled to score a great secondhand find. It's how we furnished almost all of the wood furniture in our home.
Accepting secondhand back to school clothes doesn't mean you have to feel like a charity case. You're really doing the planet a solid by not contributing to the fast fashion problem.
If you know a mom who buys her daughter a new backpack every 3 months, ask her what she does with the old ones. You'll be surprised at how many folks are happy to trade, barter, or just plain give away great stuff.
5. Organize your back-to-school clothing in a specific area
This will help you see your progress over the next few weeks. Don't panic if you don't have a full school year of clothes ready by the time the school year begins. They really only need a few outfits to get going that first week of school.
You can continue to add to this over the first month or two of the school year. And if your child hits a growth spurt, you'll be glad you didn't buy or borrow too many items in a size that doesn't fit very long.
Try using hanging shelves to lay out a weeks worth of outfits for your children. This way a full week's outfits are laid out in one place…no more hunting for the right top to go with the right pants or skirt while on the way out the door in the morning!
Whether a simple lifestyle is old hat to your family or brand new, try to remember that the purpose of clothing is to keep ourselves warm or cool. Sometimes I long for the simplicity of my Grandma's day when one good pair of shoes was all you hoped for every year when school started.
Encouraging our kids to focus on the rich experiences, friendships, and learning opportunities open to them is so much more important than the brand of clothing they wear. And yeah, that's easier to explain to a 3rd grader than a high schooler, we know!