Sagittarius Names for Your Curious and Energetic Baby-to-Be
If your due date is between November 23rd and December 21st then you're likely going to become a parent to a curious and good-humored Sagittarius baby. Sagittarius people are known for being the travelers of the zodiac thanks to their curious and extroverted nature. Sagittarius tend to be optimistic, generous and idealistic—always envisioning the best possible outcome.
And being a fire sign, like Aries and Leo, they are considered both passionate and dynamic. Sagittarius is also a sign of teaching and healing—two qualities that will surely benefit any budding family.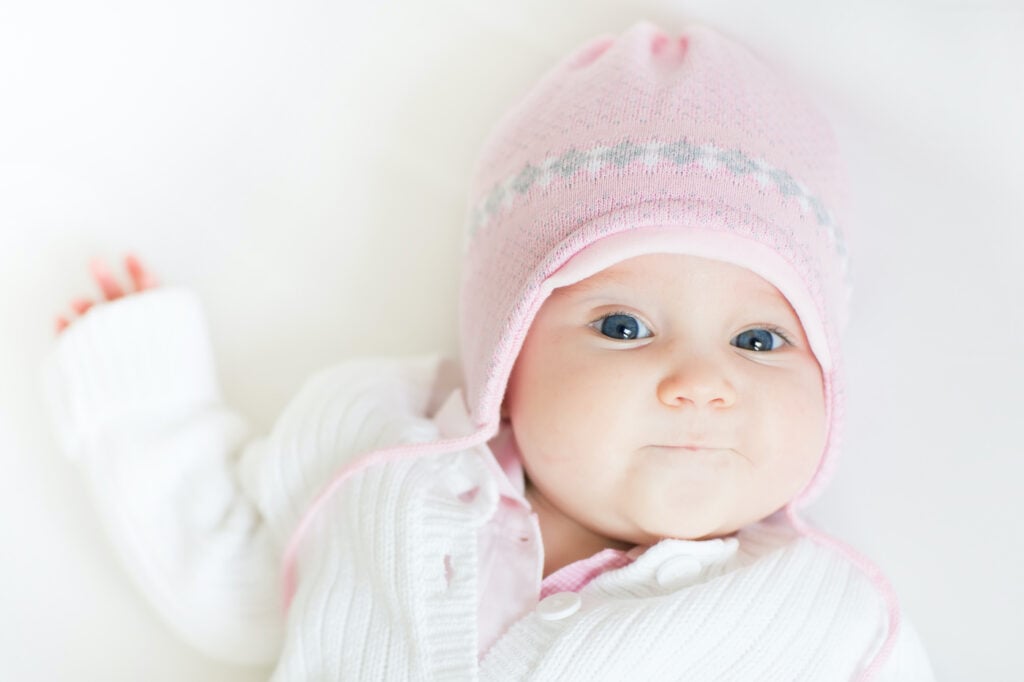 Looking for a Sagittarius name that will be fitting of your little one? Check out some inspiration below to find a name so perfect, it must have been written in the stars.
Sagittarius Names for Boys and Girls
Ada
Augusta Ada King-Noel, Countess of Lovelace, better known today as Ada Lovelace was an English mathematician, writer and notable Sagittarius of the 19th century. While there weren't any computers at that time, Ada did write the world's first machine algorithm and thus has been called the world's first computer programmer. We're sure her innate Sagitarrian curiosity helped get her started.
Archer
Taking a cue from the sign's constellation and symbol of a centaur shooting a bow and arrow, Archer can make for a great Sagittarius name choice. Archer is of English origin and literally means, "bowman".
Beatrix
To honor the sign's inclination for travel and natural curiosity, Beatrix means "voyager or traveler" and is of Latin origin.
Bruce
Bruce Lee was a Sagittarius, born Novedmber 27, 1940. Either Bruce, which mean "the willow lands" or Lee, which means "meadow", could make for great first name options for a little fire sign baby.
Charity
The ninth sign of the zodiac is known for being generous, which is why we love Charity as a name for a sweet baby Sag. Charity is of English origin and means, "giving" and "kindness".
Idalia
Idalia, is a unique name of Italian origin meaning "behold the sun", making it a a fitting moniker for a fire sign.
Katniss
Katniss Everdeen, the main character in The Hunger Games trilogy, is known for her skill with the bow, which ties the name back to the Sagittarius' symbol of the archer. Further, Katniss is also a plant type that belongs to the Sagittaria Genus family.
Keegan
Keegan is a name of Irish origin and means, "son of fire", making it a fitting and fiery Sagittarius name choice.
Leslie
An eternal optimist, like many Sagittarius tend to be, Leslie Knope was the lead character from the hit show "Parks and Recreation". Leslie is also of Irish origin and means, "holly garden".
Mark
Mark Twain was a Sag, making the moniker a great name choice for your fire sign baby-to-be. Not to mention two of the author's main characters, Huckleberry Finn and Tom Sawyer, could also make for good Sagittarius name choices thanks to their curious and adventurous spirits.
Noa
This sweet three letter name choice is of Hebrew origin and means, "motion" or "movement", which can embody the nature of your little wanderer.
Orion
Orion is another great name for a Sagittarius baby. With Greek origins, this name means rising in the sky or dawning. Plus it is one of the most interesting and recognized constellations in the night sky.
Scarlett
Sagittarius is ruled by the planet Jupiter. There is a "Great Red Spot" that's visible on the planet's surface, and that red spot is actually a planetary-sized storm that has been taking place for centuries. We love this name's subtle nod to astrological sign.
Sheridan
An Irish Gaelic name meaning "the wild one." Sometimes living with an adventurous Sag means being prepared for the unexpected.
Sagittarius First and Middle Name Combinations
Famous people born under this sign include: Tina Turner, Billie Eilish, Samuel L. Jackson, Nicki Minaj, Scarlett Johansson, DJ Khaled, Mark Ruffalo, Miley Cyrus, and Taylor Swift. You'll recognize a couple of those names from this list.
Ada Beatrix: Curious and ready for adventure, this name combination is both unique and full of meaning.
Keegan Noa: Full of fierce fiery momentum, this Sagittarius name combination will suit a baby who's always on-the-go.
Idalia Scarlett: A one of a kind name for a one of a kind baby that's full of fiery passion.
Archer Mark: Cool and unexpected, we love their Sagittarius name combo.
Sagittarius season is between Scorpio and Capricorn. If you think your baby might come a little early, also check out our Scorpio name ideas. And if you're due toward the end of Sag season, take a look at our Capricorn name ideas too.