Natural Beauty: 8 Products You Can Replace with Coconut Oil
Coconut oil has dozens of health benefits and maybe hundreds of uses. With its ability to moisturize, protect, and soften skin, coconut oil is one of the most versatile natural beauty products.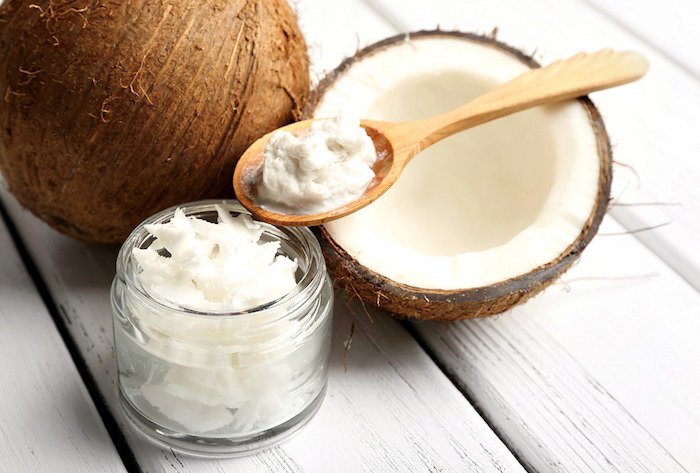 Remember the Seinfeld episode where Kramer prepared a dinner party meal in his shower?
The Green Child team has often joked that our bathrooms look a lot like our kitchens… Vinegar for rinsing hair or toning skin, oils for moisturizing, and salts or sugar for scrubs.
Before you start to worry – you'll be happy to know we have a once-it-goes-to-the-bathroom-it-doesn't-come-back-to-the-kitchen rule, unlike Kramer.
One product we always keep on hand in bulk is coconut oil. You probably already know many of the health benefits of coconut oil, and this jack-of-all-trades product can be your BFF during the winter months. Switching from your standard beauty products to coconut oil saves money and can help to revitalize and rejuvenate your appearance naturally.
8 Natural Beauty Uses for Coconut Oil
We've also saved a good bit of space under the bathroom vanity by replacing these 8 items with coconut oil:
Daily Moisturizer
Coconut oil is known to moisturize the skin just as well, if not better, than most lotions. It's made up of medium chain fatty acids that enhance the moisture barrier of your skin, further protecting it from dryness. Keep a small container or travel size packs in your purse for moisturizing on the go.
Because coconut oil can form a barrier to the skin, some people say it causes facial breakouts. So you may only opt to use it as a body moisturizer and go with rosehip oil for the face.
Eye Makeup Remover
A safe and natural alternative to some of the harsh chemicals found in conventional makeup removers, coconut oil is often more effective. Dab an organic cotton reusable facial pad with coconut oil to remove eye makeup and moisturize the thin skin around eyes.
Deep Conditioner
Coconut oil contains proteins not found in other hair oils, helping it retain its natural moisture and making hair thicker and stronger. Apply after shampooing, or add a little honey and make a conditioning mask. Cover hair with a shower cap and rinse after 30 minutes.
Lip Scrub / Balm
Too many chapsticks rolling around in your bathroom drawers or picking up lint in your purse? You don't need them. Mix with less than a teaspoon of sugar to exfoliate cracked lips. Apply a dime sized amount of oil to dry lips for a balm or glossy shine.
Cuticle Oil
Manicures can be expensive, and you have to look a little harder to find salons who use natural products. Take great care of your nails and toenails by massaging coconut oil into nail beds for a simple cuticle cream that also helps strengthen nails.
Anti-Aging for the Eye Area
Apply under eyes to help prevent wrinkles and hydrate the skin. Because your eye area doesn't have oil glands, you shouldn't notice any breakout issues in this area.
Teeth Whitener
Ever try oil pulling? By swishing a tablespoon of coconut oil in your mouth for 10-15 minutes a day, you'll have a brighter smile and even improved oral health.
Shaving Cream
Not only can coconut oil replace shaving cream, but it also soothes sensitive skin and prevents razor burn and ingrown hairs. Try this DIY shaving cream recipe:
DIY Coconut Oil Shaving Cream
1/4 cup aloe vera
1/4 cup coconut oil (melted)
4-6 drops essential oil (tea tree or lavender)
Combine all ingredients. Stir together and store in a glass container. Apply a thin layer to skin and let sit for 1-2 minutes before shaving. If the mixture hardens or separates between uses, place the container under shower stream before shaving to warm it up.