'Bioengineered Foods' Replaces GMO in New U.S. Food Labeling Rules
The USDA's updated labeling for genetically modified foods went into effect Jan. 1. Here's what you need to know about bioengineered foods and how to identify them.
While 26 countries have banned genetically modified foods, it's been an ongoing battle in the U.S. just to get them labeled. Congress passed a law in 2016 to establish a national benchmark for GMO labeling with the goal of standardizing labels and offering more transparency to consumers. However, food advocates say this change puts a greater burden on consumers to do their homework to understand the labels.
What does this new label mean to your grocery shopping?
Foods that previously were labeled (or they may not have been labeled at all because we didn't have a law about it before) as containing "genetically engineered" (GE) ingredients or "genetically modified organisms" (GMOs) will now be labeled as "bioengineered,"(BE) or come with a phone number or QR code guiding consumers to more information online. (source)
Under the new standard, when foods are labeled as bioengineered foods, you could possibly see one of these two seals.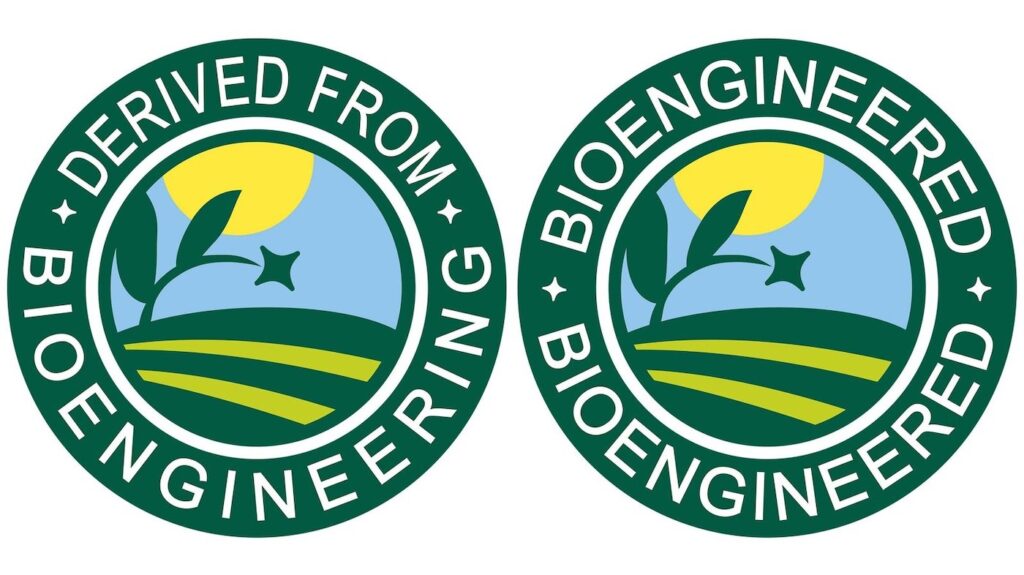 But they don't have to be labeled.
They can include text on food packages that says "bioengineered food" or "contains a bioengineered food ingredient."
Or they can include a QR code for consumers to scan or a phone number for them to text that will provide more information about that food item.
Clear enough?
According to the new labeling rules, what are bioengineered foods?
Under the new rule a "bioengineered food" is a "food that contains genetic material that has been modified through in vitro recombinant deoxyribonucleic acid (rDNA) techniques and for which the modification could not otherwise be obtained through conventional breeding or found in nature".
So, if there's no "BE" label or QR code, is the food free from genetically modified ingredients?
Not necessarily.
Here's where the loopholes come in. First, as the USDA explains, "highly refined ingredients (like some sugars and oils)" do not require labels if the level of genetic material is below the USDA's detectability threshold of five percent. In this case, brands can opt to use the "derived from bioengineering" symbol, but this label is voluntary. The European Union's standard for labeling is nearly five times lower (0.9%).
The new disclosure doesn't cover products that list meat, poultry, or eggs as their first ingredient or second ingredient after water, stock, or broth. This means many prepared foods or freezer foods (burritos with meat, curries with chicken, etc.) will likely contain modified ingredients without being labeled.
Other groups that don't need to use bioengineered labels include very small food manufacturers (with sales below $2.5 million per year) and food service entities such as "restaurants, food trucks, trains, airplanes, delicatessens and similar retail food establishments."
List of bioengineered foods
The Agricultural Marketing Service (AMS) developed this list to identify the crops or foods that are available in a bioengineered form throughout the world and for which regulated entities must maintain records.
Most GMO crops are used for animal feed. (source). But they are also used to make ingredients that routinely find their way into human diets, such as cornstarch, corn syrup, canola oil, and granulated sugar.
How will the new rule be enforced?
There will be no in-store checks of food products. Anyone who suspects a violation can file a written complaint with the USDA's Agricultural Marketing Service website.
Criticism of the new labeling process
Those who have advocated for GMO labeling are disappointed but not surprised by the confusion and number of loopholes in the new rules. And it probably doesn't change much for those who know the reasons to buy organic.
But that hasn't stopped GMO opponents from speaking up about the new labels. The Center for Food Safety filed a lawsuit to challenge the "USDA's deceptive and discriminatory GMO labeling scheme".
"The case challenges USDA's unprecedented allowance of electronic or digital disclosure on packaging, also known as QR code or smartphone labeling, without requiring additional on-package labeling. Second, CFS is challenging USDA's labeling language restrictions. When on-package text is used, the rules limit it to only 'bioengineered,' despite the law allowing use of similar terms. But for 25 years, every aspect of the issue—science, policy, and marketplace—has used genetically engineered (GE) or genetically modified organism (GMO). This deprives consumers of their right to receive the disclosure in the language they understand and deprives retailers of their First Amendment right to provide it."
How can you avoid BEs / GMOs?
The new label (or QR code, or text, or nothing) will change very little. We already know that most processed foods contain genetically modified components. So the best way to avoid them is to avoid packaged and processed foods when possible. Talk to your local farmers about what they use on their crops and support them as often as you can. And in grocery stores, choose foods with the USDA Organic seal or the non-GMO project logo.