Free Printable Children's Reading Kit
Recently I wrote an article about bringing mindfulness to story time, and the Green Child team told me it resonated with a lot of parents.
We started looking at other ways to encourage creating a special ritual around reading, and we came up with the idea of a free printable Children's Reading Kit.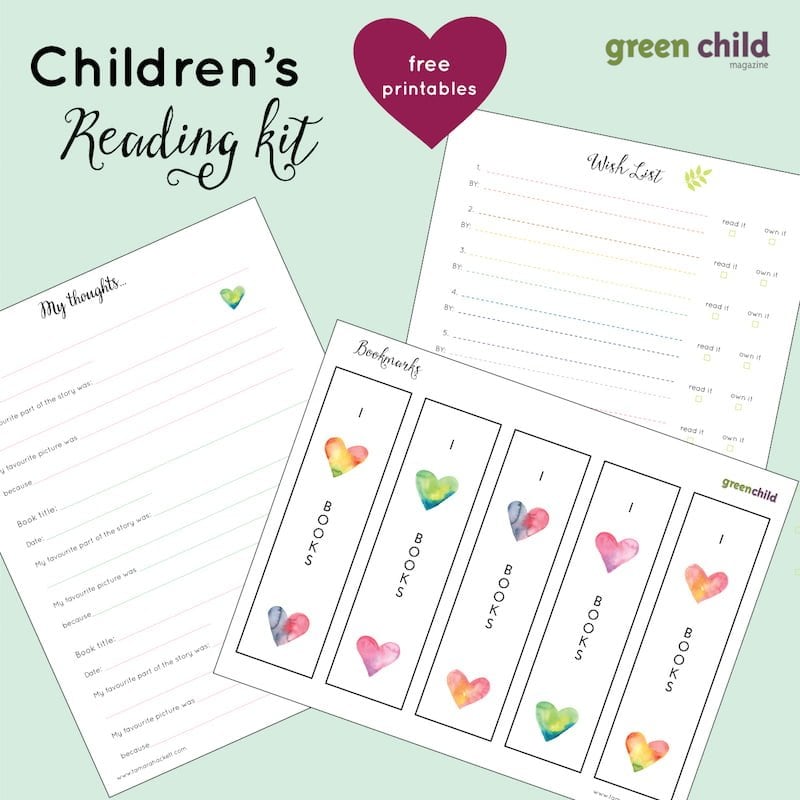 So, we're pleased to share this sweet set of printables for young readers. We actually had so much fun creating them, we made a reading set for adults, too!
These pages are recommended for children ages 4+. By introducing children to different types of books as well as fun and engaging activities, you'll support their overall love and connection with literacy.
My Thoughts Page
This printable was created to encourage children to have a conversation following a story, think critically, recall and express their feelings. It is a great way to find out more of what children like, why and what is connecting with them. It's also a great memory keeper as the child grows and interests change.
Book Wish List
This page is a great document to track books, remember titles, authors, and illustrators. It introduces children to a vocabulary around literacy and helps to identify patterns in children's likes or dislikes for certain types of books. It can also be used as a resource for caregivers or other adults that want to also contribute to the child's home library but are unsure of what they have read or if they have it.
Bookmarks
These bookmarks are not only colorful additions to a child's possessions but are also a way for them to take pride and care of what they are reading. It will hopefully prevent 'dog-tagging' books, bent pages, and damaged spines from folding books out on tables.
How to Use
You can download the free kit here or by clicking on the image above.
For best results, print the bookmarks on a recycled card stock as it is thicker and resistant to bending and tearing but still workable with most home printers. For extra longevity – consider laminating!
After printing, cut out each of the 5 bookmarks either on the line or inside (depending on personal visual preference). Recycle the outside paper.
Encourage your child to decorate the back side of the bookmark with their name, stickers, drawings or anything to personalize it. You can use these bookmarks for home use or for birthday party take-home gifts or classroom activity.