DIY For Young Book Lovers: Create Your Own Magnetic Story Board
This DIY magnetic story board gets a ton of use in our home. It's a wonderful way to encourage your child's love for reading and boost language skills.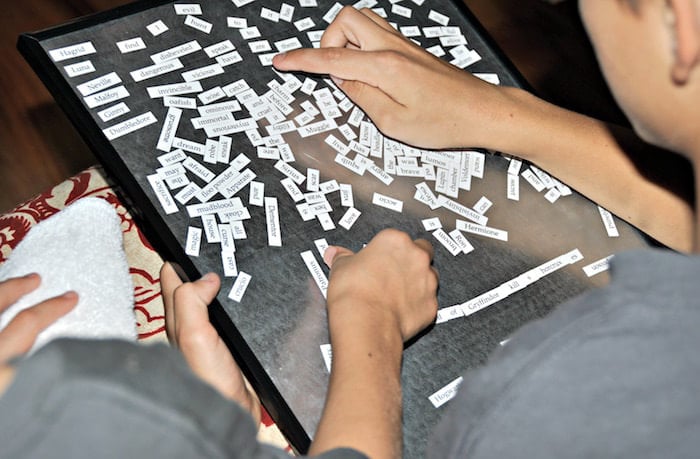 There are few things as amazing as the imagination of a child engulfed in a book. You can help encourage a love of reading by getting your child into the story with an easy to make story board.
This story board was given to my son for his 10th birthday by a family who loves the Harry Potter series as much as we do. It has brought countless hours of interactive fun – and a little friendly competition – to our whole family.
We get out the books and recreate sentences straight from the text or the boys laugh at who can make the longest / most random / goofiest phrases.
And because our friends went the eco-friendly route by using a piece of scrap metal protected in an upcycled picture frame, this was a project I had to share with our readers.
DIY Magnetic Story Board Materials
Instructions
Ask your child to choose his or her favorite book (or books) and create a document of words that will help them build stories.
Character names, items, locations, and a variety of commonly used words. (Check out this great list to get you started.)
Be sure to leave space between the words and use double spaced lines.
Print the words on the magnetic sheets and cut them out.
If you are using a reclaimed photo frame, carefully cut the sheet metal to fit your frame. Take special care as the edges may be sharp. You can add a thin layer of tape to the edges to prevent scratches until the metal is framed.
If you're using a baking sheet, decorate the edges with non-toxic paint to match the theme of your story board or to go with your child's room if they'll be keeping it on display.
This is a great activity for your child to do solo, but it also works well with a friend. Or it can make a fun addition to family game night. And as we've found, it makes a great green gift for birthday parties or holidays.