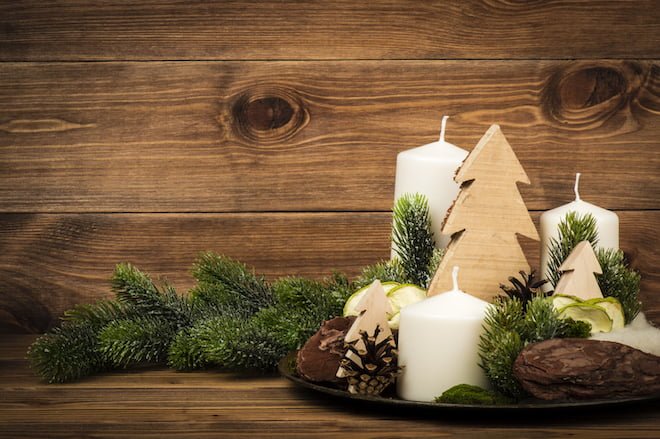 Holiday decorating is one of those things that can overwhelm this busy time of year. Thankfully it is possible to have a festive home without all the stress with some simple Christmas decor ideas.
Less is More for Simple Christmas Decor 
It can be fun to see the glitzed and glammed homes, but that doesn't mean you need to go all out on your own home. A few meaningful, symbolic pieces can celebrate the holiday while keeping cleanup and storage easy.
Save the money you'd spend on 20,000 twinkle lights or a dozen poinsettia pots sprinkled all over the living room to instead pay down debt, save for vacation, or give a family in need a holiday of their own that they couldn't otherwise afford.
Bring the Outdoors In
Pine cones and acorns make warm and cozy additions to centerpieces, candles, and even ornaments. Or try mixing whole, unshelled nuts as natural elements to your simple Christmas decor. Create your own landscapes inside an old apothecary or mason jar… spread cotton on the bottom and get creative with your still life. Simple, beautiful evergreens make a statement and can be planted outside for year round greenery.
Honorable mentions for natural, simple Christmas decor: 
Magnolia leaves – table tops, chandeliers
Moss wreaths and topiaries – topiaries make great year round decor
Boughs of holly and pine
Mistletoe
Rosemary sprigs
Make your own festive swag or wreath from evergreen branches, secure cut ends with florist wire and tie with holiday-themed ribbon.
Neutral with a Pop of Color
White candles on silver stands are timeless. I recently gave away my cute-but-difficult-to-store set of reindeer dessert dishes that were used maybe once or twice a season — they were fun and whimsical and took up way too much space. My everyday white dishes look just as lovely holding those desserts, and I don't have to figure out where to keep them for the other 11 months of the year.
The Versatility of Ornaments for Simple Christmas Decor 
Glass ornaments are inexpensive at craft stores, and easy to personalize with paint, stickers or rub-ons. Leave them empty or fill them with fake snow, glitter or other small objects.
Or try the Seven Blessings Ornament — simply decorate a plain glass ornament, then fill it with 7 strips of paper with written blessings for the coming year (Love, Abundance, Good Friends, etc. — make them personal!)
Pare Down and Organize
Limit your holiday decor to a certain number of boxes or bins. If it doesn't all fit, it's time to reduce. As you're decorating, pay attention to any decor that doesn't make the cut this year — it may be time to donate it before the holiday season, so it can give someone else joy without taking up any more of your valuable storage space.
Latest posts by Sandy Kreps
(see all)