This recipe is great for clothes, towels, and cloth diapers. It does not contain Borax. Soap nuts are amazing little berries that contain high levels of natural soap. They are safe for those with nut allergies and are earth & skin friendly.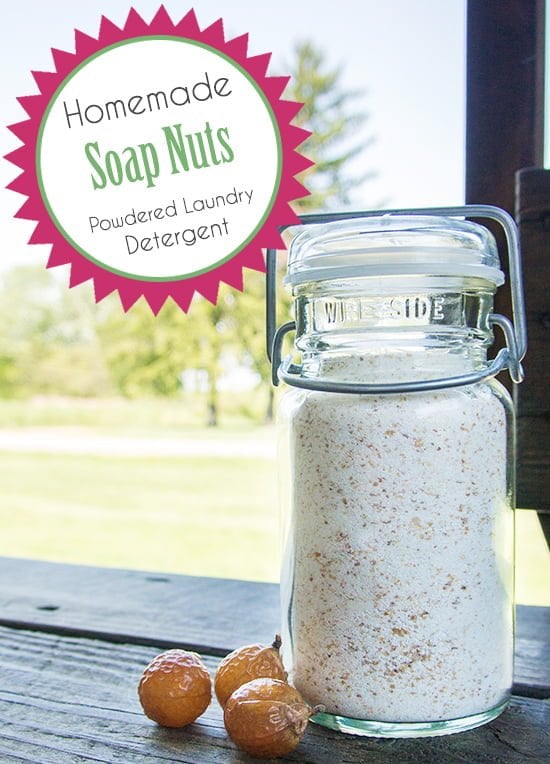 Powdered Soap Nuts Detergent Recipe
Fun Fact: Soap Nuts are not actually nuts, they are a dried berry shell that looks a bit like a nut. They are completely safe for those with nut allergies!
You will also need:
A blender or food processor with a good seal (grinding the berries is a dusty job!), a hand towel (to help contain the dust) and a trash bag or large bucket with lid.
Directions:
Grind the berries. Do so by adding half of the berries with half of the baking soda. Pulse until finely and evenly ground. Repeat with the second half of the berries and baking soda.
*Holding a hand towel on the top of the blender will help keep the dust to a minimum. Wait for the dust to settle before opening the lid.
*The brand we recommend does not contain seeds. If you use a brand that does contain seeds, it's best to remove them.
Pour all of the ingredients into a large bag, or bucket with lid, and shake/toss/massage until well blended.
Pour into a bucket for storage & scoop out a jar full to keep by your washing machine!
This detergent will dissolve best in warm water. To help, you can swirl a tablespoon or two in a cup (we like to use a jar) of warm water before tossing it into your washing machine.
How to Use:
Use 2 tablespoons per standard load and just 1 tablespoon per HE load, you can add more depending on soil level. As with any detergent, be sure to pretreat any tough spots.
Small "Try It Out" Batch Recipe

Latest posts by Green Child Magazine
(see all)