Safe Eczema & Dry Skin Relief with Earth Mama Organics Eczema Cream
If your baby or child has dry skin patches or eczema, you've probably felt desperate to find a way to relieve the itching. Eczema was one of the most puzzling challenges that came along with the early years of parenting for the Green Child moms.
That's why we were beyond excited when one of our favorite safe brands introduced their latest product – Earth Mama Organics Eczema Cream.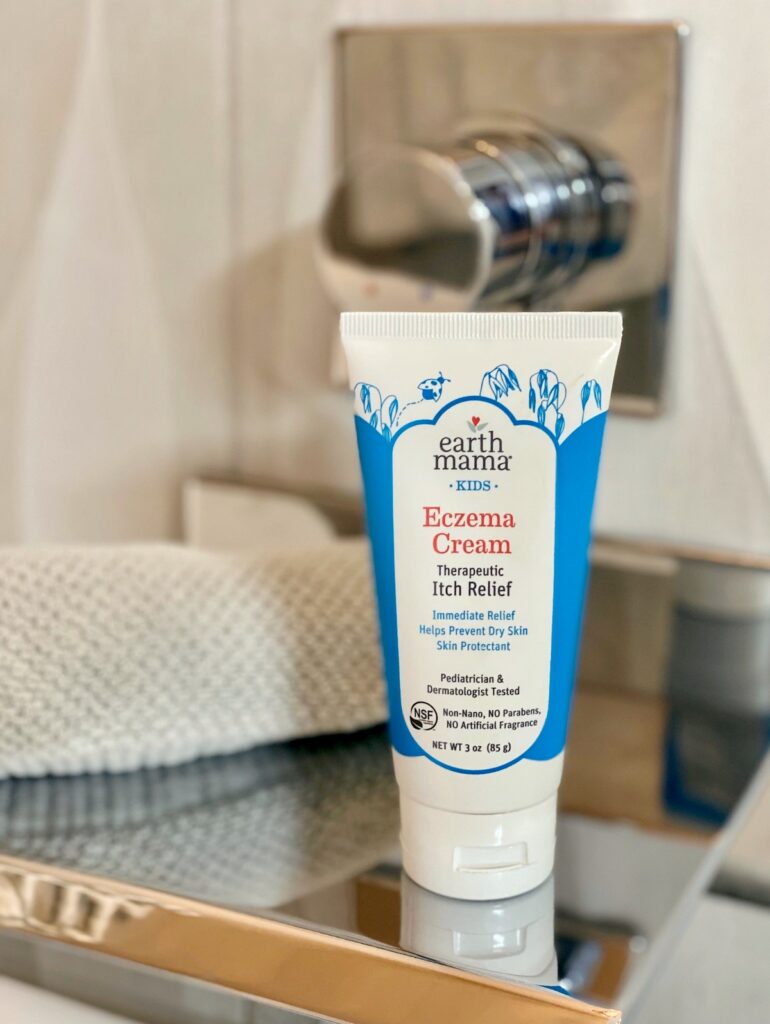 Eczema is a tricky condition. There's almost always a root cause, so if your child experiences recurring or severe outbreaks of dry, red patches, be sure to consult your health care provider to see if there's an underlying issue.
Finding the Root Cause of Eczema
"Our son started getting eczema in his elbows and behind his knees during the first winter after he was weaned from breastmilk," shares Casey Monroe, a dental hygienist and mother of two. "His pediatrician recommended an allergy elimination diet. During the reintroduction phase, we learned he was moderately allergic to dairy."
"I felt bad for not realizing it before, but once we cut out milk and some cheeses, his eczema almost entirely cleared up," Casey explains. "He's almost four now, and although he sometimes gets a dry patch, it's nothing like the angry, red rash that made him miserable when he was little."
While conventional medicine hasn't landed on a definitive cause, the following are considered to be contributing factors to eczema outbreaks:
Microbiome imbalance
Food allergies
Chemical allergies (laundry detergent, lotions, etc.)
Nutritional deficiencies
Immune system issues
Chronic stress
Temperature changes
Ideally, you can isolate the allergen or condition causing your child's eczema and eliminate those dry patches for good. But in the meantime (or to help with occasional flare ups) a safe, topical cream can work wonders when it comes to providing relief.
When choosing a topical cream to help relieve the itching and discomfort of eczema, be sure to avoid petroleum-based products.
The biggest problem with petroleum is that it sits on the surface of the skin and doesn't allow the skin to "breathe" properly. The thick layer slows the skin's ability to eliminate toxins.
Remember, the skin is the body's largest organ and plays an important role in maintaining overall health.
Petroleum products, which come from fossil fuels, and mineral oils can lead to nutritional deficiencies. The body absorbs the oil through the skin, liver, and intestinal tract, where the oil absorbs (or steals) essential fat-soluble vitamins from the body.
Fortunately, there are safer options available.
Earth Mama Organics Eczema Cream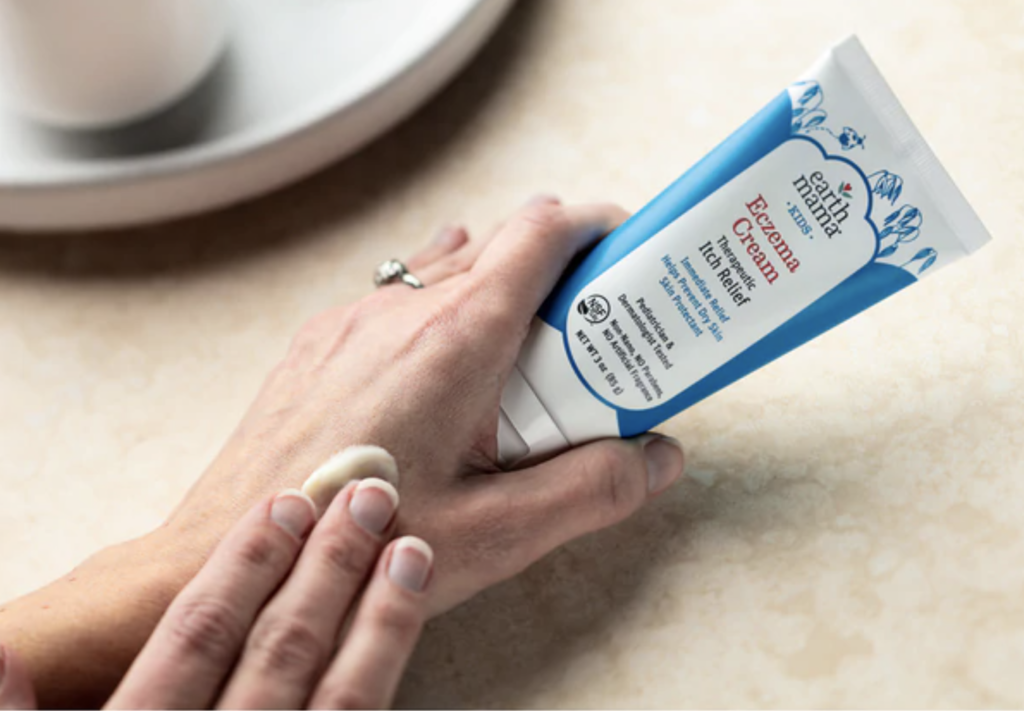 If you read our interview with Melinda Olson, the founder of Earth Mama Organics, you know how much care, research, and integrity goes into each product they create.
"Earth Mama's mission is to first do no harm," explains Melinda Olson, Founder/CEO, herbalist and former nurse. "When I set out to formulate an eczema cream, I made sure it only included ingredients that are effective and still clean and safe for the most fragile people on the planet: pregnant women, and their babies. That means it's perfect for the whole family."
If you'd love to try their amazing products, get 20% off any regular priced product at Earth Mama Organics using promo code GCLove20.
With nearly 20 years of formulating safe products for pregnant women, Earth Mama Organics used their expertise to help relieve itchy skin — with ZERO steroids, petrolatum, fragrance, or harsh artificial preservatives.
The result is a moisturizing skin protectant that provides immediate relief for itchy skin — and is safe for everyone, including pregnant women.
Each ingredient was subjected to a thorough review of evidence-based research, and selected for its ability to work safely and effectively to quickly relieve itching. Organic colloidal oatmeal is married with the power of organic rooibos and organic black cumin seed extract (two herbs known to be helpful in relieving minor skin irritation and itching).
You can find the full ingredient list here. And be sure to look at the review by Karin M. with the amazing before and after photos of her baby.
With no steroids, petrolatum, fragrance, or harsh artificial preservatives – like phenoxyethanol, sodium benzoate, or potassium sorbate, this eczema cream is safe, gentle, and extremely effective.
Our team has been using it since February, and it has worked wonders on lower leg dry patches where the skin is thinner. It goes on smoothly, soothes itching right away, and it doesn't feel heavy or greasy on skin.
Thankfully, we don't have anyone in our families experiencing eczema right now, so we can't report on that, but you can find candid reviews on their product page from dozens of parents who have used it successfully to help with their children's skin.
If you're ready to try it out, you can get their new Eczema Cream with 20% off the regular price at Earth Mama Organics using promo code GCLove20.
If you have questions about this or any of Earth Mama's other wonderful products, feel free to comment here or send us an email.
This article is part of a collaboration with our advertising / affiliate partner, Earth Mama Organics. All thoughts and opinions shared are strictly our own. Thank you for supporting the brands that make it possible for Green Child to share free natural parenting and healthy living content.