How to Make Zucchini Noodles – Gluten-free pasta option
When we did our first Whole30 in 2014, cauliflower rice and zucchini noodles felt like life-savers when it came to carb cravings.
We kept seeing zucchini noodle recipes, but we didn't have a tool to make them, and we worried a little whether our kids would like them.
Amanda read all the reviews on the Spiralizer vegetable slicer and while neither of us love a kitchen full of rarely-used gadgets, this was one we're so glad we tried. Once you understand which way the blade goes (we should have captured our first attempt on video), it's super simple to work.
How to Make Zucchini Noodles
You simply add your choice of blade, line up the zucchini squash, and start turning the handle. Beautiful spirals of zucchini sprout out in no time. And the spiralizer is also easy to clean, and it's fairly compact so it fits in one of those lesser used cabinets or the top of your pantry.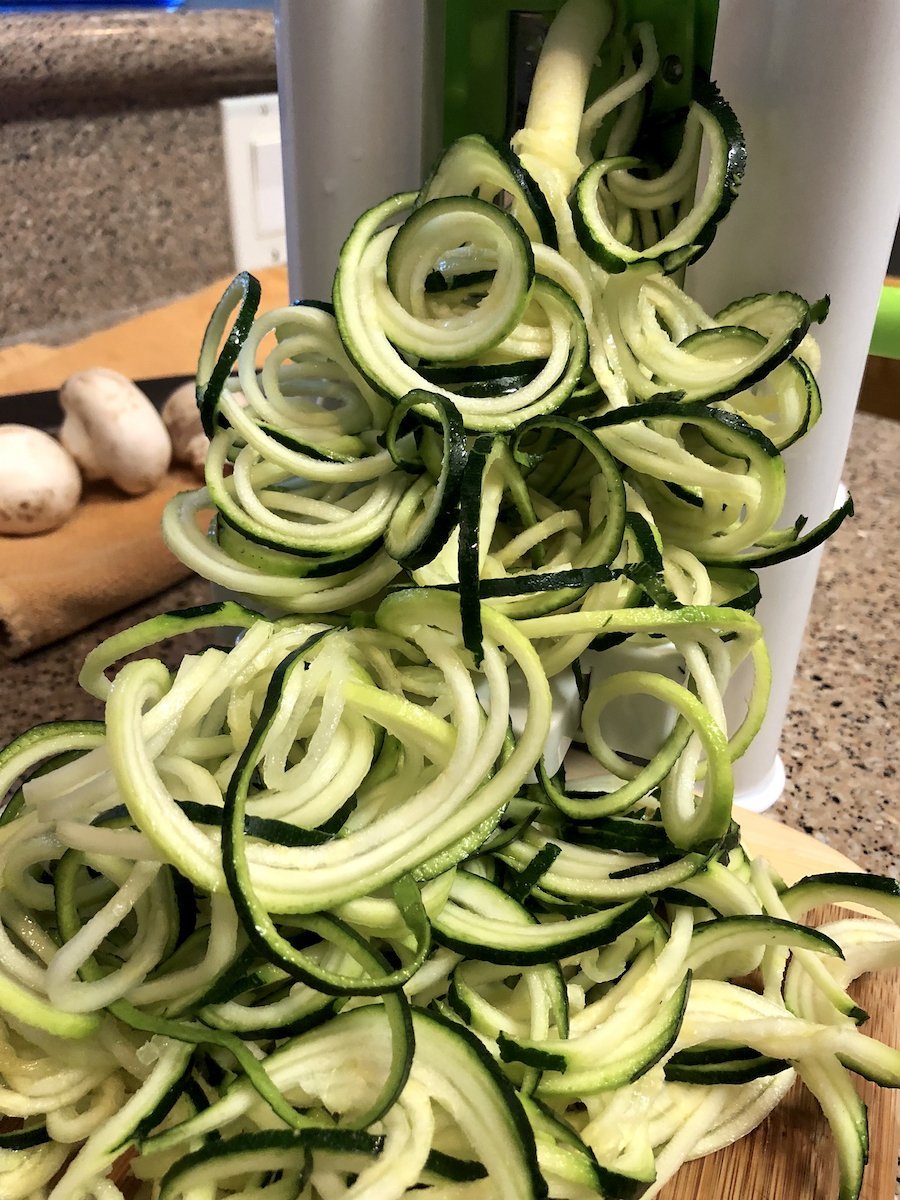 When it comes to zucchini noodle recipes, there are plenty of options. Our favorites are the sautéed recipe you'll find below or used in place of spaghetti noodles. Just top with your favorite warm homemade tomato sauce or organic pre-made sauce and enjoy. You don't even have to cook them that way. They will absorb the heat from the sauce.
How to Get Kids to Eat Zucchini Noodles
If you're worried about whether your kids will eat them, you can go about it a couple of ways. If you cover zucchini noodles with enough sauce, it's kind of hard to taste the difference – especially once the sauce has been on them for a few minutes and the crunch of zucchini goes away.
The other option is to make half regular spaghetti noodles and mix them in with the other half zucchini noodles. Each time, increase the zucchini and back off the spaghetti until your child has acclimated to the taste.
If you have other suggestions, we'd love to hear them in the comments. Also feel free to share any links to other recipes your family enjoys.
Here's how to sauté zucchini noodles for a simple, gluten-free meal.
Zucchini Noodles
Healthy, gluten-free noodles made from zucchini squash
Print Recipe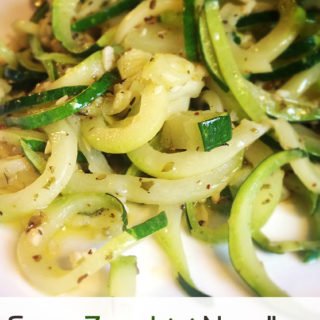 Ingredients
2

Organic Zucchini

medium size

1

tbsp

Italian seasoning

1

tbsp

Grass-fed butter

1

tbsp

Extra Virgin Olive Oil

1

tsp

Minced garlic

Salt & pepper

to taste
Instructions
Heat a tablespoon of butter, olive oil, and a minced garlic clove in a skillet.

Add "noodles" and Italian seasoning.

Sauté noodles for 2-3 minutes.

Season with salt & pepper if desired.

Serve and enjoy!