11 Eco-Friendly School Fundraising Ideas for Kids to Kick off the School Year
No more junky, made-in-China trinkets for your school's fundraisers. Eco-friendly school fundraising can be just as successful, with less consumerism or impact on the planet.
Tired of the same old wrapping paper/candy/toxic candle/cookie fundraisers especially when the products aren't health or environment-friendly? So are we.
But, how do you combine teaching children about caring for people and the earth with earning money for your schools?
This year, my eco-friendly fundraising committee's goal was to accomplish both. We started with one program (print cartridges) and after seven years, expanded to twenty different recycling collection programs.
Our school viewed the committee as a teaching tool, so they didn't push for us to become a huge financial success our first year.  Yet, both can be achieved by choosing among the following excellent green fundraising programs.
Organize a Used Books Fundraiser
Essentially, a used books fundraiser brings together those who are cleaning out their book shelves with those who like a good (printed) read for a bargain price. Find everything from locating venues, gathering volunteers, and marketing your used book fundraiser here at FundraisingIP.
Host a Trivia Night
Choose a popular topic and charge $10 per team to enter. BetterWorld's online fundraising platform is a great resource for this. Have the teams participate beforehand by entering ideas for trivia questions on the Custom Questions section of the BetterWorld ticketing platform.
Build up the excitement and create some healthy competition by lining up some great prizes for the winners. You can increase your profits by selling snacks, too.
Sell Something People Actually Use
It's always important to sell something people will actually use. This option is great because nearly everyone likes coffee, tea, or chocolate.
Equal Exchange's Catalog Fundraiser offers a variety of USDA approved organic and Fair Trade chocolate, coffee, tea, cocoas, olive oil, and more at a 40% profit! It is a fundraiser that considers your health, the environment, and authentic Fair Trade.
They also have educational resources to help you introduce important information about where our food comes from, the environment, and our global community to your children, in an age-appropriate way.
Earn Cash for Food Wrappers
Schools nationwide can earn money by simply collecting and recycling a wide array of items that are not typically acceptable in curbside recycling. Participating free recycling programs can be found at www.terracycle.com/schools.
TerraCycle has numerous collection programs where the organization is paid two cents per item. In our case, we collected plastic lunch bags, Capri Sun wrappers, chip bags, gum wrappers, energy bar wrappers, markers, glue sticks, and many other items. The kids in the after-school environmental club counted all of the items.
Here's how fundraising with TerraCycle works:
Create a TerraCycle account for your school.

Join as many participating free recycling programs as desired.

Set up a TerraCycle recycling hub with collection bins in your school using materials on hand.

Spread the word to the school community: let students, parents, and faculty know they can help fundraise just by recycling.

When the collection bins are full, download a free shipping label for each program and send the trash to TerraCycle to be recycled for free!

For each shipment, earn points that can be redeemed as a donation to fund field trips, new supplies and more.
As an added benefit, every school that signs up to become a TerraCycle School through the end of the year will be awarded $5 towards their fundraising goals.
Electronics and Print / Ink Cartridge Recycling
Recycling Fundraiser and Funding Factory have fundraising opportunities to buy back electronics which include cell phones, iPhones, iPads, and other digital electronic devices. Some organizations even take back broken items.
Recycling Fundraiser, Funding Factory, and Earthtone Solutions pay for used print cartridges. Terracycle pays for the cartridges too.
Eco-Friendly Shopping Fundraising 
Several websites offer fundraising programs where your donors can buy sustainable products that are actually pretty useful. They also offer various fundraising opportunities such as catalog or website drives where an organization can earn up to 45% of the sales commissions. Boon Supply has a Family Fun category and a Waste Free Lunch collection of reusable items.
It makes perfect sense for schools to support waste free lunch supplies with their fundraisers. EcoLunchboxes also offers a program where 15% of sales goes back to your school or organization.
You can also get your fall fundraising off to a good start with Smencils. Smencil and Smens are pencils and pens made out of recycled newspaper that smell good.
With the eco friendly school fundraiser from Tru Earth, your school can earn 20% per order when people order their super useful and safe liquid-less laundry detergent. You'll get a special fundraising link to share with your community via social media, email newsletters, or your school's website.
Spring and fall are perfect times for a seed/bulb fundraiser. High Mowing Organic Seeds offers non-GMO organic seed fundraisers. Dutch Mill Bulbs offers a wide variety of flower bulbs for your program.
Host a Taco Party
A party with free food can be a fun incentive. The class that brings in the most fundraising dollars wins a taco (or pizza or dessert) party at school.
Not only is this a creative fundraiser idea for school but it's also a fun way for students to relax and bond with their classmates.
Try a Rummage Sale Fundraiser
Instead of selling new items (with the shipping and packaging footprint), try a group rummage sale. Send a letter home inviting families to clean out those basements and attics of good condition items they no longer use. Choose a visible location with plenty of parking and spread the word to the local community. Schedule workers in shifts. Accept cash donations, too.
Snack, Lunch, and Bag Fundraisers
Promote the zero-waste message and help your school reduce lunch-packing waste by having a waste-free lunch sale after school, at an event, or as part of a fundraiser. UKonserve offers 20% coupons so your school can either pass on the discount to the families, or sell products at full price and keep the profits as a fundraiser.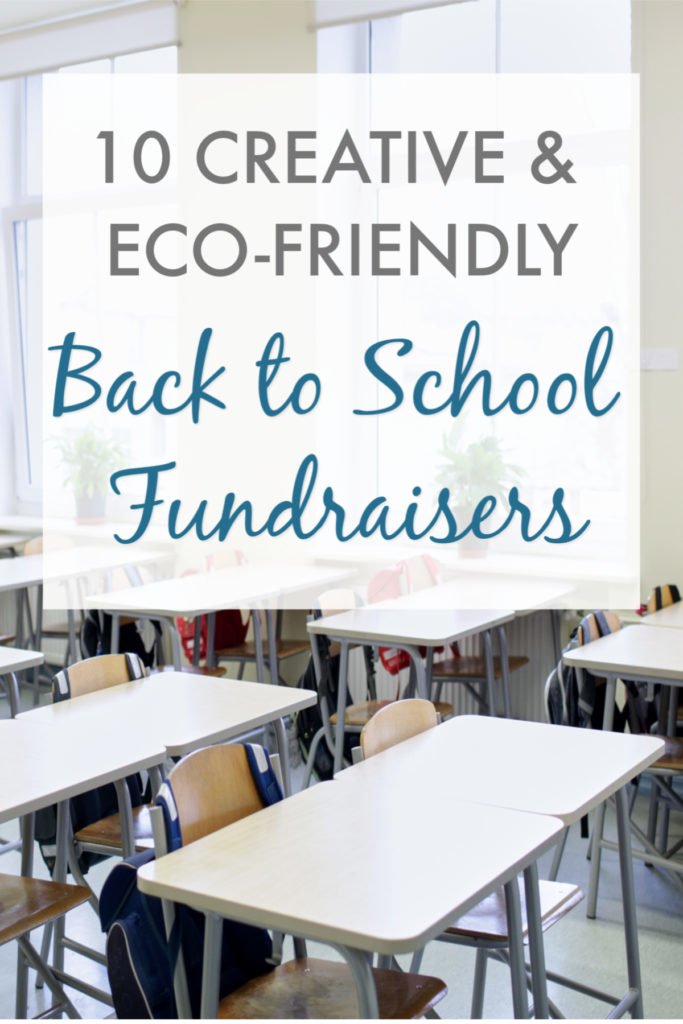 Sell T-shirts
Because t-shirts are part of many school events or clubs, they can pull double duty as a green fundraiser. One because you needed them anyway, and two if you opt for a sustainably made shirt. When choosing a shirt vendor, be sure to consider reputation and convenience along with the price.
A local vendor may offer convenience and more control because they're close. An online source may provide more options – especially when it comes to sustainable fabrics. Green Benefits and Bonfire offer sustainable T-shirt fundraising opportunities.
Opt for Crowdfunding
With the right crowdfunding program, you can take a more personal approach to ongoing donations. Crowdfunding is especially effective for unique campaigns to rally your supporters around something in particular, like the yearly education fund, sourcing eco-friendly classroom supplies or renovations. It also works well as a complement to an offline effort, like a benefit or auction, because you can create an online home to kick off the event weeks in advance and also use it as a follow-up tool, both of which can bring in extra donations, especially from those who cannot attend.
With a site like Deposit a Gift, you get to keep all the money you raise, whether you hit your eco-friendly fundraising goal or not. And the cost is anywhere from 2 to 4 cents on the dollar. An online extension that supports an offline fundraiser can raise more money than ever before by tapping into the school's social network.
The fundraising site for your cause has to be easy to share. A customizable URL sends contributors directly to your site and clearly depicts what your cause is about. Having social media "Like" and "Share" buttons built right into your fundraising page enables supporters to help spread your campaign as well.
Creating a personal eco-friendly fundraising site online empowers supporters to help turn an ordinary campaign into a viral campaign because it's a naturally social way to communicate your story, engage supporters and compel them to give.