5 Tips for an Eco-Friendly Valentine's Day + Green Gift Ideas
Most people associate pink or red with February 14th, but when your goal is an eco-friendly Valentine's Day, definitely go with green!
Here, we'll look at the biggest reasons this holiday can be wasteful or unhealthy, then you'll find some gift ideas that are sure to please.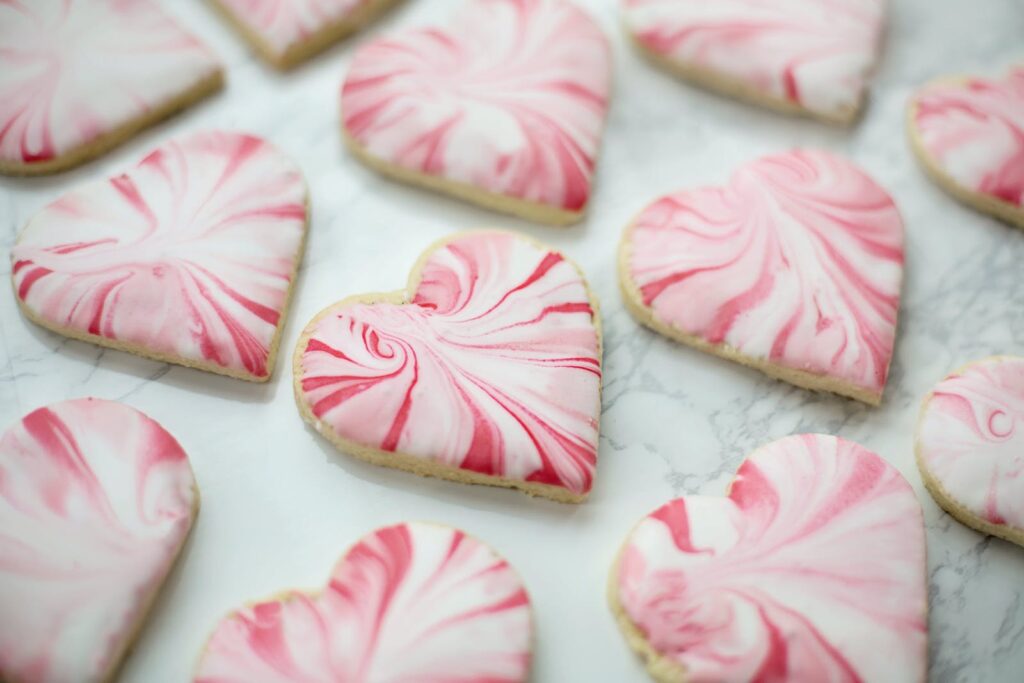 Some of us can't stand the commercialism and waste of Valentine's Day… not to mention the unrealistic expectations on our partner, so we completely avoid Hallmark Holidays. Others still want to celebrate and use it as a chance to forego consumerism and show Mother Nature some love, by giving low-waste gifts or supporting Fair Trade or eco-conscious businesses.
If you ❤️ shopping on February 14th, here are some of the biggest ways you can lessen your impact and detour from the mainstream to make it a greener, eco-friendly Valentine's Day.
This post includes affiliate links. See our full disclosure.
1. Choose Safer Valentine's Day Flowers
Most of the flowers grown for Valentine's Day come from small or distant countries with lax environmental standards. This means your bouquet's carbon footprint is steep. Unfortunately, close to home doesn't always mean much better. California grown cut flowers are doused with more than 400,000 pounds of insecticides, herbicides fungicides, and other chemicals each year.
The "perfect" bloom is so sought after, some greenhouses actually use banned chemicals (think DDT-like substances) as pesticides. These chemicals pollute the air where they're used, not to mention the lungs of the underpaid workers growing them. Then we bring them into our homes and take a big whiff every time we pass that flawless bouquet.
Solution: A Brighter Bloom
For something that lives longer than a week, give a potted plant instead. Think of a stunning orchid, hardy succulents, or a lucky bamboo plant. Lilies and ivy reduce indoor air pollution and they're extremely easy to grow. You can also visit your farmer's market to buy sustainably grown flowers and support your local economy.
2. Give Chocolate that Makes a Difference
Nearly 40 million heart-shaped boxes of chocolate are sold each year at Valentine's Day. But at what price? In his documentary, The Dark Side of Chocolate, award-winning journalist Miki Mistrati shows how children as young as eight years old are being trafficked into working the Ivory Coast cocoa fields for little or no pay.
Solution: Opt for Fair Trade Chocolate
The Fair Trade certification lets you know that farming families earned a fair wage for their work and that environmentally sustainable practices were used. You'll find a delightful variety of Fair Trade chocolates, tea, and coffee at Equal Exchange.
3. Send Greener Valentine's Day Cards
Globally, around one billion cards are sent each year at Valentine's Day, making it the second largest card-sending holiday to Christmas. School children pass out 20 cards or more each. But the commercialism doesn't end with paper… there's also suckers, stickers, and other trash can-bound trinkets adorning them.
Solution: Make your own Valentines or choose recycled papers
Handmade is from the heart. Pull out the construction paper (or use the backs of colorful flyers from the mail or school) and get creative! Or try printing our Valentine's Day lollipop covers and pair with your child's favorite organic lollipops.
Or choose cards made from recycled paper. Minted offers photo card options on FSC certified paper.
4. Give Conscious Jewelry
The film Blood Diamond raised awareness of the conflict surrounding diamond mining, but there's still work to be done to make sure gems and precious metals are mined and made sustainably. And most importantly, your eco-friendly Valentine's Day gift should be one where no one's life was risked for a symbol of love.
Solution: Only precious and pure will do
There are so many options, you'll never have to walk into the mall jeweler again… Vintage shops, Goodwill, consignment. If you're worried about potential negative energy from a previous owner, you can cleanse the energy of a gemstone.
5. Choose Sustainable Wine
Conventional wines contain pesticides, dyes, sulfites, commercial yeasts, excessive sugar, and an extremely hazardous chemical called Velcorin. Many conventional red wines test positive for mold and mycotoxins.
Solution: Go natural and organic
Look for the organic label or dry farmed (non-irrigated) wines for the best quality for your health and the best option for the planet.
Eco-Friendly Valentine's Day Gift Ideas
We don't want to leave you high and dry guessing about what to get your special Valentine. Here are some of our favorite greener gift ideas.
Hypoallergenic Biocompatible Titanium and Opal Earrings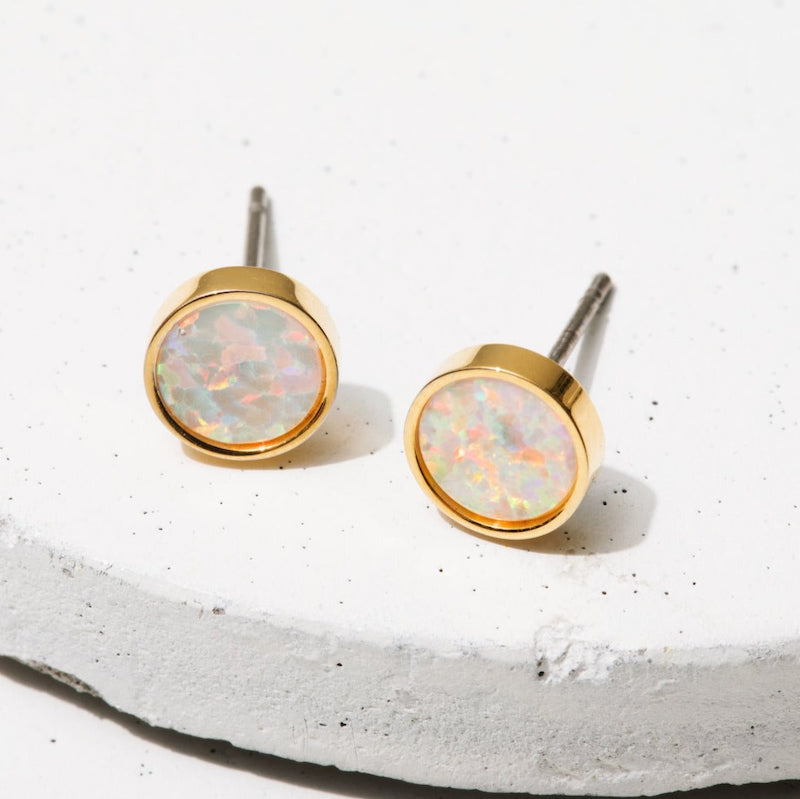 Tini Lux jewelry is perfect for everyone on your eco Valentine's Day list. Metal allergies are a pain for people of all ages. This brand spent three years perfecting a balance of titanium and niobium metals that are non-reactive with the human body.
With tons of styles to choose from, including star sign jewelry, these earrings are perfect for kids with newly pierced ears or for your Valentine.
Alltrue is a quarterly curated set of socially-conscious lifestyle items. Each box contains $250+ worth of exclusive, socially-conscious products.
Your cost is just $49.95 and you get free shipping. They review hundreds and hundreds of products every season and select only the best for members, in categories ranging from large accessories and jewelry, to clean skincare and homewares, and everything in between!
Island Wrapped Navy Lattice Hurricane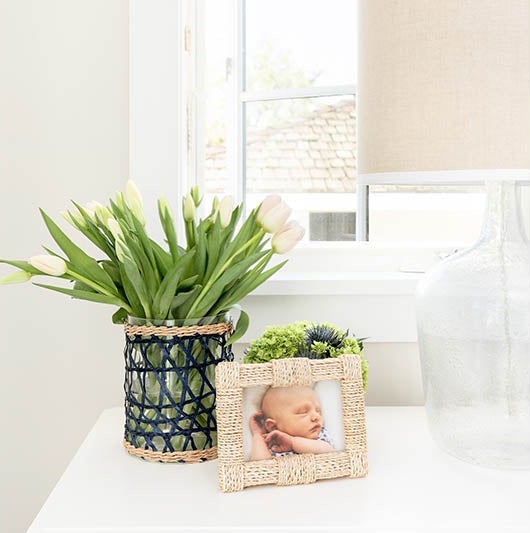 We love eco-friendly home decor. These multi-purpose hurricanes make a gorgeous vase, candle holder, chic canister for pens, makeup brushes, and more.
It's also a gift that gives back. Cailíní Coastal partners with Family Promise – a national non-profit that helps low-income families and families experiencing homelessness achieve sustainable independence through a community-based response.
Blue Lace Agate Sterling Silver Ring
If she loves crystals, you can't go wrong with crystal jewelry. This ring features an open back setting so the crystal stays in contact with the body.
The fusion between Blue Lace Agate and your throat, third eye and crown chakras emboldens you to embark on new beginnings. As it nurtures fears and doubts away with a sense of tranquility, it establishes a feeling of quiet resolve to go in its place.
The pairing of inner-peace and confidence is a powerful one when taking on measured risks. Accept exciting experiences into your life in a way that is still calm, rational and healthy with the help of the Blue Lace Agate properties.
Naturepedic 2-in-1 Organic Luxury Adjustable Pillow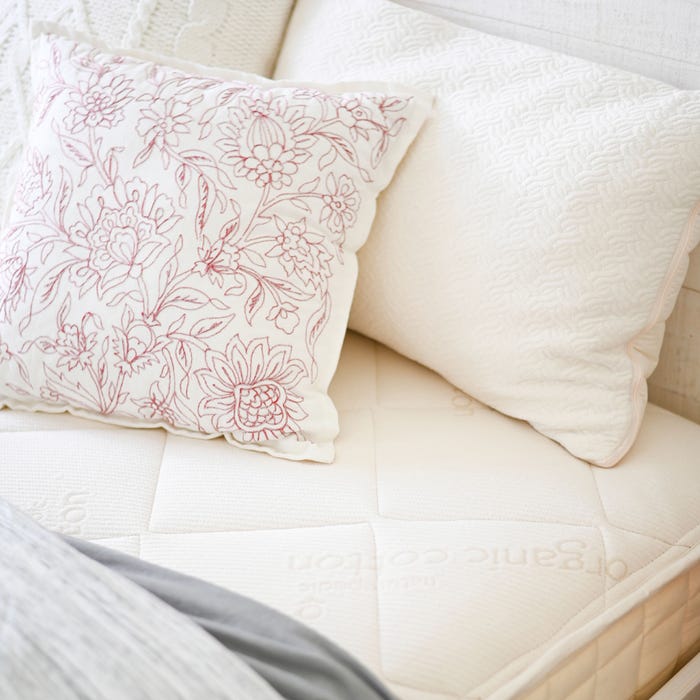 While most pillows are filled with some not-so-dreamy chemicals, the Naturepedic 2-in-1 Organic Luxury Adjustable Pillow only uses GOTS-certified organic, MADE SAFE certified nontoxic materials such as organic cotton, PLA batting (made from non-GMO sugarcane to wick moisture while adding additional fluff), and organic latex.
We love this one because you can make the pillow as firm or as soft as you desire. Use Greenchild15 to get 15% off the purchase of their top-rated, certified organic mattresses, pillows, and accessories.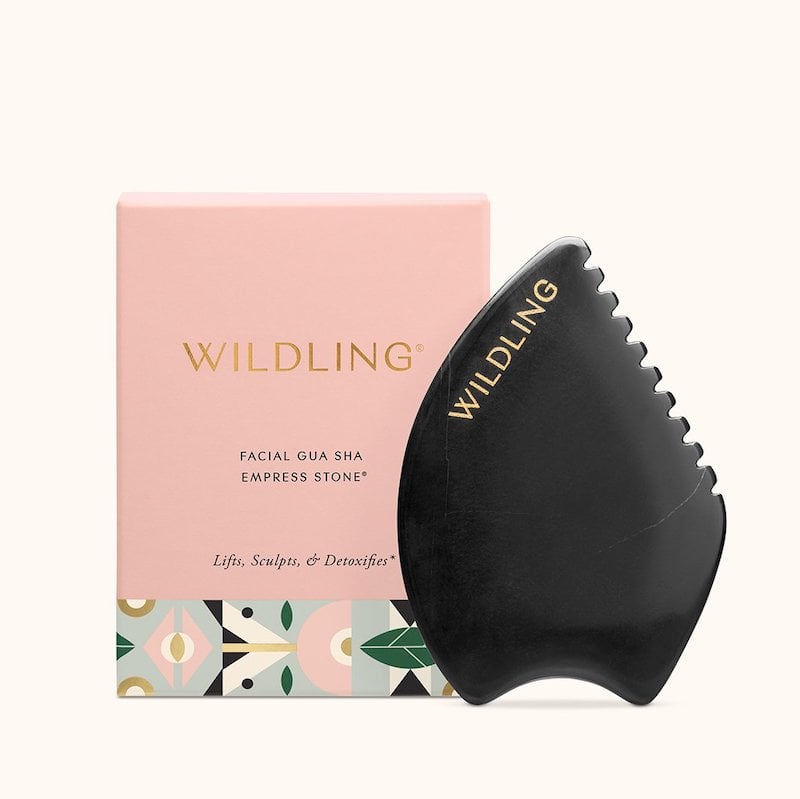 Facial Gua Sha is an easy and safe way to reduce skin puffiness, facilitate lymph drainage, plus it provides a variety of anti-aging benefits. The Empress Stone from Wilding Beauty gently sculpts and reinvigorates the skin.
The Empress is composed of Bian stone, an amalgamate of 40+ minerals known for their healing properties. Each edge of the tool is intentionally architected to enhance the practice of facial Gua Sha, a traditional Chinese beauty practice.
Wilding also has a gorgeous new Lumin Kit designed to work synergistically to move lymph, de-puff, detoxify, and calm the skin.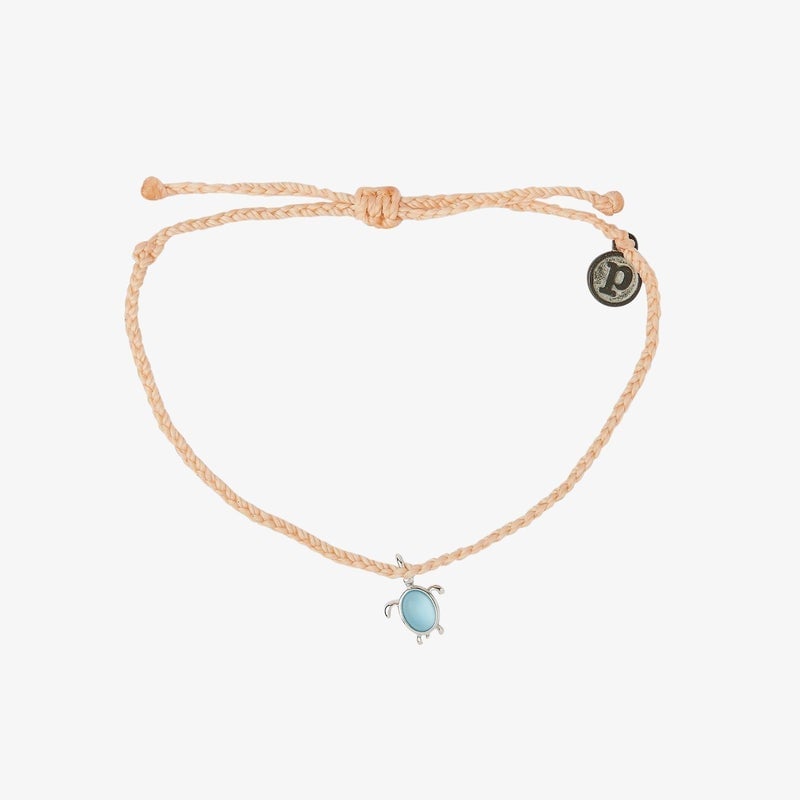 Support your true love's favorite charity with a cause bracelet from Pura Vida.
This bracelet supports sea turtles. For each bracelet sold, 5% is donated to the Sea Turtle Conservancy, the world's oldest sea turtle research and conservation group, which carries out worldwide programs to conserve and recover sea turtle populations.
Golden Girls Rose Gold Stainless Tumbler
Thank you for being a friend… Reusable, food-grade stainless steel – those are the rational reasons to get this fabulous sparkly tumbler for the Golden Girls fan on your list.
Crystal of the Month Subscription Box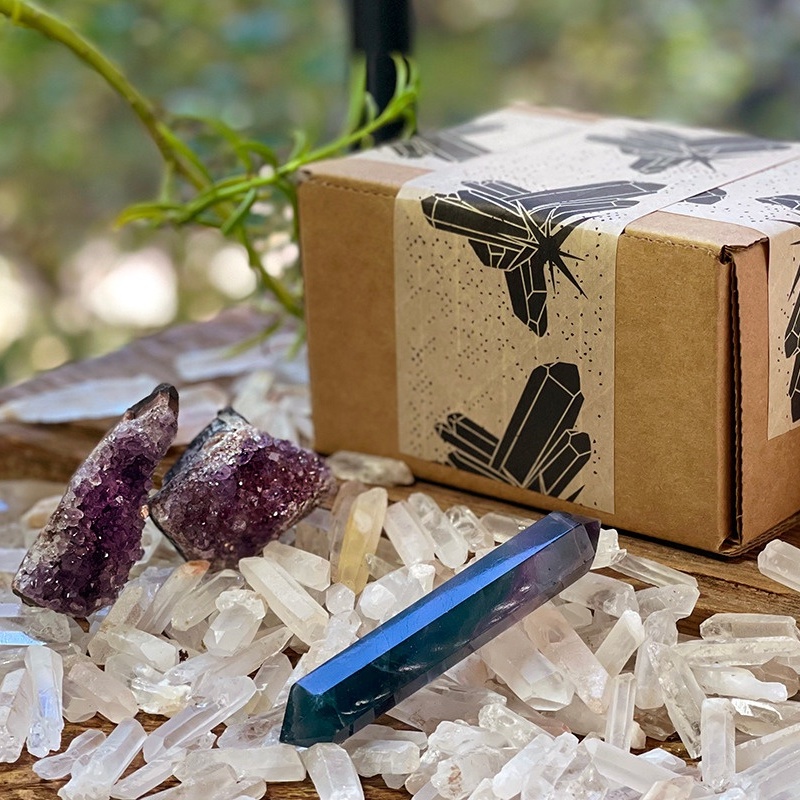 Experience the magic of crystals and minerals curated by experts with a life-long passion and fascination with the crystal and mineral kingdoms. Every crystal is hand-picked especially for you from sources all around the world!
Use code VDAY2022 from 2/8/22-2/16/22
And as always, we love to encourage the gift of an experience for an eco-friendly Valentine's Day. Your Valentine will enjoy dinner at a restaurant that serves local or organic foods. You can't go wrong with a massage gift certificate, an outdoor adventure, a CSA membership… there are so many ways to gift an experience to the one you love.
If you opt for a physical gift, be sure to wrap it green by using something you already have lying around like newspaper, a decorative box or basket, or in a DIY fabric gift bag.
We'd love to hear your ideas for making it an eco-friendly Valentine's Day! Tell us how you're celebrating in a no-waste or minimalist way… or how you're using the day to support eco-conscious or Fair Trade businesses.