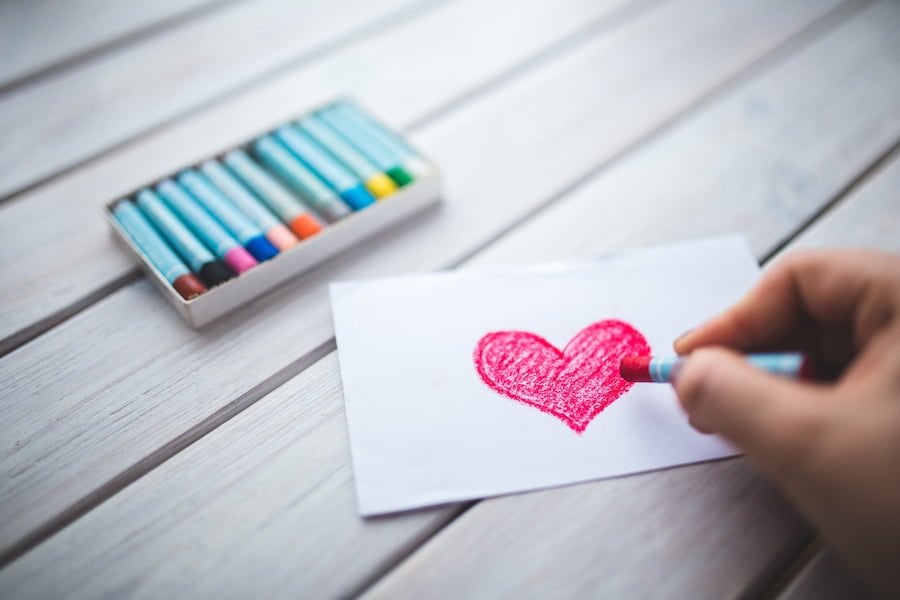 Now that the Christmas and New Year's holidays are over, it's time to think about the next big celebration — Valentine's Day. Perhaps you made a New Year's resolution to be more environmentally conscious in 2016. Here are a few ways you can decrease your impact on the Earth this Valentine's Day.
DIY Valentines
Nothing says "I love you" more than a handmade valentine. And there are so many great options to choose from. You can craft a creative cootie catcher with fun valentine messages like "you're awesome" or make heart-shaped crayons by melting old, unused crayons and using a baking mold. When choosing your method of melting, choose carefully which type of pan you use, as Teflon can have an impact on local ecology.
Or, on your next trip to the paint store, you can take the sample swatches, punch a few holes in them, and turn them into adorable valentine mementos for your friends and significant other.
Further, you create a real personalized valentine by stamping two of your thumbprints into a heart on the front of a card and including a festive message inside the card. If you are not into finger painting, you can create a 3-D heart using old magazines and picture frames. Using the resources you already have is a wonderful way to foster sustainability.
No matter what you decide to create, these DIY ideas are great ways to show you care.
Eco-Friendly Ideas
If you don't feel you are creative enough to DIY, try these eco-friendly ideas…
Print your Valentines on paper embedded with seeds that can be planted after the holiday is over.
Create Valentines from paper you already have on hand (think school papers or flyers).
Try mini chalkboards you (or your recipient) can reuse with new messages throughout Valentine's Day and beyond.
Create your own festive treats with Green Child's free printable lollipop covers.
Other Green Greetings
I am amazed at the creativity people can use when creating gifts out of already-available materials. There are many green concepts and designs that can be integrated into your valentine celebration. But when it comes to cards, many of the 180 million greetings that are given each year end up in a landfill.
Instead of going out to purchase something, how about making a card out of old wall calendars? You can repurpose your favorite calendar pictures into a beautiful greeting. Or, if you don't have any of these items, you can send wishes via digital media without even using paper.
Poetry is another way to send your valentine warm wishes. How about writing a poem to express your love using organic or recycled paper? This is a gesture that is sure to be kept by your love. Even if you are no Shakespeare, heartfelt words can be a delight that are cherished for years to come.
Learning to celebrate special occasions in a sustainable way can really make you feel good about your contribution to protecting the planet. These suggestions provide some great ways to keep you environmentally conscious this Valentine's Day. And with these green notions, Mother Earth can celebrate the occasion as well.
Image courtesy of Pexels
Megan Wild loves and things red, pink, and white, which makes Valentine's Day one of her favorite holidays. Check out more environmentally conscious decor ideas on her blog, Your Wild Home.
Latest posts by Megan Wild (see all)