Eco & Socially Conscious Fundraising With Equal Exchange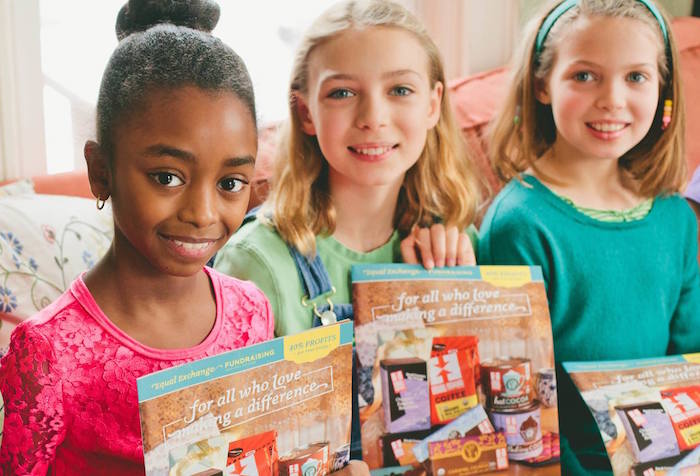 "I vote for the wrapping paper. Didn't we make good money on it last year?"
"Yeah, well at $12 a roll, we should have made a fortune. I vote for the scented candles!"
This was the school fundraising conversation at my first PTO meeting when our son was in kindergarten. The squirmy toddler on my lap may have kept my jaw from hitting the table during this debate over pricey rolls of disposable virgin trees or $25 for a jar of flaming toxins?
Before the vote, I kindly asked if there were any fundraising options that were more health-conscious or earth-friendly. And if not, were there any non-consumable ideas (does anyone remember the trusty Math-A-Thon?) we could consider? The PTO members and other parents were extremely polite and nodded in agreement, then went on to gleefully vote in BOTH the candles and the wrapping paper.
That was 10 years ago, and I'm happy to say that since then, we've participated in or helped arrange organic bulb sales, bake sales, walk-a-thons, spell-a-thons, and a phenomenal fundraising gala for our kids' schools. And if there wasn't a better option, I'd just send in a $50 straight donation check and decline the consumables.
A Fundraiser That Truly Gives Back
With a variety of public, private, and homeschool kids on the Green Child team, when we see a socially conscious and eco-friendly option for school fundraising, we pay attention. The same goes for the various clubs and sports teams our kids have joined throughout the years. We're excited to share with you that we've found a program that truly makes your organization a priority, without compromising our collective goals to live healthier and lower-impact.
Equal Exchange has been a bold leader of the authentic Fair Trade movement for the last 30 years. They don't just source sustainable products via a third party, they visit the areas in person to speak to the farmers and learn about the land and the native processes. They seek to understand the impact on the environment, the community, and the families involved.
When your school or organization chooses Equal Exchange, you get to offer an amazing collection of organic and fairly traded chocolate, coffee, cocoa, tea, and gift products, sourced from more than 40 farming communities in North America, Central America, South America, Africa, and Asia. Each group's purchases support authentic Fair Trade, which means the farming families receive above-market prices for their crops plus social premiums that can be invested in community development, farm renovation, healthcare, and other essential projects.
Equal Exchange Fundraiser Benefits

40% profit
No minimum orders
No upfront costs
Free catalogs and posters
Free shipping for order over $135
Guaranteed delivery within 10 business days
Our friends at Equal Exchange shared with us what makes their program so special. "Our mission is to build long-term trade partnerships that are economically just, environmentally sound, and mutually beneficial in an effort to help create a more equitable, democratic and sustainable world. We're both proud of the growth of the Fair Trade movement and still fighting for our founding principles, as we recognize there is still so much work to do. We believe in the principles of shared accountability, cooperation, and democracy–the same as we expect from the farmer co-ops with whom we partner."
Not only are they making a difference in communities around the globe, Equal Exchange provides educational resources for students here at home. Their education page includes videos, PowerPoint presentations, and graphics about where their products come from so kids can feel a strong connection with the people and resources they're supporting.
When your school or organization sells organic chocolates, you'll get the peace of mind of know the ingredients were grown without the use of toxic pesticides, genetically engineered ingredients, or chemical fertilizers.
Equal Exchange Fundraising Successes
"I recently coordinated a successful catalog fundraiser with Equal Exchange! I was really impressed with every aspect from the catalogs to the customer service to the quick shipping, and, most importantly, the high quality product that supports Fair Trade and sustainable, organic farming." ~ Sara Beckham-Henry, Molly Michie Preschool, VA
"We raised over $12,000! The Equal Exchange fundraiser really emphasized the understanding of supporting our own community, but also supporting communities around the world. And the chocolate is sooo delicious." ~ Leslie Dimaio, Columbia Falls Junior High School, MT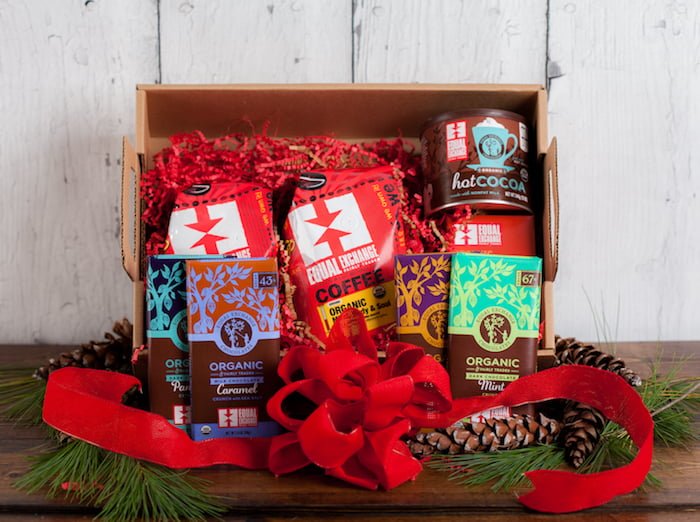 "I am so thankful you offer fundraising while supporting so many global issues. Finding your fundraising program was a dream! " ~ Merrit DesLauries, Waldorf School of Pittsburgh, PA
"The Equal Exchange fundraiser was much more than a fundraiser; it was a vehicle that sparked conversations among our students, faculty and parents about how our behaviors and practices in our own community impact communities across the globe. Besides, it's easy to choose organic and Fair Trade when it tastes great!" ~ Melissa Tomback, Brimmer and May School, MA
Get Started With Equal Exchange Fundraising
Head to the central fundraising page to find their profit calculator and learn how to get started. You can take a look at their catalog here. If you're ready to sign up, you can go directly to their fundraising agreement form.
Or if you're not in charge of selecting the fundraiser for your organization, send them the link to this article to help familiarize them with the many benefits of Equal Exchange's programs.