Enchanted Summer Dream Berry Smoothie Bowl
This berry smoothie bowl is called Enchanted Summer Dream because it's the perfect healthy, fresh taste of summer. No matter if you eat it during summer or give it a try during winter, this smoothie will animate body and soul and give you the perfect start into your day!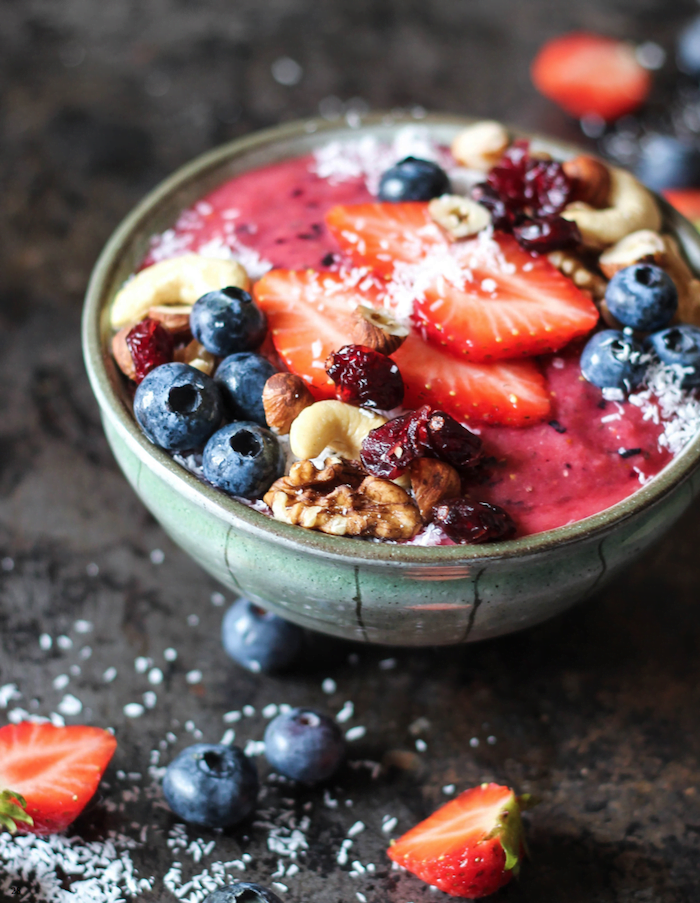 It's full of beneficial nutrients and makes a great energy and hydration source for those long, hot summer days.
If you time your farmer's market visit just right, you'll have fresh, local berries for this gorgeous berry smoothie bowl. And it's simple enough the kids can help or tweak the ingredients to their own liking.
Related: Coconut Raspberry Cooler Smoothie Bowl
In her book, Beautiful Smoothie Bowls, Carissa Bonham combines art with the nutrition of smoothie bowls. We're thrilled to share these recipes from Carissa and her talented friends with you.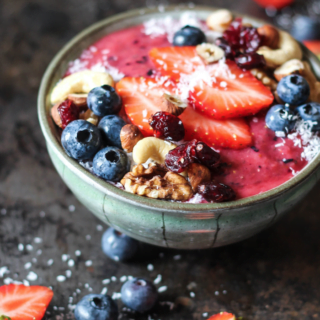 Ingredients
Bowl Ingredients
1

banana

peeled

1

apple

peeled and cored

3/4

cup

frozen strawberries

1/2

cup

frozen raspberries

1/2

cup

frozen blueberries

1

date

pitted

1

Tbsp

chia seeds

1

Tbsp

agave syrup

1

tsp

flaxseed oil
Toppings
1

Tbsp

ground coconut

1

tsp

dried sweetened cranberries

2

Tbsp

blueberries

1

strawberry

sliced

1/4

cup

mixed nuts
Instructions
Combine all smoothie bowl ingredients in a blender jar and blend until smooth and no chunks remain.

Pour into a bowl and add toppings.
While smoothies are a convenient and healthy way to replace a meal on the go, research has shown that liquid forms of fruits can be less satisfying than whole foods. With a smoothie bowl, in addition to blending in superfoods, you also add fruit, nuts, seeds, or grain on top. So you also get something to chew, which can help make for a yummy whole breakfast or lunch. (source)
Find more gorgeous and delicious smoothie bowl recipes in Beautiful Smoothie Bowls.