How to Recycle or Repurpose Holiday Gift Giving Waste
Even with sustainable holiday planning and greener ways to wrap gifts, you may still have a little post-unwrapping debris to clear away from your holiday celebrations.
As you sort through the odds and ends, ornaments that didn't make the cut this year, and decide what to recycle and what to reuse… here's how to tackle some of the more obvious gift giving clutter so can start with a more sustainable holiday next year.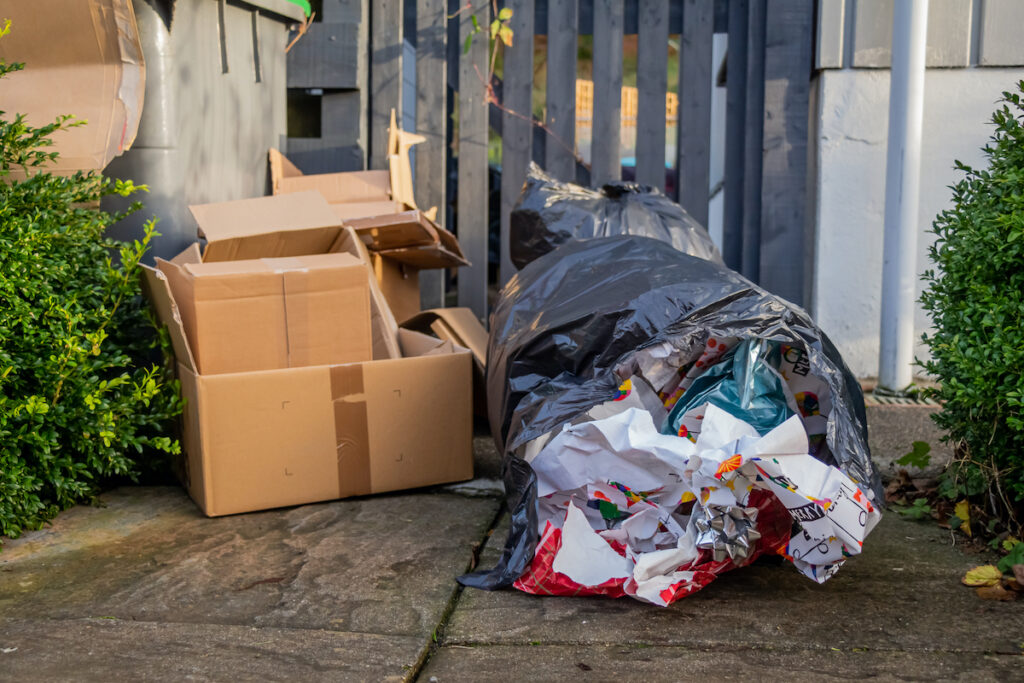 What Not to Put in the Recycling Bin After the Holidays
First things first – here's what you shouldn't place in your recycling bins after the holidays
Christmas lights
Ribbons & bows
Batteries
Food packaging and waste
Clothing and shoes
Electronics
Foam packaging
Bubble wrap
Cellophane
Plastic bags
Wrapping Paper
The best way to avoid wrapping paper waste is to wrap gifts sustainably in the first place. But that advice doesn't count when it comes to gifts you receive from outside your family.
Recycle anything that isn't coated with glitter or other embellishments. There's always some gift wrap that wasn't completely ripped to shreds so the big question is can any of it be salvaged? Even if it's already a bit crinkled it can still be reused. Even Martha Stewart says it's ok to iron and reuse last year's wrapping paper!
Reuse tissue paper as many times as possible, then trash it. It's already so thin, it generally can't be made into any new materials.
If you have a spare corner of the basement or unused cupboard, a DIY Gift Wrapping Station is the perfect place to store these items for your next holiday or birthday. It's so handy to have all your gift wrapping materials in one place.
Cardboard
Cardboard boxes and other packing materials can be repurposed in several ways.
Some examples are:
For moving: Temporarily save them for people who may be moving in the near future. If necessary break down boxes so they can be stacked in a safe place until needed.
As puzzle backing: Cardboard works as a backing for puzzles, especially if you want to glue the puzzle together and hang it up after it's assembled.
As canvas: Some art projects need specialized paper or canvas but if you're just planning to sit down and follow your stream of consciousness wherever it takes you cardboard makes a great medium to draw or paint on.
Styrofoam
This material can take half a millennium before it begins to biodegrade. Unfortunately, very few recycling centers exist because the process is costly and only a handful of companies will reuse it if sent back to them. That's why it's essential to find new ways to reuse Styrofoam.
Make new holiday ornaments for next year. Styrofoam is a durable substance that can be cut into all kinds of shapes and sizes and painted. As we know it lasts forever so anything made now will be just as good in another twelve months.
For repacking. Share to social media sites that you're giving away free materials for protecting breakables. Someone is bound to reach out and tell you you've saved their day.
Contribute to a local school's art department. Budgets are tight and teachers are always looking for new resources. Styrofoam is a versatile addition.
Gifts
When it comes to gifts that you aren't planning on keeping and can't be returned or exchanged try one of the following routes:
Donate: There are various organizations that accept clothing, toys and all kinds of items.
Re-gift: Go for a zero-waste holiday! If you received something you already have there's nothing wrong with re-gifting and passing it on.
Sell: There are plenty of second hand stores or internet sites where you may get a good deal. Contact them and try it out.
Prize: If someone gave you a new computer and you recently bought one the gift could be used as a prize for a raffle or lottery where all the proceeds go to charity.
Christmas Trees
Check with your city or county to see if curbside pickup is available for your tree. Another popular option is to find a resource that will drop old trees into lakes and oceans to help create fish habitats. If you're looking for a DIY option for wildlife, the Nature Conservancy of Canada suggests leaving your old Christmas tree in your backyard to provide important habitat for bird populations during the winter months.