"We don't need a handful of people doing zero waste perfectly. We need millions of people doing it imperfectly." This quote from Anne-Marie Bonneau is a helpful and sane way to approach your holiday.
Going zero waste (or low waste) during the holidays might feel like one more burden, but it doesn't have to. Incorporating just a few zero waste holiday tips, like simple adjustments to your wrapping technique or the gifts you buy can really make a difference in your holiday waste.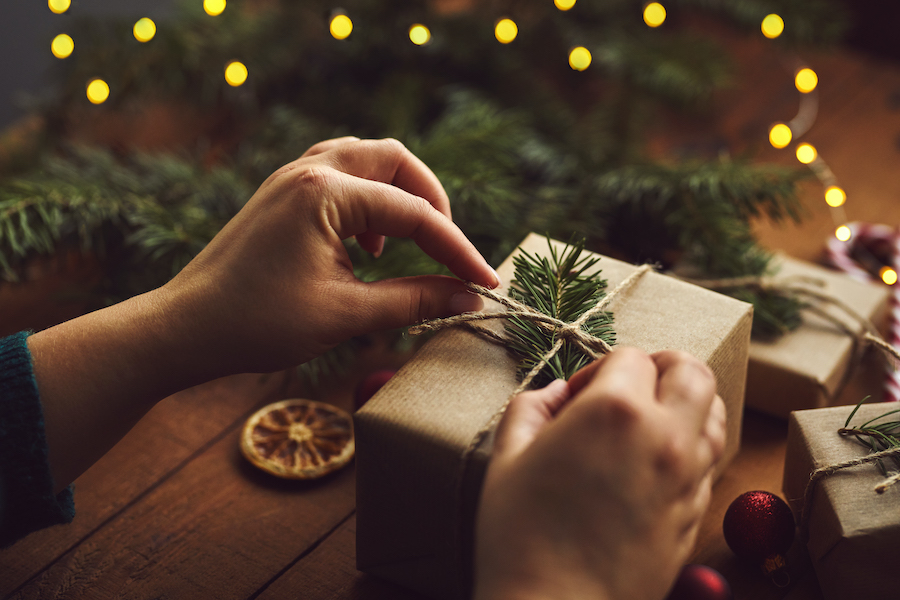 It's the most wonderful time of the year. Unfortunately, it's usually the most wasteful.
Having a zero waste holiday means you still celebrate the season but your garbage bin looks essentially the same as it does any other month. You'll avoid single-use items (especially plastics), and you'll be conscious that your gatherings and gifts don't create waste.
If zero waste seems overwhelming, you can always make a low waste holiday your goal.
Here are some pretty accessible eco-friendly holiday tips. Choose the ones that feel the easiest to fit into your life.
Source your holiday meal locally. Many farmers markets will have sweet potatoes, pumpkins, squash, apples, and even turkeys (if your family eats meat) depending upon where you live.
Plan carefully to avoid food waste. If you find yourself with more leftovers than you can stomach or even give away, try freezing some of the dishes for a future date. And be sure to compost any scraps. Buy your holiday baking ingredients from the bulk section.
See also: 10 Weeks to a Green, Sane Holiday
Skip disposable plates, cups, and huge aluminum oven trays. Besides being wasteful, the toxins from heating aluminum can transfer to your food. If you don't have large reusable pans on hand, you can always borrow or hit the thrift store. The same goes for plates, cups, and utensils when it comes time to serve. Use the real stuff and just make sure your dishwasher is empty and ready to go after the meal.
Let Mother Nature help with the decorating. Use what you can find in your natural surroundings (pinecones make lovely centerpieces) or garden to provide your holiday decor. Potted plants and beeswax candles can serve a purpose long after the holidays are over. Gourds and pumpkins can sit out to look pretty until you're ready to eat them.
Switch to e-cards. Sending out holiday cards is a longstanding tradition many families love, but you can still turn those amazing holiday photos into an e-greeting. Sharing them via social media and email is different, but can be just as fun.
If this is one tradition you can't skip, there are some low waste options. Consider your paper greeting card list carefully. Don't send out 200 cards to people you hardly know. Read this advice on greening your greeting cards and skip the stamps with their plastic backings and have your cards ink stamped at the post office instead.
Avoid retail stores. Aside from protecting your sanity, you'll also limit the temptation to buy more holiday gifts and decorations than you need. Instead, hit up the thrift stores. You'll find plenty of items people received during last year's holiday season just waiting to be rescued from their future in the landfill.
Recycle and repurpose. Recycle any greeting cards you receive, or reuse them to make gift tags or crafts with kids.
Give zero waste holiday gifts. Items that cut down on single use plastic make truly great gifts. They're high-quality, extremely useful, and they're something many people would like to have but just won't buy for themselves. Choose a set of glass straws, a glass cup with silicone lid and sleeve, decadent shampoo and conditioner bars, or a pretty set of un-paper towels.
Give experience gifts. Perfect for zero waste gifting, experience gifts can range anywhere from a vacation to a homemade coupon book with activities that won't cost you a dime! Brainstorm lists of your friends' and family members' interests. Think about classes they might like to take or memberships they might like.
Opt for DIY giving. If you're crafty, you might make your own gifts out of low waste materials. Find DIY recipes for personal products like lip balm, soaps, bath bombs, or candles. DIY beeswax wraps make super useful kitchen storage. Another great option is Homemade Edible Gifts.
Don't shy away from secondhand gifts, or even regifting with authenticity. This is the ultimate in eco-friendly holiday tips. There's nothing better than giving an unused gift new life with an owner that will truly value it.
Wrap your gifts with what you have on hand. We've all watched a small child rip through wrapping paper in a matter of seconds. Save every fancy little box, gift bag, scrap of tissue paper, and cookie tin that comes along throughout the year to wrap your gifts sustainably.
Give back. There's no waste created when you give the gift of your time. Take the kids caroling at a local nursing home, shovel snow for people in your neighborhood, volunteer at a homeless shelter… the options for doing good are endless.

Latest posts by Green Child Magazine
(see all)