12 Tips for a Zero Waste Holiday
"We don't need a handful of people doing zero waste perfectly. We need millions of people doing it imperfectly." This quote from Anne-Marie Bonneau is a helpful and sane way to approach your holiday.
Going zero waste (or low waste) during the holidays might feel like one more burden, but it doesn't have to be. Incorporating just a few zero waste holiday tips, like simple adjustments to your wrapping technique or the gifts you buy can really make a difference in your holiday waste.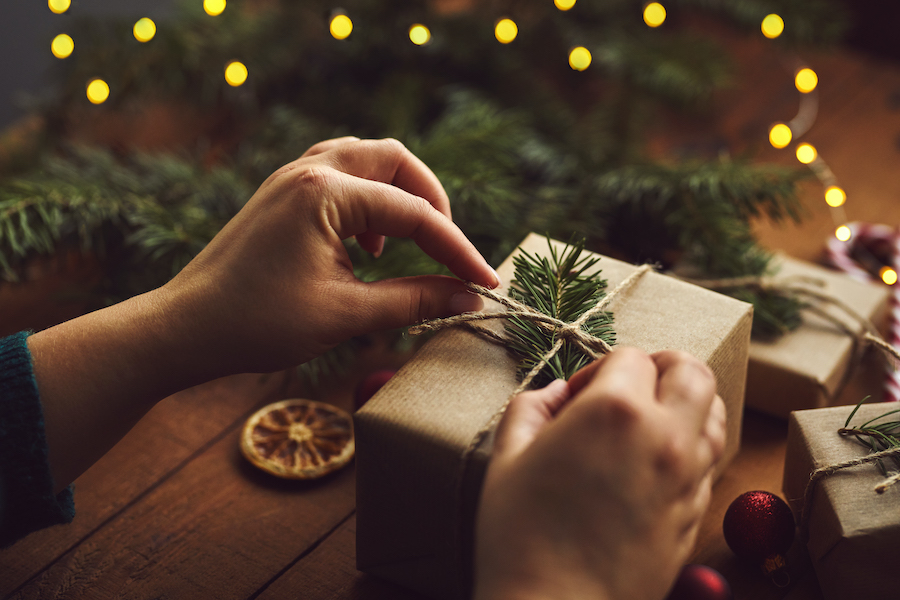 It's the most wonderful time of the year. Unfortunately, it's usually the most wasteful.
Having a zero waste holiday means you still celebrate the season but your garbage bin looks essentially the same as it does any other month. You'll avoid single-use items (especially plastics), and you'll be conscious that your gatherings and gifts don't create waste.
This approach also helps streamline and simplify your holidays.
How to Have a Zero Waste Holiday
If zero waste seems overwhelming, you can always make a low waste holiday your goal.
Here are some pretty accessible eco-friendly holiday tips. Choose the ones that feel the easiest to fit into your life.
1. Let Mother Nature help with the decorating
No matter where you stand on the real vs. artificial Christmas tree debate, there are ways to decorate without creating a bunch of waste. Skip any single use or temporary tree decorations. The popcorn garland doesn't count because humans or birds can eat it.
Use natural elements (pinecones make lovely centerpiece elements) or garden to provide your holiday decor. Cut some sprigs off of any evergreen. Bring in your rosemary for the winter and use it as a decoration. Or buy one of those adorable rosemary Christmas trees at the grocery store and save it for spring planting.
Potted plants and beeswax candles can serve a purpose long after the holidays are over.
2. Shop small
You might want to avoid big retail stores altogether. Everything is crazy expensive right now. And do we really feel like it's necessary to make the billionaires even richer?
Aside from protecting your sanity, you'll also limit the temptation to buy more holiday gifts and decorations than you need. Instead, hit the consignment and thrift stores.
You'll find plenty of items people received during last year's holiday season just waiting to be rescued from their future in the landfill. Yes, it is ok to give a really thoughtful secondhand gift or regift an item with integrity. Especially if your budget is tight. There's nothing greener than giving an unused gift new life with an owner that will truly value it.
When you shop locally, more money is kept within your community because local businesses often use or buy from local service providers, farms, and companies. It also helps grow other businesses as well as your region's tax base.
3. Give zero waste holiday gifts
Items that cut down on single use plastic make truly great gifts. They're high-quality, extremely useful, and they're something many people would like to have but just won't buy for themselves.
Choose a set of glass straws, decadent shampoo and conditioner bars, or a pretty set of un-paper towels.
4. Give experience gifts
Perfect for zero waste gifting, experience gifts can range anywhere from mini-golf passes to a homemade coupon book with activities that won't cost you a dime!
Brainstorm lists of your friends' and family members' interests. Think about classes they might like to take or memberships they might like.
5. Opt for DIY gift giving
If you're crafty, you might make your own gifts out of low-waste materials. Find DIY recipes for personal products like lip balm, soaps, bath bombs, or candles. A friend and I just learned how to make soaps this past spring and we're trying to schedule our next soap-making session with enough time for the soaps to cure for holiday gifts.
DIY beeswax wraps make super useful kitchen storage. My cousin crochets, and getting a blanket or scarf from her always one of my favorite gifts of the year. Another great option is Homemade Edible Gifts.
6. Consider foregoing paper cards
Sending out holiday cards is a longstanding tradition many families love, but you can still turn those amazing holiday photos into an e-greeting or a social media post. Sharing them via social media and email is different, but can be just as fun.
If this is one tradition you can't skip, there are some low waste options. Consider your paper greeting card list carefully. Don't send out 200 cards to people you hardly know. Read this advice on greening your greeting cards. You can also skip the stamps with their plastic backings and have your cards ink stamped at the post office instead.
7. Source your holiday meal locally
Local is considered within 100 miles of you. Many farmers will have sweet potatoes, pumpkins, squash, apples, and even turkeys or hams (if your family eats meat) depending upon where you live.
Follow your local farmers on social media or subscribe to their email lists to find out how to get these foods. They'll probably be at your farmers' market.
If you garden and grow seasonal foods, use any squashes or potatoes you're able to grow or save until the holiday. Greens like cold (not freezing) weather. If you live in a very cold climate, use a hydroponic system to grow greens and other veggies indoors.
8. Plan carefully to avoid food waste
If you host several people, try to get an accurate head count the day before your gathering. It's not fun to run out of food, so it's ok to still give a little wiggle room. But don't cook for an army just because that's what your mother always did.
And if you find yourself with more leftovers than you can stomach or give away, try freezing some of the dishes for a future date. And be sure to compost any scraps.
9. Skip the styrofoam plates and plastic cups
Skip disposable plates, cups, and huge aluminum oven trays. Besides being wasteful, the toxins from heating aluminum or hot food on styrofoam can transfer to your food.
If you don't have large reusable pans on hand, you can always borrow or hit the thrift store. The same goes for plates, cups, and utensils when it comes time to serve. Use the real stuff and just make sure your dishwasher is empty and ready to go after the meal. Kitchen clean up is always where the best conversations happen anyway!
10. Wrap gifts with what you already have on hand
We've all watched a small child rip through wrapping paper in a matter of seconds. Save every fancy little box, gift bag, scrap of tissue paper, and cookie tin that comes along throughout the year to wrap your gifts sustainably.
Recycle any greeting cards you receive, or reuse them to make gift tags or crafts with kids.
11. Give back
There's no waste created when you give the gift of your time. Take the kids caroling at a local nursing home, shovel snow for people in your neighborhood, volunteer at a homeless shelter… the options for doing good are endless.
12. Don't spend beyond your means
As we've already mentioned, times are tight for a lot of people this year. If you can't keep up with your past spending habits, don't. There's no need to create a financial struggle during the holidays because it's hard to dig back out.
The holidays should remind us that people are more important than things.
If you open gifts with extended family, send a group text, "Hey, everything is crazy expensive this year. Can we draw names instead of buying gifts for everyone?" They might thank you for speaking up. You might start a new tradition. Or they might not like it. But you don't have to feel embarrassed for making wise financial decisions.
More Green Holiday Resources
Here are more ways to make your holidays more meaningful, eco-friendly, and fun.
Make a Holiday NOT To-Do List
10 Weeks to a Green, Sane Holiday
30 Merry Things to Do with Kids on Christmas Eve & Christmas Day
How to Manage Your Child's Gift Expectations
Want Need Wear Read gift tags
How to Cut Back on Toys This Holiday