Long time Green Child contributor and simplicity expert Sandy Kreps shares 10 tips from her new book, Simply Christmas, to help you streamline and simplify your holiday so you can enjoy the season and focus on what matters most.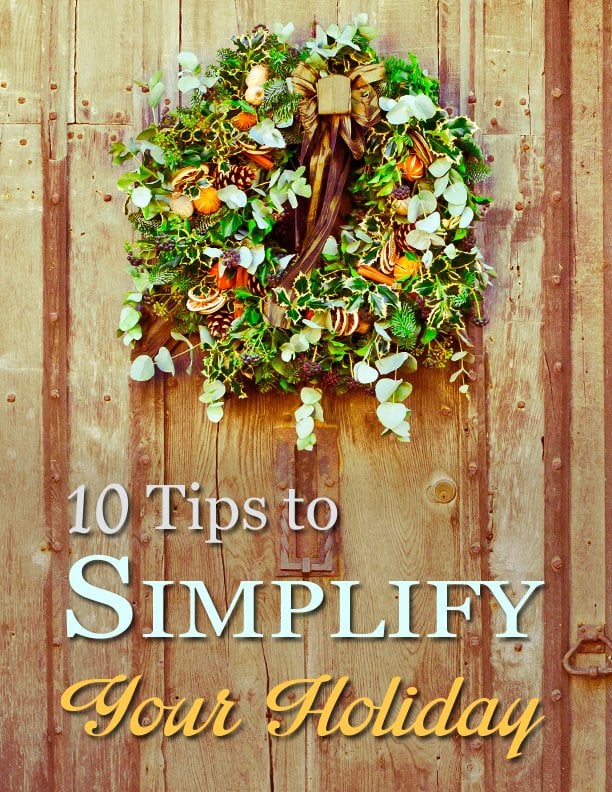 PRIORITIZE YOUR ACTIVITIES
First make a list of what's most important to your family and then organize your schedule around them. If family tradition dictates a big tree decorating party on the weekend before Christmas, schedule it in and skip some lesser events.
Don't feel obligated to go to every party, dinner, or parade you're invited to attend. Choose meaningful, memorable activities and enjoy them to the fullest.
GET TO THE TRUE MEANING OF THE HOLIDAYS
Make a list of the things you don't like about the holidays… and avoid those things. Feel like the holidays are too commercial? Spend some time creating handmade gifts or writing heartfelt Christmas letters.
Don't like Christmas cards? One major way to simplify your holiday is to opt out of sending them. Dislike that certain holiday party that comes up each year? Don't go. Eliminate what you dread about the holidays, and the season becomes more enjoyable.
KEEP YOUR EXPECTATIONS IN CHECK
If you're hosting a party, remember it's just a party. It's supposed to be fun, not perfect. Try a little scruffy hospitality, release the stress, and enjoy yourself.
CREATE MEANINGFUL MEMORIES
The Christmas Spirit is about more than gift giving, cookie baking, and decoration overload. Make a point to share the spirit of the season with the receptionist, postal worker, security guard, and coffee barista by smiling and greeting them cheerfully. Thank them for their services and wish them holiday blessings.
Start a new tradition by shifting the focus away from things, and more toward experiences. Make your holidays about adventure, love, fun and memories.  Custom dinners with farmers, baking classes, museum passes, winery tours and art classes are all on my list of experiences to look into for our friends and family. You can introduce this concept into any portion of your gift giving; including buying hostess gifts for any holiday parties that you may attend.
SIMPLIFY YOUR DECORATING
When you start decorating for the year, pull out any decorations or supplies you don't need anymore. Offer them up on Freecycle, local organizations, or to friends and neighbors so they can use them for the season, and you can free up storage space.
CUT BACK ON FOOD WASTE
Almost 30 billion pounds of food is wasted each year – that's nearly 100 pounds per person. When making your holiday menus, think simple. Do you really need mashed potatoes and sweet potatoes? Three types of fruit salad? Six pies? Create a simple holiday meal of your favorite items, and don't cook like you're feeding an army.
GIVE FEWER (MORE MEANINGFUL) GIFTS
Many gifts these days feel like obligations rather than true gifts. Giving fewer gifts does not make you a Scrooge. Generosity is a year-round attitude — it's not defined by the number of presents you wrapped last year.
There's no reason to feel guilty about giving fewer gifts, so don't feel obligated to give a gift to everyone you know. Trim your gift list, and the resulting relief might just inspire your holiday giving with a newfound sense of excitement.
DELEGATE & ACCEPT HELP
Need to keep the kids busy and cross a few things off your list? Let them make their own gifts for family and friends. Paper collages, framed artwork, hand-stamped potholders and aprons, beaded necklaces, painted sun catchers, stamped garden stones — there are plenty of crafty ideas to thrill the kids and make nice gifts for loved ones.
TRY THE WANT NEED WEAR READ GIFT STRATEGY
Instead of going overboard buying gifts for your children, try a simplified wish list. With the Want, Need, Wear, Read philosophy, each child gets something from their wish list, something they actually need (such as a new backpack to replace the one with the broken strap), something to wear (such as a new outfit or new coat or gloves), and a new book to read.
EASE INTO YOUR NEW SIMPLER HOLIDAYS
Not ready to go full-tilt on a streamlined holiday? No worries! Changing holiday traditions doesn't happen overnight. Try trimming the things you're ready to let go… even by 10 percent.
That could mean fewer decorations, cutting back the gift list, a little less baking, a smaller holiday meal, fewer Christmas cards sent. Once you feel the freedom of less, you can always cut more to simplify your holiday even further. If you find you're missing something, you can always add it back.
Latest posts by Sandy Kreps
(see all)