Vintage and Thrift Store Shopping for Gifts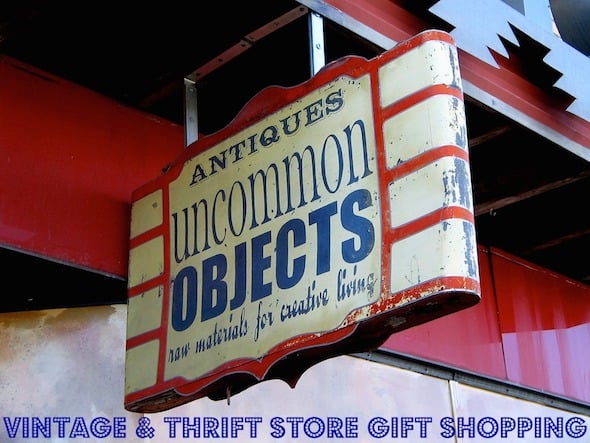 Did you know there's a holiday dedicated to thrifting? Well, there is… National Thrift Store Day is August 17th, and we certainly agree it's a reason to celebrate.
If you like a good treasure hunt, get ready for this out-of-the-box green gift giving idea.
Shopping vintage stores and thrift shops is one of the greenest ways to buy something special for those you love.
Think about it – buying used means you're eliminating the need to consume new resources, saving energy and water (that would otherwise be used in the production of something new), keeping useful materials out of the landfill, and buying locally. Plus, shopping secondhand is usually far cheaper than buying new.
Of course, you can browse eBay from the comfort of your home. But there's just something about rescuing a hidden gem from a sea of cast-off items in person.
Shopping for vintage gifts is a skill I'm still working to refine, but I have many fond memories of hunting for one-of-a-kind dolls with my grandmother. See the image below of one of the hundreds from her collection of dolls she made, bought new, or found previously-loved and made new dresses or accessories for.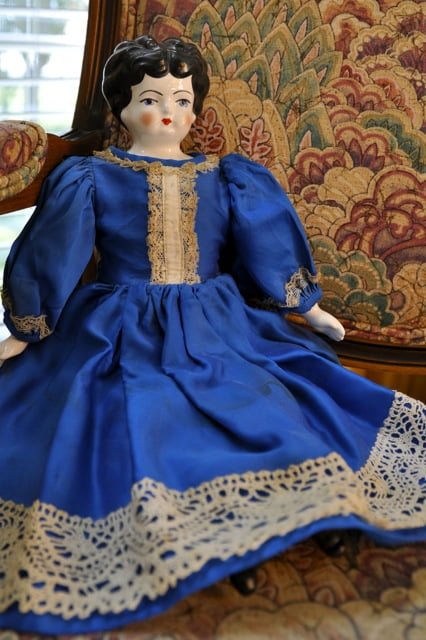 Unlike shopping new, vintage stores are often crowded and disorganized, filled with one-of-a-kind items. That means it will take a little more time to find just what you're looking for. But with a little patience, you'll enjoy the hunt and feel good about your green gift giving choice.
Here's how to score great finds at places like Goodwill, thrift stores, or your local re-store.
Make a list
Before you head out to scour the vintage stores, make a list of the people for whom you need to buy (hint: it's a good idea to buy for more than one person at a time – you never know what you'll find even months before you'll need it!). Write down the recipients' interests, hobbies, clothing sizes, favorite music and colors, and other preferences. This will help you focus when time is a factor.
Look for desirable items
Whether buying new or secondhand, it's always a good idea to purchase those items that will be desired by or useful to your gift recipient. A green gift is one that will get lots of use for many years. No one wants to receive a useless or unwanted item that will need to be re-gifted, recycled, or tossed out.
Inspect and test
Be sure to examine every item to ensure it's clean and functional. Check seams of textiles items, plug electronics into a socket and try them out, and flip through books to make sure all of the pages are there.
Beware of lead
Plates, silverware, decorative items, and old toys may have unacceptable levels of lead in them. You can find more information and lead testing swab kits at Lead Safe America. You can actually take the swab kits with you to the store to be sure what you're buying is lead-free.
Combine items
Sometimes the perfect vintage gift will come in many separate parts. For instance, if you're buying a housewarming gift, perhaps you'll go with a kitchen theme. This may mean buying cookie sheets and muffin tins from one store, and mixing bowls and a canister set from another.
Mix new and old
Sometimes you'll find the perfect skirt but nothing else goes with it at the thrift shop. By all means, go to your favorite new store to find something fabulous for it. Do your best and give yourself grace when vintage shopping isn't the complete solution. The same goes for home furnishings.
Know what you do and don't want to buy used
I keep a mental list of things I won't buy used. At the top of the list is rugs, because 1. we live in Florida where mold spores can be hiding, and 2. we have cats, who will know if another animal lived with that rug. I'm also still learning from Tamara at Lead Safe America about the safety of older dishes, etc.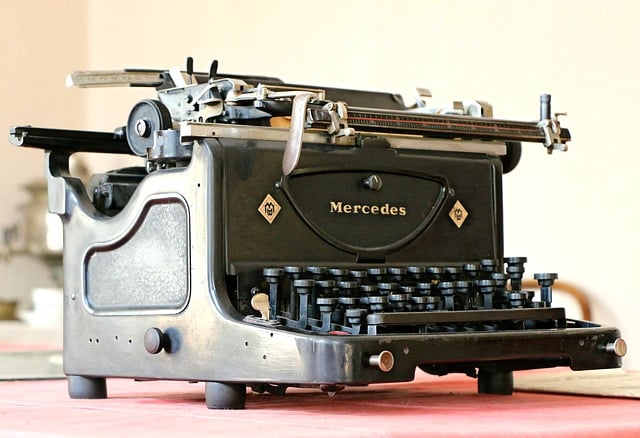 Wrap those finds sustainably
Don't forget to keep an eye out for secondhand gift wrapping ideas. Wrap kitchen items in tea towels, clothes in handbags, and school supplies in backpacks. Or look for fabric (old skirts or quilts, for instance) and ribbon to make your own gift bags.
If your recipient is new to thrift-store gift giving, help them appreciate the eco-friendliness of your consumer choice by adding a green gift tag explaining the benefits of buying secondhand.
If you're totally stuck for what to buy your recipient, go for a thrift store gift certificate. Yes, they really do sell them! To personalize it, take a few pictures of some inspirational items to intrigue the recipient and get them excited about spending the thrift money.
Above all, go with an open mind and an eye for creative repurposing. You'd be surprised how many amazing finds you'll discover when you're not restricted by conventional shopping concepts!
Green gift giving via thrift stores usually ends with a little clean-up once you get home. Secondhand clothing and linens should be laundered, kitchen items scrubbed clean, and ornaments dusted and repaired if necessary. Then you're ready to wrap and go!
Top image by John Cohen