Holiday Countdown: 10 Weeks to a Simple, Eco-Friendly Christmas
The holidays are meant to be magical and special. So why does it often end up so chaotic? As we start our holiday countdown, we're happy to give you a weekly step-by-step guide to an eco-friendly Christmas and sane holiday season.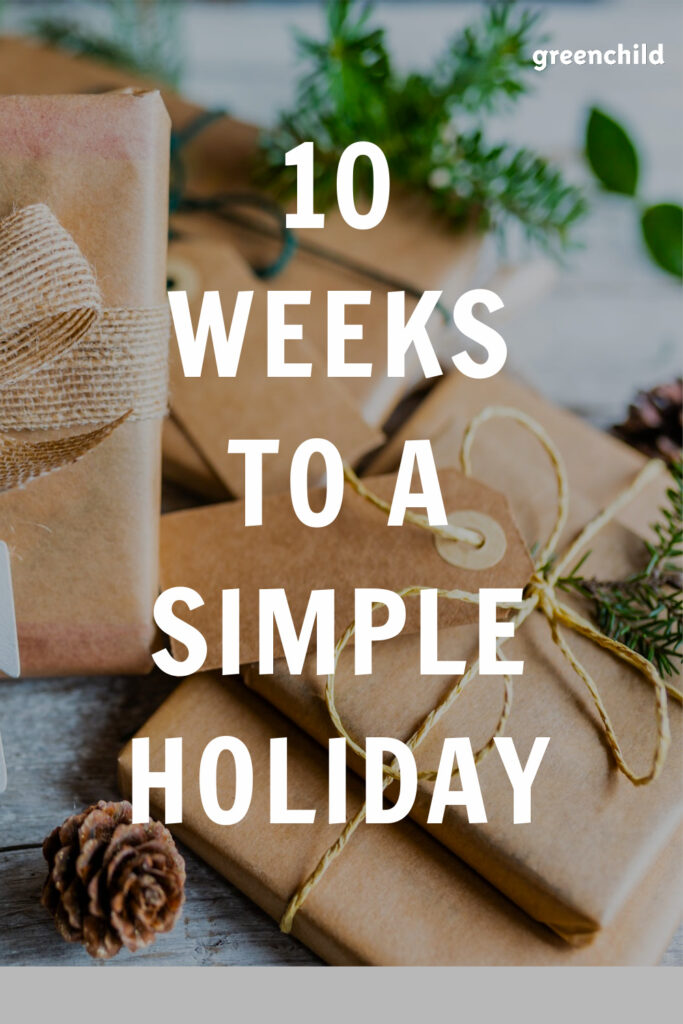 We talk about conscious gift giving — choosing eco-friendly and ethical presents and wrapping them in a way that doesn't create a bunch of waste.
SIMPLE HOLIDAY 2022 COUNTDOWN
Even greater than that, we really want to focus on conscious celebrating. And that should include maintaining a holiday schedule that allows time for what's important to you and your loved ones.
So in this holiday countdown 2022, you'll find small, doable tasks each week that save you from trying to cram it all into early December. These ideas will help you:
save time,
stress less,
keep it green,
and spend MORE time with your family!
This series will have you delighting in the moment of this beautiful season, all the while knowing the holidays won't take you by surprise.
10 WEEKS TO A SIMPLE, ECO-FRIENDLY CHRISTMAS
Holiday Countdown 2022 Week 10 – October 18
Make a NOT To-Do List.
Yeah, we know. Most holiday planning starts with the To-Do list. You know, the one that has you wishing it was January 5th before the festivities even start.
And yes, we have a holiday planner lined up for next week. But creating a Not To-Do list frees up space in your brain and freedom in your calendar. Your body will also appreciate you in advance for creating this list that gives your central nervous system a much-needed break.
In our experience, the main cause of stressful holidays is a lack of intention. And sometimes what you don't intend to do is even more powerful than what you do. So, take a look at the Holiday NOT To-Do List below for a reminder to preserve your energy and focus on what really matters to your family.
Holiday Countdown 2022 Week 9 – October 25
Ok, now that you know what you won't waste your energy on this year, it's time to start the fun planning part!
Think about what typically makes the holidays magical and inspiring for you. Whatever makes you feel the most content, make a conscious decision (and a plan) to spend more time doing that.
If you plan to send holiday greetings, this is a great time to plan or order them. Take your holiday family photo, organize your address list, and order those gorgeous cards.
Holiday Countdown 2022 Week 8 – November 1
Add a little thought to your holiday gift list. As a more thoughtful gift giver, the message you send can be as unique as they are. It can be encouragement or fun. It can be something they truly need. Or simply and powerfully, your gift can let them know you were paying attention.
Holiday Countdown 2022 Week 7 – November 8
Set expectations about gifts this year. Once you've set your budget with the planner above, talk to your kids (age-appropriately) about their gift lists. Perhaps try the Want Need Wear Read philosophy for holiday gifts this year. If you feel comfortable doing so, ask your family and friends to cut back on toys and excess gifts this year.
Holiday Countdown 2022 Week 6 – November 15
Now is the time to inventory your existing holiday decorations. One trick to an eco-friendly Christmas is knowing how to deck the halls safely and naturally. Some conventional decorations are safety concerns. And of course, you'll want to take precautions if you're pregnant or have small children during the holidays.
Holiday Countdown 2022 Week 5 – November 22
"Green" your Black Friday shopping. Check our green gift guides for eco-friendly Christmas options. And remember to shop locally whenever you can.
Eco-Friendly Gifts for Babies + Toddlers
Green Gifts for Kids
Mindfulness Gifts for Kids
Eco-Friendly Gifts for Tweens + Teens
Green Gifts for Her
Eco-Friendly Gifts for Him
Green Stocking Stuffers
Eco-Friendly Gifts for Pets
Gifts for the Healthy Home Enthusiast

When you shop at independent or local-to-you businesses, more money is kept within your community because local businesses often use or buy from local service providers, farms, and companies. Buying locally helps grow other businesses as well as your region's tax base.
Holiday Countdown 2022 Week 4 – November 29
If you're mailing out cards this year, it's time to get them in the mail. This is also the time to make plans for giving back this holiday season.
Holiday Countdown 2022 Week 3 – December 6
Plan your holiday baking schedule. This is also a good time to plan any DIY or edible gifts you'll be making this year.
Homemade holiday gifts are thoughtful and budget-friendly. And these edible holiday gift ideas can also be completely earth-friendly. No batteries to replace, and – as long as they're yummy – they'll never end up crowding a landfill.
Holiday Countdown 2022 Week 2 – December 13
It's time to make sure you're choosing safe toys, keeping your priorities top of mind, and wrapping those gifts sustainably.
Holiday Countdown 2022 Week 1 – December 20
Clean your home, prepare for guests, or prepare for travel if you're not celebrating at home.
While it's natural to want your home to be as welcoming and comfortable as possible, you'll make your guests anxious if you spend all your time fussing over every little detail.
Download these printable holiday coloring sheets for a calming, creative activity for little ones.
December 25
Celebrate! Be mindful of staying present and letting go of any expectations of the "perfect" holiday. Keep your sense of humor and enjoy!