60+ Homemade Edible Gift Ideas
Homemade holiday gifts are thoughtful and budget-friendly. And these edible holiday gift ideas can also be completely earth-friendly. No batteries to replace, and – as long as they're yummy – they'll never end up crowding a landfill!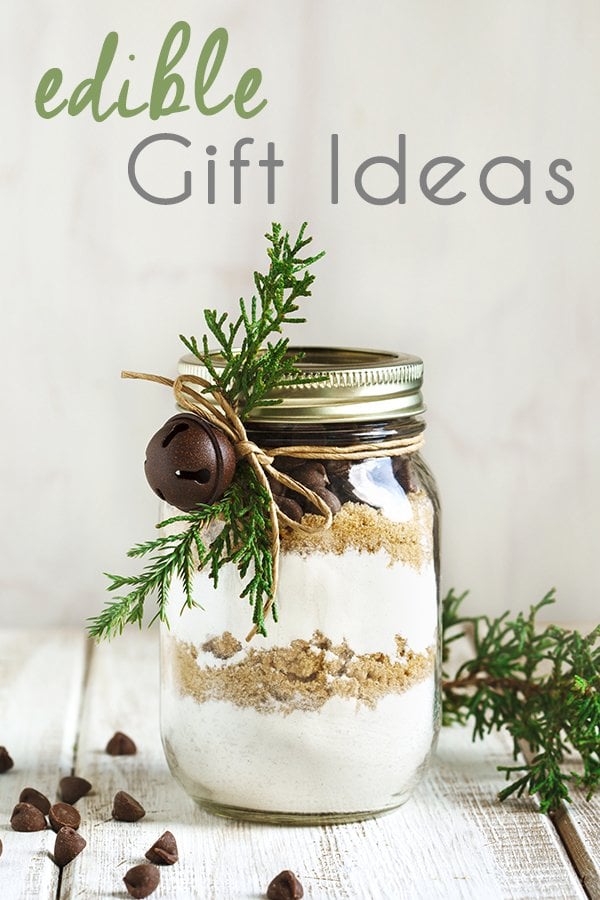 One of the hardest parts of moving away from our old Kentucky home was leaving family, friends, and our neighbor Beth's amazing cinnamon rolls. The week of Christmas, her adorable sons would show up at the door with a pan of warm, ooey-gooey, cinnamon goodness. Within minutes I'd get texts from the other neighbors saying things like, "Is it wrong to moan when you eat them?"
If you're on a budget, consumable gifts are the perfect way to save money but still show someone how much you care. They also make a nice solution for those people on your list who already have everything.
Baking is a fun holiday tradition you might recall as a child, and a memorable way of bonding during this special season to pass along to your children.
Here are some edible gift ideas and recipes we've tried – or plan to try – for holiday parties or edible gifts this year.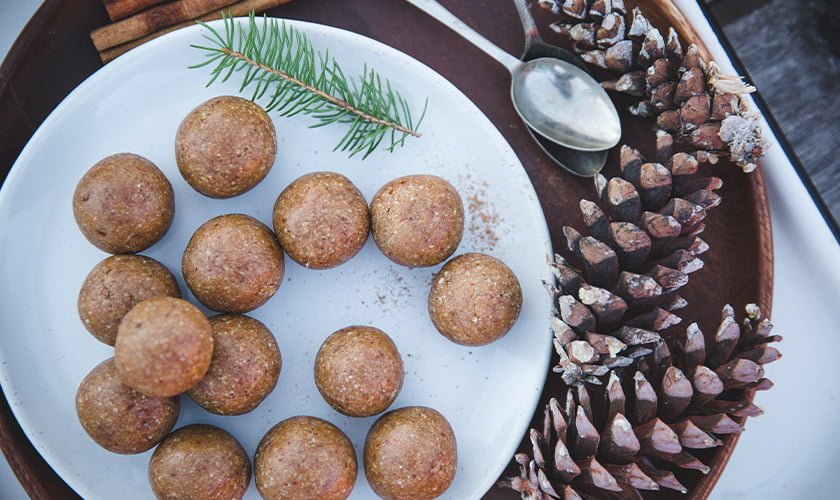 (via Green Child)
Sweet Treats & Snacks
Gingerbread Bites : Green Child
Chocolate Turmeric Caramel Cups : Food Babe
Allergy Friendly Holiday Buckeyes : Super Healthy Kids
Homemade Peppermint Marshmallows : Bakerita
Coconut Praline Gluten-Free Caramel Corn : Against All Grain
Spiced Rosemary Roasted Nuts : Veggie Inspired
Pistachio Brittle : The Kitchn
Dark Chocolate Peppermint Truffles : Sally's Baking Addiction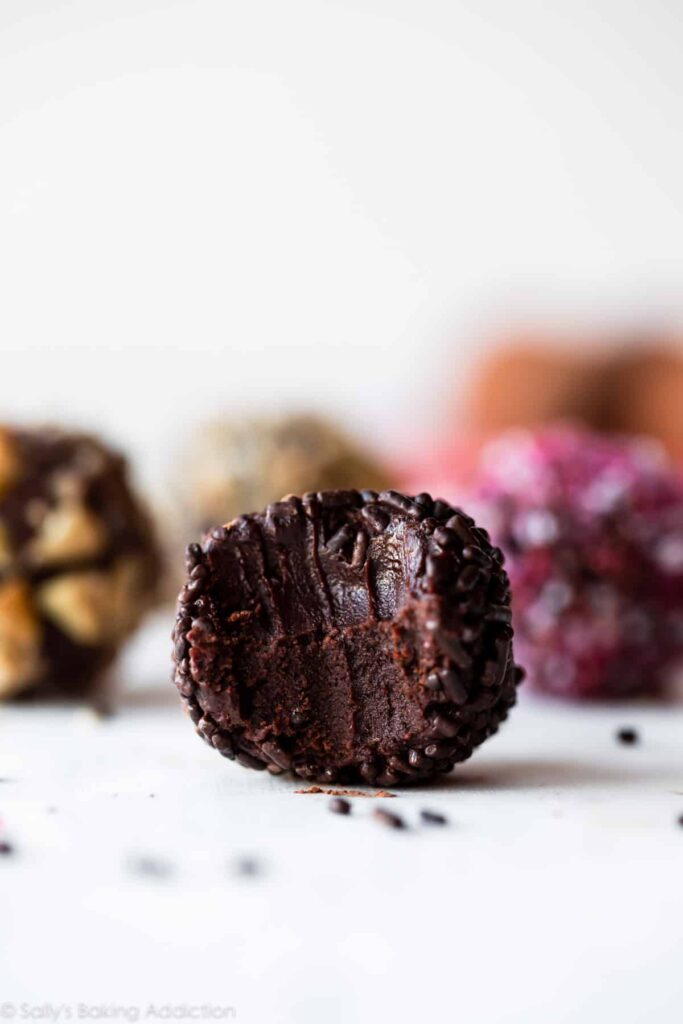 Chocolate Peppermint Biscotti : Tasty Kitchen
Homemade Chocolate Dipped Pretzel Sticks : Profusion Curry
Alton Brown's Candied Ginger : Food Network
Candied Orange Peels : A Spicy Perspective
Vegan Mini Mint Cookies : Green Child
Paleo Dark Chocolate Macadamia Bark Sprinkled with Sea Salt : Mark's Daily Apple
Paleo Gingerbread Cookies : The Iron You
Christmas Bark : The Kitchn
Snowball Cookies : Susan Lucci and her daughter Liza Huber
Vegan / Paleo Raw Fudge : Detoxinista
Homemade Healthy Kit Kat Bars : Bake it Paleo
Peppermint Brownies : Tastes Better from Scratch
Lemon Cookies : Culinary Hill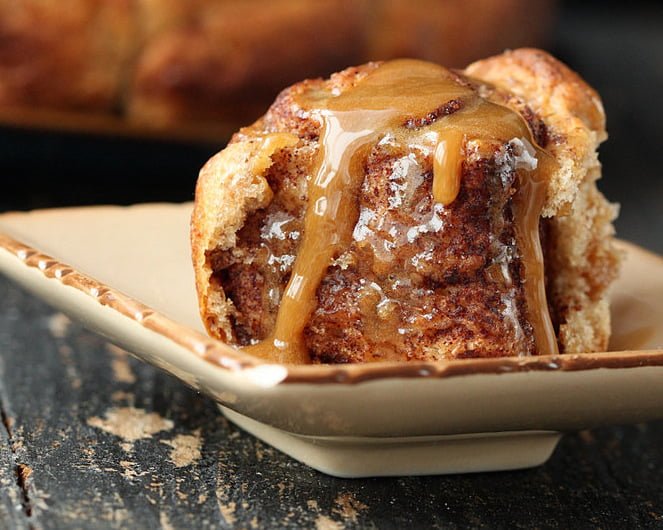 (via Vegan Richa)
Breads & Baked Goods
Gluten Free Apple Spice Coffee Cake : Against All Grain
Vegan Cinnamon Rolls : Vegan Richa
Clone of a Cinnabon : All Recipes (this is the recipe my neighbor makes)
Sticky Pecan Mini Buns : The Pioneer Woman Cooks
Almond Twists: Love, Cake
Gluten Free Granola : Well Plated
North Pole Cupcakes : Green Child
Cranberry Orange Bread : Averie Cooks
Flourless Banana Bread (with optional chocolate chips!) : Green Child
Honey-Nut Baklava : Dr. Weil's Healthy Kitchen
Scottish Oat Scones : Simple Bites
Chocolate Orange Bread : Green Child
Chai-Spiced Tea Loaves : Delish
Snickerdoodle Bread : Lil' Luna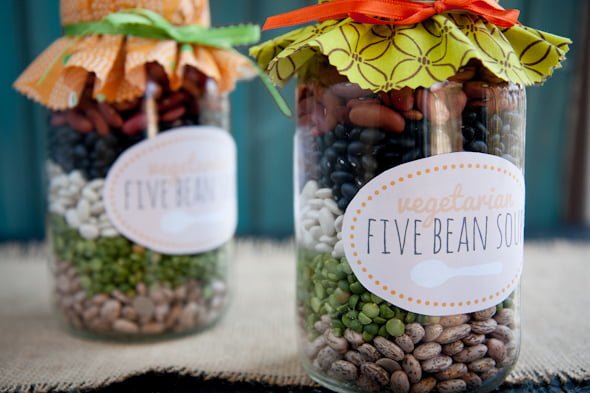 (via Back to Her Roots)
Gifts in a Jar
Sourdough Starter : The Frugal Girls
Gingerbread Cookies in a Jar : Thrifty Northwest Mom
Homemade Fajita Seasoning : Wellness Mama
Vegetarian 5 Bean Soup Mix : Back to Her Roots
Ina Garten's Chipotle & Rosemary Spiced Nuts : The Kitchn
Homemade Pancake Mix Jar: Good Life Eats
Sweet & Smoky Popcorn & Nut Mix : Whole Foods
Cherry Pistachio Granola Clusters : The Kitchn
Alton Brown's Hot Cocoa : Food Network
Grapefruit & Pomegranate Marmalade: Simple Bites
Homemade Vanilla Extract : It's a Love/Love Thing
Chocolate Raspberry Sauce : Epicurious
Orange Marmalade : Culinary Hill
Homemade Cornbread Mix : A Few Shortcuts
Marisa's Apple Butter : Simple Bites
Homemade Chai Latte : Mindfully Frugal Mom
Whiskey Caramel Sauce : Food 52
Homemade Brownie Mix Jar : Food Babe
Chocolate Coconut Cashew Butter : The Healthy Apple
For more holiday baking and homemade food gift ideas, check our Edible Gift Ideas Pinterest board. If you have a favorite holiday recipe or baking tradition, we'd love to hear about it!
Save