When we talk with kids about climate change, we're planting a seed. A seed that blossoms into more than just an understanding of the challenges our planet faces, but a respect and understanding for the broad field of science.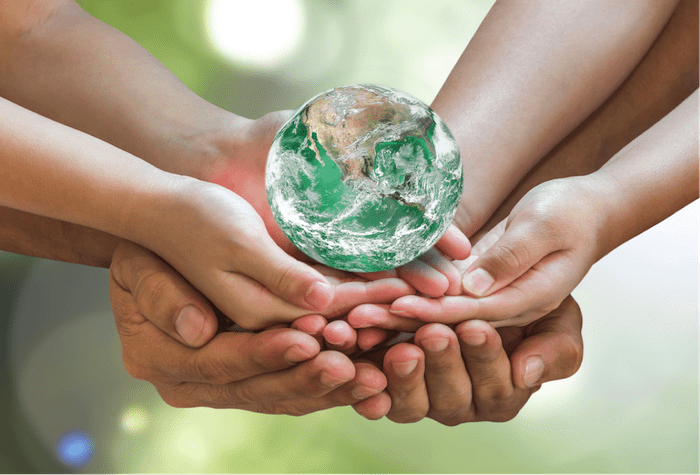 As we work to curb climate change, we often come up against an epidemic movement to marginalize science. In his book Science as a Candle in the Dark, Carl Sagan talked about "a foreboding of an America in my children's or grandchildren's time" and how easily we could "slide, almost without noticing, back into superstition and darkness".
Learni

ng about climate change is learning about science
Kids may not understand the urgency of our changing climate. And that's okay. The important part is to help them apply logic and reason to finally understand what's really happening.
For now, we can focus on what makes it engaging and interesting.
We begin by teaching kids what climate change is, then delve into the principles that explain it. We want to explain at a level that challenges their capacity to learn, as we're laying-out the foundation for a much broader conversation on science. We're instilling a mindset that has tremendous value because, it prevents future generations from succumbing to "superstition and darkness" as Dr. Sagan put it.
There's also the factor of how animals are affected by climate change to consider.
The Animals at Risk from Climate Change Poster features 25 animals that highlight the fundamental impacts of greenhouse gases—causes, effects and risk of extinction—on all forms of life on the planet.
So, how do we grasp a child's attention and concern for climate change? Let's break it down into four easily-digestible parts.
What is Climate Change?
More specifically, what is global warming? We're talking about a rise in the Earth's average atmospheric temperature – mostly as a reaction to human activities. This is something that's been discussed for more than a hundred years. Alexander Graham Bell was the first to coin the phrase "greenhouse effect." Experiments at his home in Cape Breton, Nova Scotia were quite remarkable and can be incorporated into a science lesson.
What is Greenhouse Gas and Where Does it Come From?
The there are many greenhouse gases. For example, water vapor and methane are lesser-known greenhouse gases. The one discussed most often is carbon dioxide — mostly because it's produced in the highest quantities. All these gases share a common trait, which is to trap heat.
Since the time of Dr. Bell, we've developed ways to simulate the greenhouse effect with common household items.
This is where the learning experience can become especially exciting and fun. Try this:
Partially fill two identical clear bottles with water.
Punch a small hole in each one, so that the temperature of the gases in each bottle can be measured.
Place an Alka Seltzer in one bottle, so as to fill it with carbon dioxide.
Place both bottles in the sun for a while, and take temperature readings every 10 minutes or so. You'll notice that the bottle with the carbon dioxide has a slightly higher temperature. This mimics the effect of carbon dioxide in the Earth's atmosphere.

How do Greenhouse Gases Make the Earth Warmer?
In much the same way that a farmer's greenhouse works, these gases allow light to pass through the atmosphere but prevents the subsequent heat from leaving. NASA's Climate Kids explains that as the earth's atmosphere does the same thing as the greenhouse. Gases in the atmosphere such as carbon dioxide do what the roof of a greenhouse does.
During the day, the sun shines through the atmosphere. Earth's surface warms up in the sunlight. At night, Earth's surface cools, releasing the heat back into the air. But some of the heat is trapped by the greenhouse gases in the atmosphere.
America's current system for controlling carbon emissions from vehicles has developed over time, and a single state – California – can be credited for paving the way for more effective vehicle emissions controls nationwide. While the federal government limited its regulation of carbon emissions from motor vehicles by focusing on fuel efficiency, California has created its own system for regulating greenhouse gases.
What Can Kids Do to Stop Climate Change?
Certainly, this is a collective effort. No individual will be responsible for stopping climate change. So, along with the activities and education, there is a need to organize. Encourage discussions among kids, and keep the conversation open so everyone can offer suggestions.
Aside from that, we can focus on energy conservation in the home. This includes swapping light bulbs to energy efficient ones, keeping lights off in unoccupied rooms, and making sure that exterior doors are closed while a furnace or air conditioner is on. Each step you take for a safer and clean environment really do add up.
Share inspiring environmental quotes with kids. Most importantly, encourage kids to get outside and fall in love with nature.
After all – we protect what we love.

Latest posts by Green Child Magazine
(see all)