Creating an eco-friendly nursery means keeping as many chemicals and unnatural by-products out of your baby's space as possible. Even if you can't address everything sustainably, your efforts toward creating a healthy, clean, non-toxic space will absolutely benefit the health of your new little one.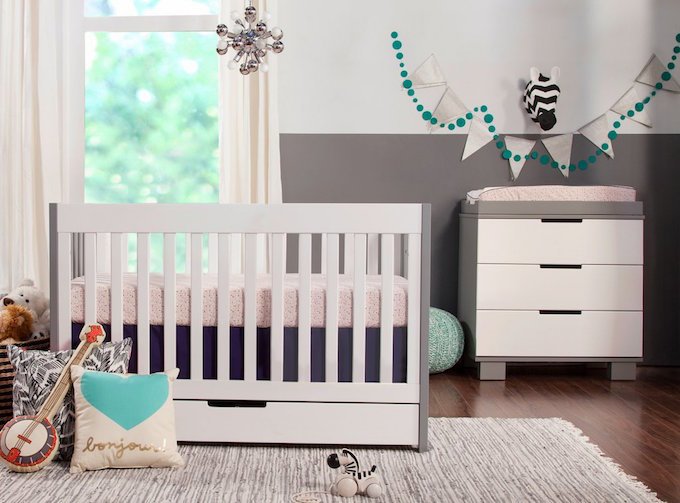 Chemicals in carpets, furniture, mattresses, and even household dust are all contributing to our collective chemical body burden. Flame retardants can manifest as a variety of disorders in the body and endocrine disruptors are a hormonal and potentially neurological threat to babies and kids.
Some parents choose to keep baby in their room. If that's the way you're leaning, be sure to read our article on Nesting Without a Nursery. Some families may skip the nursery stage, and get on with the business of just creating a room for the child. But if you're opting to create a nursery, here are some ways to help make sure it's the safest environment possible.
ECO-FRIENDLY NURSERY ESSENTIALS
Each family's needs are different, but here are the basics you'll want to make sure you have a plan for.
Where will baby sleep?
A crib like the Babyletto Convertible Crib, made from sustainable materials and non-toxic finishes, is a safe choice for your nursery. Look for a lead and phthalate safe option that's GREENGUARD Gold Certified.
The same goes for crib mattresses. Naturepedic's organic crib mattresses are made from all natural materials that are GREENGUARD Certified.
You'll also want to choose safe / green / organic options in the following accessories:
The HALO Bassinest Swivel Sleeper
Arm's Reach Co-Sleeper
Organic cotton crib sheets
Non-VOC wall paint
Nursery furniture made from solid woods (no glues, formaldehyde, or veneers)
Will you use a dresser or closet for baby's clothes?
But, then it's time to put that gorgeous newborn wardrobe away and we learn that keeping things organized is a whole different animal when it comes to kids' clothes.
For babies, folding is pretty futile and the stacks of tiny clothes mean that, undoubtedly, you don't even end up using a bunch of the super cute bottom-of-the-pile outfits before they're outgrown. As little ones get older, it doesn't get much easier. The small clothes still take over the drawers precariously, and hangers seem either too large and awkward for the pint-sized items or are an environmental nightmare to try to recycle due to the low-grade quality of their materials and many recycling centers' inability to collect and process them (source).
Luckily, there's an adorable eco-friendly option. You can find baby-sized hangers in a gender neutral white cloud shape and toddler/kid-sized sets, these hangers are sturdy yet space-saving, fashionable yet eco-friendly, and fun yet serious about sustainability and function.
These hangers are superior to traditional children's hangers in several ways – they are 100% recyclable and made with recycled paperboard, vegetable starch based glue, and water based inks.
The designs can fit any nursery decor, from perfect-for-newborn ethereal clouds to "big kid" size 1T – 5T+ options in more gender- and room theme-specific patterns like flowers, birds, foxes, airplanes, cars, and monsters. Plus, the paperboard material creates a slip-free hanger and provides a narrow profile, taking up less space in the closet, even with clothes included.
And, for those items that simply can't be hung, the Little Dundi Nuages Cloud Edge Storage Bin will match the infant hangers or coordinate whimsically with either "big kid" design. Sturdy enough to hold everything from clothing to toys and toiletries to board books, you can incorporate these bins onto a bookshelf, the floating wall shelf, or simply place on a shelf in the closet.
You can rest assured that you'll be reducing toxicity in the room while infusing the space with fresh, whimsical style, all in the name of organization.
Latest posts by Megan McCoy Dellecese
(see all)