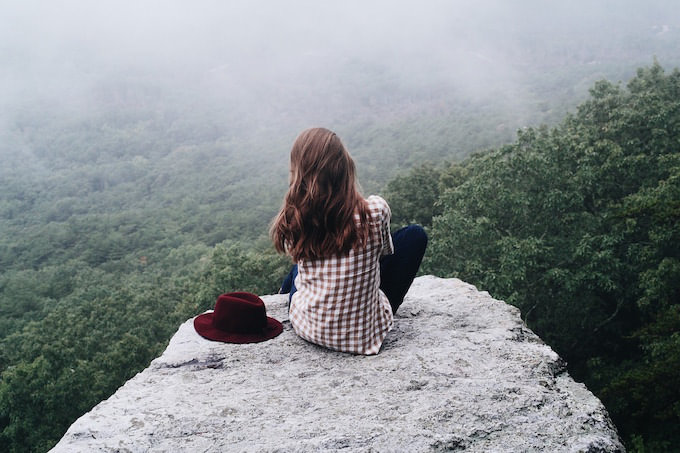 After healing from 10 years of chronic illness, I'm constantly asked about what I ate and how I learned to slow down, love my body, and nourish myself.
Diving into an anti-inflammatory lifestyle and eating superfoods while taking supplements and doing every protocol under the sun to heal me, I soon realized that all the kale in the world wasn't going to fix me.
I started to understand that when we're blocked and can't seem to make headway with obstacles in our lives, it's simply an opportunity to practice gentleness with ourselves and to show ourselves kindness and self-love. Being hard on ourselves and staying disappointed won't do us any good. I had to honestly look at the reasons for why my body wasn't healing – aside from the food and supplements, and make different choices to learn how to love myself, take care of myself on a daily basis, start saying no to things and people that drained me, take quiet (alone) time for myself and learn how to create balance in my life.
Listening to Your Body
This is the main struggle I see with my readers and clients. We're all running around trying to do everything and be everything, but our health is failing. When we try to band-aid it with a drug or supplements or a superfood, it's not enough, because the body is trying to tell us something. It's nudging us to slow down. And that's just what I did.
Was it easy?
No, but if I can do it living in NYC, you surely can, too.
I made a promise to be gentle with myself throughout this process and to take it slow. I started setting aside days for no meetings or conference calls, I started taking baths, I stopped trying to make everyone happy and I started to listen to my body. I stopped being so strict with trying to eat perfectly. I stopped taking all my supplements. I stopped obsessing over superfoods. I stopped going from doctor to healer to energy worker to workshop to try to fix myself.
Taking Time to Just Be
I started to just be and allow my nervous system to rest and reboot. This is what has truly been healing my body. In terms of my food – as my family and friends know – I lived off of green veggies and organic chicken for years, because it was too hard for me to digest anything else without getting sick.
That's when I befriended my food processor, as I talk about in my cookbook, Eating Clean: The 21-Day Plan to Detox, Fight Inflammation, and Reset Your Body and I started pureeing everything to digest it easier, which also helped me absorb and assimilate the nutrients in the foods I was eating.
I'm happy to share one of my favorite nourishing recipes with you. This Zucchini Tarragon Soup is simple, delicious, and can be served anytime of the year. Feel free to use bone broth in place of chicken broth if you are looking for more gut-healing and immune system boosting properties.
Take some time for yourself this week or weekend and start bringing in self-love and self-care to your days. I assure you, your body will thank you.
Amie Valpone, HHC, AADP is the Editor-in-Chief of The Healthy Apple.A Manhattan Celebrity Chef, Culinary Nutritionist, and Food Photographer, Amie specializes in simple gluten-free, soy-free and dairy-free recipes.Amie's first cookbook, Eating Clean: The 21-Day Plan to Detox, Fight Inflammation & Reset Your Body will be in stores nationwide March 8, 2016.
Latest posts by Amie Valpone (see all)