Oceanarium Book Review: A stunning, kids' book on science & conservation
June is National Ocean Month, and there's no better way to teach your child about the intricacies of the sea than a new book from Candlewick Press: Oceanarium. This photo- and fact-filled book is so stunning and interesting, your child won't be able to put it down.
We took this book along with us on a beach trip, and it made its way onto the printable reading lists of some of our team members. Here's our complete Oceanarium book review.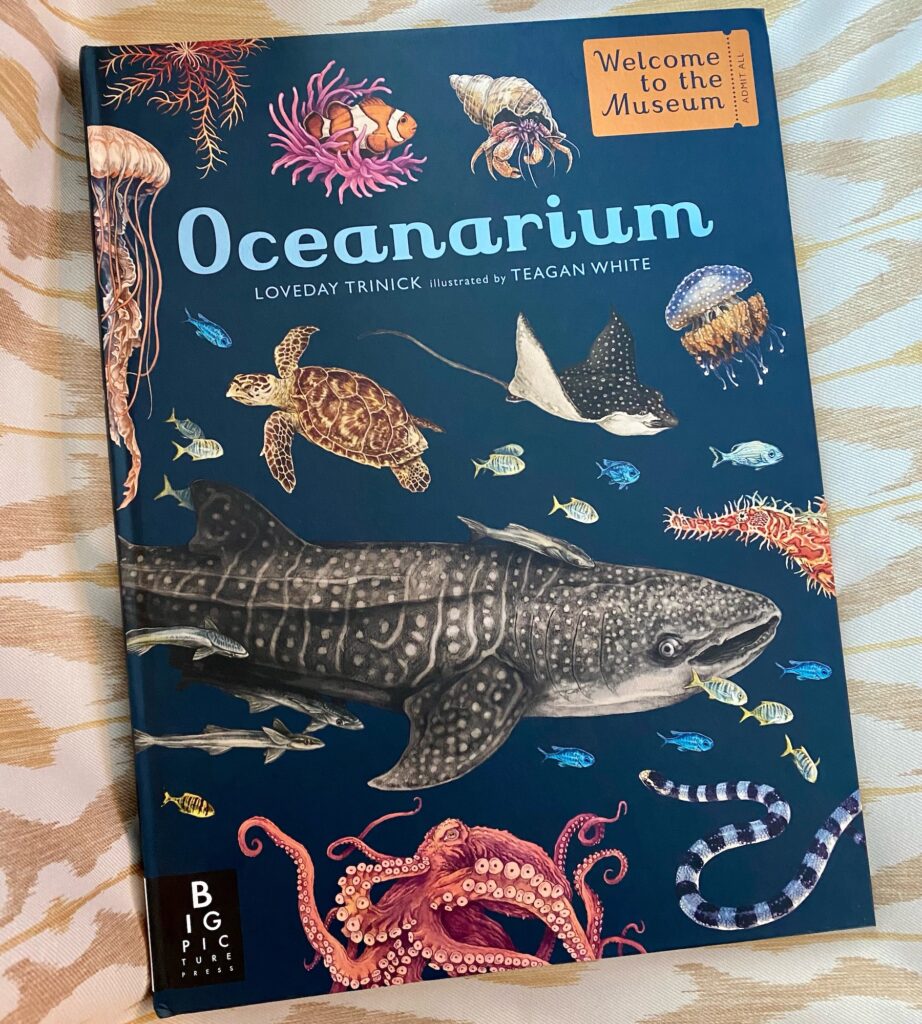 Candlewick's Welcome to the Museum series is the next best thing to visiting the most interesting art, history, and science museums in the world. These books are set on the "walls" of the printed page.
Only these museums never close. Open 365 days a year and unrestricted by the constraints of physical space, each book contains "galleries" of more than 200 full-color specimens accompanied by exciting facts and descriptions.
The Nine Galleries Featured in Oceanarium
Oceanarium invites you and your child to tour the aquarium and discover the secrets of the sea for yourselves. It starts with an entrance or overview of the ocean and its zones. "From the majestic to the peculiar; the fearsome to the vulnerable, this awe-inspiring world is laid before you to explore."
Our team includes a few homeschool families, and we agreed the Oceanarium book's nine "galleries" could easily serve as nine weeks of science curriculum. The galleries include:
Plankton
Cnidaria
Mollusks and Echinoderms
Arthropods
Fish
Mammals
Birds
Reptiles
One Ocean – all about the habitat plus humans and the ocean
Collectively our kids loved the section on cephalopods and sharks the most. The photos of squid and octopi are mesmerizing. The really didn't want to turn the page. While the boys have never seen a shark book they didn't devour, the Oceanarium book certainly holds their full attention.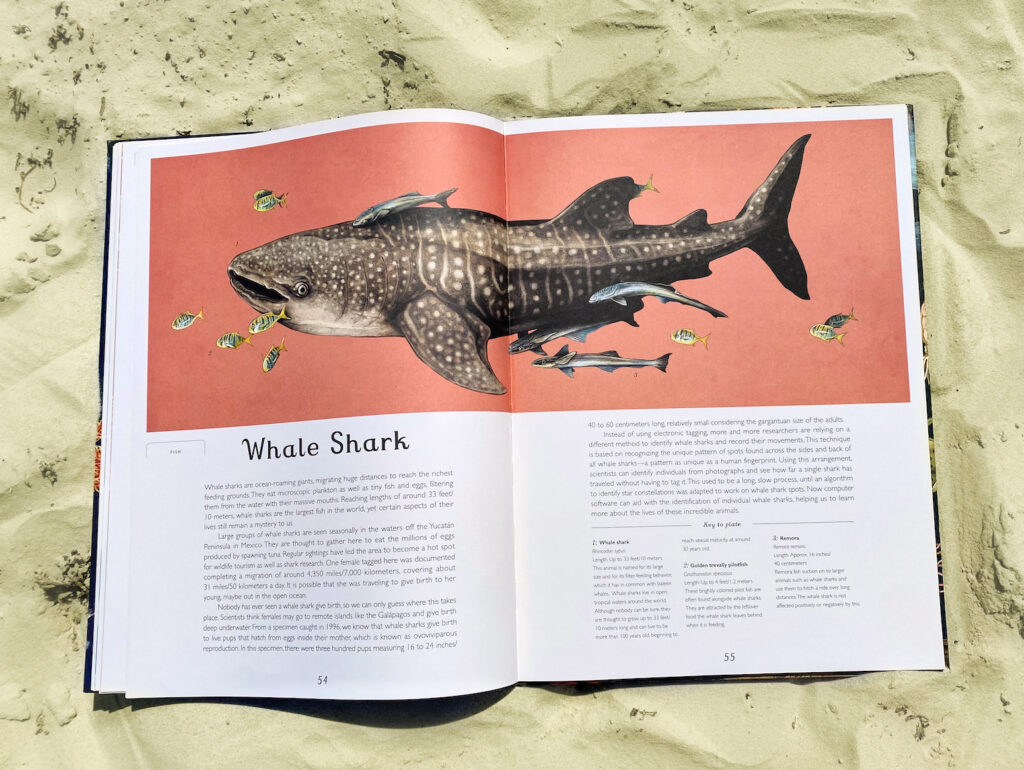 They also learned plenty of new and surprising facts. Some cetaceans – particularly humpback whales – are known to complete a 10,000 mile round trip journey between the equator and Antarctica. Purple sea urchins pose a threat to kelp forests, devouring 90 percent of the bull kelp forests in California. And parrotfish are all born female, with some transforming into males later in life.
Ocean Habitats Come to Life
While each gallery offers a diverse selection of the life forms you'll find there, most sections of the book also include details on the habitat. The mangrove forest was especially interesting to us.
A few years ago we took a conservation tour at the Mote Aquarium in Sarasota, Florida and the guide explained and showed several examples of how much more wildlife was found in the mangroves than in the areas where humans had built seawalls.
You can use this comprehensive book to start a variety of conservation talks and efforts with your kids. The section on Humans and the Ocean informs about our impact on the planet's water systems, but it doesn't overwhelm. The book explains, "The ocean is resilient and can recover if given time."
The Oceanarium book is a wonderful addition to your collection or library check-out, especially during World Ocean Month.
World Ocean Month Activities with Kids
Whether you get the chance to be near the ocean this summer or not, there are plenty of ways to celebrate World Ocean Day / Month with kids.
Host a book club with your child's friends. Read Oceanarium all at once or divide the galleries up over a few weeks.
Organize a beach clean up in your community. Whether it's a large group or just a few friends, get together and pick up the single-use plastic from the beach and dispose of it properly.
Clean up around your closest water source. All bodies of water eventually lead to the ocean. So picking up litter around a stream or pond helps protect the earth's water.
Help kids with an ocean-themed scavenger hunt. Hunt for seashells, shark teeth fossils, coral, feathers, driftwood, sea glass, or anything else normally found at the beach. Or next time you go to the ocean, bring back a few of those items (if permitted by the beach / local rules) for a beach themed scavenger hunt at home.
Use materials you already have on hand to make ocean themed art projects. Give a prize to the most creative.
Visit your local aquarium and pay special attention to their rehabilitation and conservation efforts.
This article is part of a collaboration with our advertising partner, Candlewick Press. All thoughts and opinions shared are strictly our own. Thank you for supporting the brands that make it possible for Green Child to share free natural parenting and healthy living content.