Root vegetables are extremely high in nutrients, and roasting them is a simple meal or side to make on a busy school night. On the kid-friendly scale, these are pretty high up there for pleasing picky palates. The only effort lies in the chopping, but it's so worth your time!
Perfectly Roasted Root Salad
Ingredients
Salad

- 4 cups diced beets

1/2" cubes

- 4 cups sweet potatoes

diced into 1/2" cubes

- 1 bulb fennel

diced

- 2 teaspoons balsamic vinegar

Dressing

- 2 tablespoons balsamic vinegar

- 1/4 cup water

- 2 tablespoons tahini

- 1 tablespoon dried dill

- 1/2 teaspoon sea salt

- 1 clove garlic

minced

- Ground black pepper
Instructions
To make the salad: Preheat the oven to 375°F. Line a baking sheet with parchment paper.

In a bowl, toss the beets, sweet potatoes, and fennel with the 2 teaspoons balsamic vinegar. Place on the baking sheet and cover with foil. Roast for 30 to 35 minutes, or until the veggies have softened but are still somewhat firm.

To make the dressing: In a small bowl, mix together the 2 tablespoons balsamic vinegar, the water, tahini, dill, salt, garlic, and pepper to taste.

Transfer the cooked vegetables to a serving bowl and toss them with the dressing.
Notes
Reprinted from Living the Farm Sanctuary Life by Gene Baur with Gene Stone. © 2015 by Gene Baur. Photographs © 2015 by Rodale Inc. By Permission of Rodale Books. Available wherever books are sold.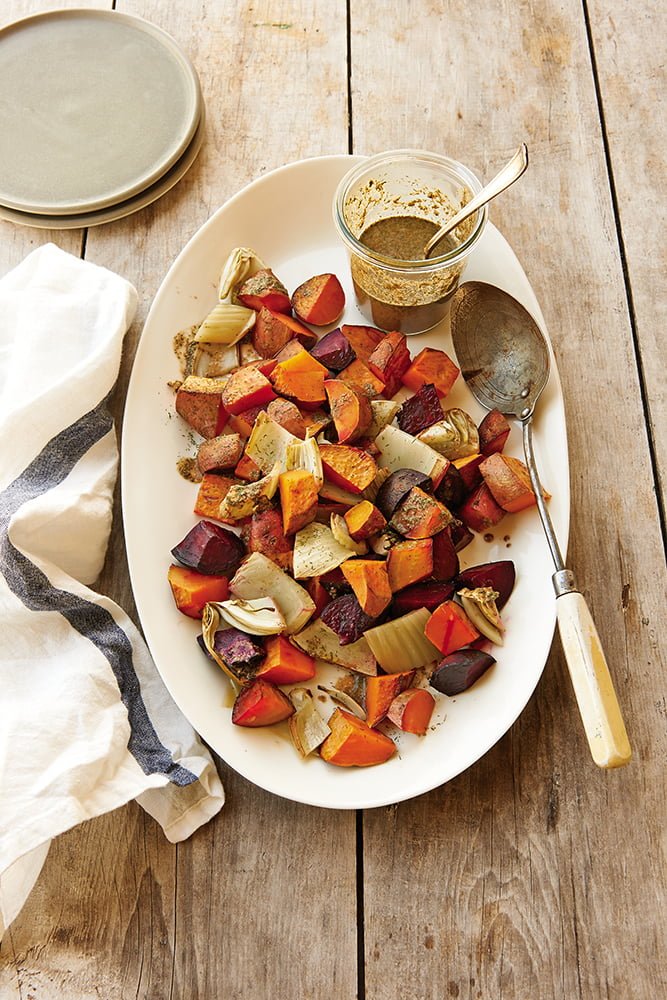 Latest posts by Green Child Magazine
(see all)