The last thing on many new moms' minds is their own postpartum recovery. After all, they've waited (give or take) nine long months to meet their little bundle and they'll gladly let their baby's needs take precedence.
A new mom's focus should be on her baby. But she shouldn't forget about her health and recuperation post-birth. And that's where good friends, family and the ultimate new mom care package come in.
You can craft this postpartum recovery kit and gift it at the baby shower or wait until the baby is born. And, if you're an expecting new mom, consider making one for yourself before your baby arrives, you'll be happy you thought ahead when the time comes.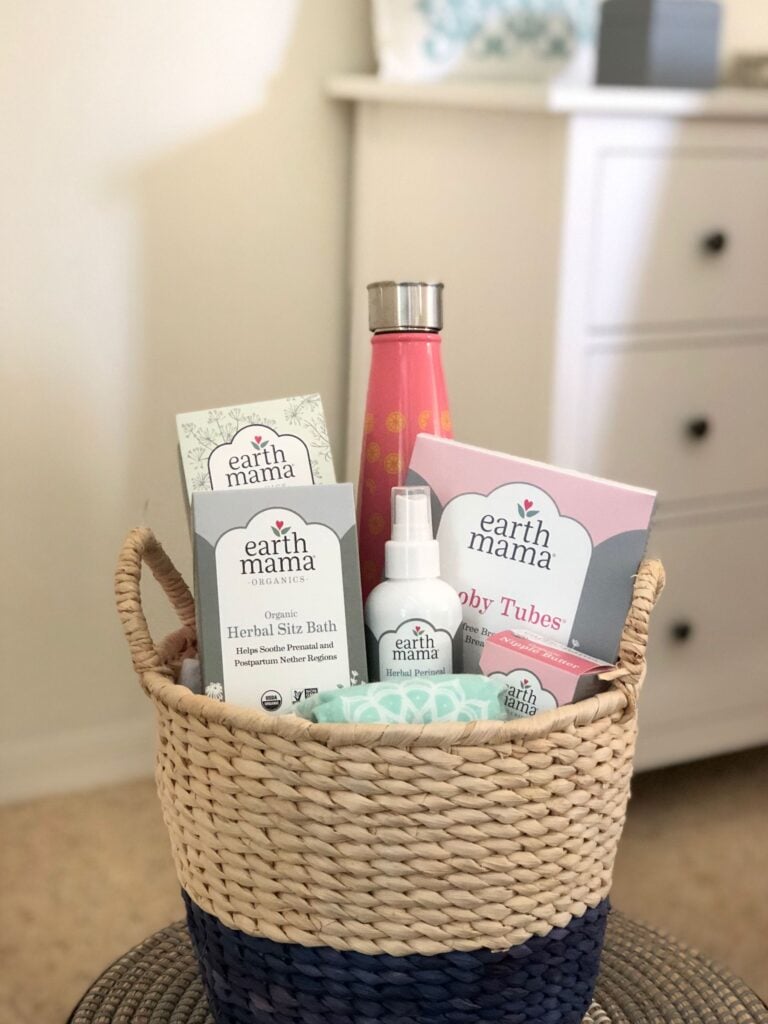 Make a New Mom Care Package
You'll want to include items that new parents might not even know they want or need. Keep the contents simple and useful. Here's some postpartum recovery items to get you started:
1. A practical, reusable basket
It's common for new moms to find a few favorite spots around the house that they can rotate throughout the day. A basket that they can cart around from comfy chair to cozy nook will help keep what they need handy and create a kind of portable baby-caring station. Natural baskets like these can help reduce the look of clutter and are easy to carry around so the new mom can carry it from room to room.
Plus, a beautiful basket gives your new mom care package a waste-free, gorgeous gift presentation, and there are a million and one uses down the line for it. (I'm looking at you, endless stash of mismatched socks.)
2. A reusable water bottle and non-perishable snacks
Whether breastfeeding or not, new moms need to keep up their strength and care for their own well-being as much as they do the baby's. By gifting a reusable cute water bottle, she'll be reminded to drink often. The snacks can be anything from a bag of almonds or trail mix to some clean eating granola bars or oatmeal enriched lactation cookies to help maintain mama's supply. Avoid fresh fruit or foods that can spoil.
Any new mom could use a little guidance on how to navigate those early days with a brand new baby. Consider sharing this daily guide that gives her small things to try each day throughout the first six weeks postpartum. You can also encourage mom and baby bonding by sharing a copy of Earth Mama's Lying-In plan with the new mother. You can print these and include them in the basket, or send her the link so she can create it online before the birth.
4. Herbal teas
A nice herbal tea, such as Earth Mama's Organic Periodic Tea (make note that this can't be used until AFTER pregnancy), can offer a new mom so many benefits. This tea can actually help naturally regulate hormones and assist with cramping. It is also said that warm fluids help heal a new mama from the inside out, so it's a win-win all around! Not to mention, that simple moments of relaxation while sipping a soothing tea can be worth more than gold. You can find Organic Periodic Tea via Earth Mama Organics or at Amazon.

5. Breastfeeding supplies
Giving a practical gift like reusable organic cotton nursing pads, Earth Mama Organic Nipple Butter or Organic Milkmaid Tea helps a new mom get started on her breastfeeding journey. But it can also let the new mama know that she can flash the midnight Booby Signal, and you'll come running faster than Batman.
Sometimes, it's hard to know who to go to with breastfeeding problems or questions. Lactation consultants may be intimidating or out of reach and not everyone has a family member who can show them the way. Sharing this kind of supplies can let the new mom know that you can be that point of reference.
6. A light read
No matter how attentive and helpful one's partner may be, when you have a newborn it can be isolating. Truthfully, you can only gaze at the wonder of a tiny, adorable little being a certain number of times a day (or get up for numerous late-night feedings staring at QVC for human interaction) before the solitude sets in.
So, whether it's your favorite female detective novel, inspirational poetry, or a magazine (don't forget her free subscription to Green Child!) you know she'll appreciate, a not-too-serious read will help her feel a little more like a regular person again.
You can also throw in a new copy of your child's favorite picture book to get her into the habit of reading to the baby.
7. A home-cooked meal, meal delivery gift card or simple recipes
While you may bring a nourishing postpartum soup or freezer-friendly meal along when you visit the new baby, a new mama (and her partner) may appreciate simply having one less decision to make; even if it's as basic as mealtime.
So, jotting down your favorite 15-minutes-or-less recipes plus a bullet list of your favorite hacks and time savers is a thoughtful way to help skip that whole decision-making process of eating. It's funny how something so simple can give you extreme decision fatigue, but with a baby, it's reality.
8. Postpartum recovery pain relief products
Whether the birth is vaginal or a C-section, mama will need some pain relief and comfort to get through the lying in period. To deal with the soreness and possible tearing, be sure to tuck in a box of Earth Mama Organic Herbal Sitz Bath sachets.
This miracle product is extremely helpful for taking a natural postpartum sitz bath, and it also can be added maternity pads to create DIY padsicles for additional soothing relief. While you're at it, include a stack of organic disposable maternity pads or organic cotton reusable menstrual pads.
Back to soothing comfort, Earth Mama Herbal Perineal Spray is another tool in the battle against perineal pain. A super soothing, ingenious touch-free bottle will offer relief and might just be her new BFF, along with a peri bottle.
9. Gifts that encourage sleep
A much needed addition to your new mom gift basket is anything that helps her sleep. An organic satin sleep mask, these amazing organic luxury pajamas, meditation audios or an audiobook subscription are all wonderful sleep and self-care gifts.
Give the new mom in your life a gift that will help her take care of herself. Cute onesies and baby blankets are great, but a happy mom is the best gift of all. The happier she is – especially in those early days of motherhood, the happier her baby will be.

Latest posts by Green Child Magazine
(see all)