Postpartum Recovery Soup Recipes for the New Mom
Soup is a wonderful expression of love. Handcrafted with the intention of serving up a sprinkle of love, it's also a nurturing expression of care and kindness. And these postpartum soup recipes can be the ideal expression of this kind of care.
After a woman gives birth, her body is in desperate need for restorative foods to replenish all that she has lost. Ideally the new mama is lying in with her new baby and taking care of her recovering body naturally.
Giving birth requires an incredible output of a mother's physical, emotional, and spiritual resources. And what better way to nourish her back to her full glory than with delicious, comforting soup recipes cooked up with her postpartum recovery in mind?
Most Beneficial Postpartum Soup Recipes
The food tree or meal train approach is an excellent means of providing nourishing meals for new parents who are just getting into the groove of caring for a little one. Those sleepless nights and hours of acclimating aren't always conducive to making their own healthy, home-cooked meals.
These three perfected postpartum soups (by Anni Daulter) are unique, delicious, and extra nourishing for the postpartum recovery period. While you may think holding Baby long enough for the Mama to get a shower is the greatest gift (and it is pretty good), by preparing one of these soups, you'll be helping replenish her body with the nutrients she needs to get onto the business of caring for her baby.
Nurturing Roasted Tomato Soup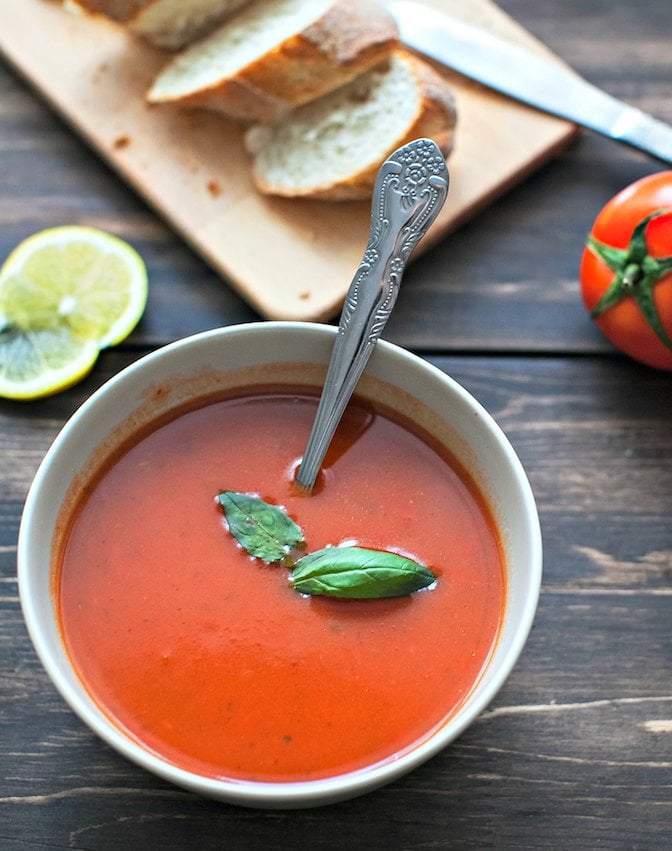 "No one with a dust rag or pan of lasagna will be turned away…"
…the wise words of a friend responding to a group email of family members and well wishers asking when they could come see her new baby.
This sentiment has stayed with me as a reminder of how to be helpful to new parents. And as I've grown to rely on our Instant Pot, I've learned just how easy it is to make a nourishing soup. And there's always plenty to share.
This recipe isn't for lasagna, but this hearty tomato soup is perfect for nourishing a postpartum mother… without the starches that might create uncomfortable bloating or gas in a nursing newborn.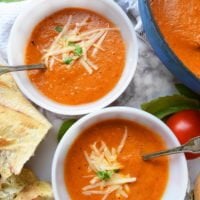 Ingredients
3

lbs

organic tomatoes

chunked

1

large onion

thickly sliced

5

cloves

garlic

peeled and crushed

1/4

cup

fresh basil

roll with your fingers to gently release oils

3

tbsp

olive oil

2

tbsp

salt

1

tbsp

pepper

2

cups

chicken broth, bone broth, or vegetable broth

coconut milk

or heavy cream (optional)

shredded cheese

(optional)
Instructions
Place tomatoes, garlic, and onions on a baking sheet, drizzle with the olive oil, sprinkle with salt & pepper, and roast at 450 degrees for 25-30 minutes or until the tomatoes look a bit
blistered. Then broil for 5-10 minutes to get a bit of char on the tomatoes.

In a large stock pot, bring the broth to a boil.

Add the tomatoes and fresh basil.

Blend until creamy (a hand immersion blender works well). Optional: stir in 1 cup of coconut milk or heavy creamer for creamier soup.

Top with shredded cheese, croutons, and a swirl of olive oil. 
Refreshing Watermelon Soup
This postpartum recovery soup helps restore lost waters and increase the alkaline levels of the postpartum body. Watermelon is also packed with Vitamins A & C and has powerful natural antioxidants to help support a healthy breastfed baby.
Your friend may request this soup long after the postpartum days are over.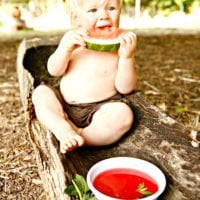 Ingredients
2

pounds

seedless watermelon

cubed

2

tablespoons

fresh mint

chopped

2

tablespoons

fresh squeezed lemon juice

¼

teaspoon

fresh grated ginger

¼

cup

crème fraiche

¼

cup

coconut water

1

cup

mango puree
Instructions
Place watermelon, mint, lemon juice, ginger, crème fraiche, and coconut water in a blender, and puree to a soup-like mixture.

Refrigerate and serve cold with a dollop of mango puree on top and tiny minced fresh mint.
Japanese Miso Soup with Scallions & Mushrooms
A little protein goes a long way. Miso soup is extremely helpful for a new mother regaining her strength and staying hydrated.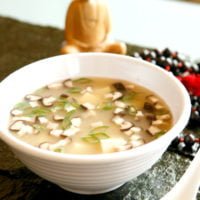 Ingredients
3

cups

dashi soup stock

¾

cup

firm organic tofu

cubed in small bites

3

tablespoons

miso paste

¼

cup

green onions

chopped

¼

cup

shitake mushrooms

chopped

1

teaspoon

dried seaweed

minced (optional)

Splash of low sodium soy sauce or Braggs

your choice
Instructions
Pour the dashi soup stock in a medium size sauce pan on medium heat.

Add in the tofu, onions, mushrooms, and seaweed if you are using it and let simmer for approximately 5 minutes.

Take 1 cup of the soup stock and place in a pan with the miso paste and let it dissolve. Add this mixture back into the soup.

Add a splash of soy sauce or Braggs to taste.

Serve warm.