How to create reassuring routines for school, distance learning, or homeschool
While the details of reopening are still up in the air, 2020 doesn't look like a normal school year. As a parent, when life is unpredictable, one thing you can do to support your child's mental and emotional wellbeing is maintain reassuring routines.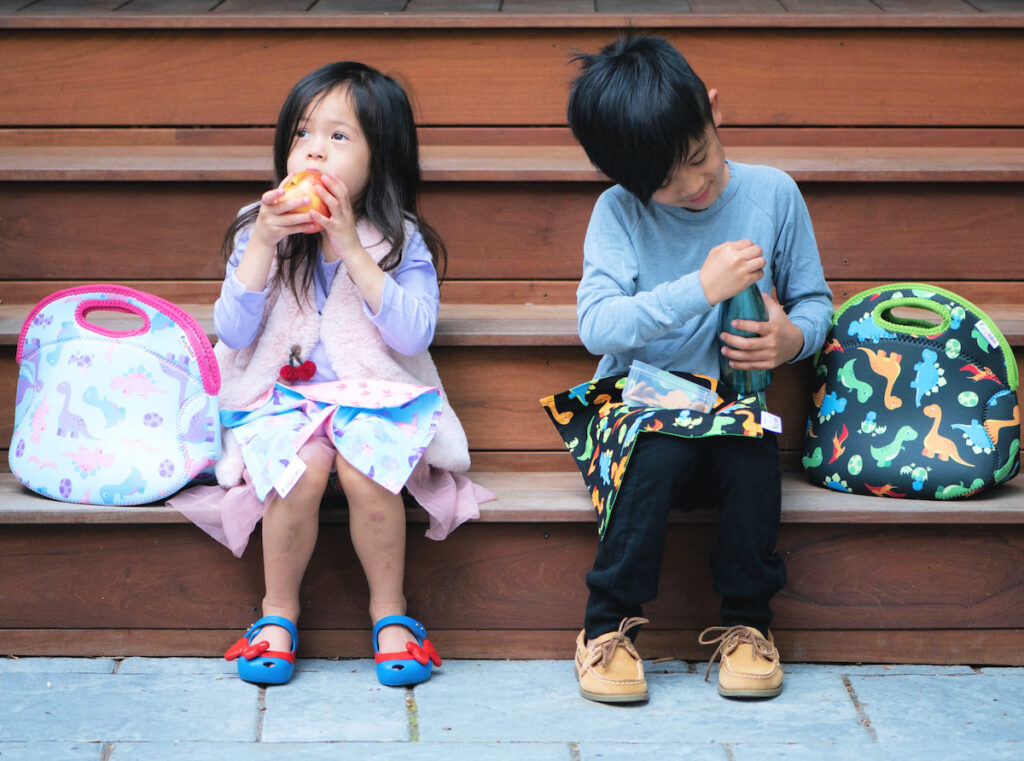 Whether you're homeschooling, distance learning, or sending your child to school in-person, a routine (think fun and healthy lunches from home) can bring your child comfort and nourishment… and give you the feeling that you have control over something.
FOR KIDS ATTENDING SCHOOL IN-PERSON
While your child will probably be happy to be among friends, their days will be vastly different than when they left back in March. They'll have to deal with constant distancing, plexiglass shields, and hand sanitizer… all while they miss seeing the smiles on friends' and teachers' mask-covered faces.
This can be upsetting to young children. We're hoping these ideas will help bring some balance to the new (and we hope temporary) normal.
Acknowledge Your Child's Feelings
Children often take cues about how to react from their parents. Think about what it takes for you to feel calm and prepared (or even excited) for the start of a new school year. That could mean talking with your child's teacher or school about the safety precautions so you can feel more at ease, taking a few minutes to establish a morning routine, or consciously avoiding the news.
Focus on the positive aspects of school, like the opportunity your child will have to learn, make friends, interact with others, and grow into his or her own person.
Talk About What to Expect
Some children may feel ready to go and eager to explore, while others can be more reserved or even fearful of new places, faces and routines. When your child knows what to expect, it can go a long way in soothing any worries he or she may have about leaving home and going to school.
It's also important to respect your child's growing independence and empower them to help others. As you explain the safety precautions your school is taking, you can gently emphasize how your child's actions can help keep family, friends, and teachers safe.
Celebrate the first day of school
Don't let the chaos ruin traditions. School ended so abruptly in March, most kids didn't get the closure they needed. Acknowledging the first day of school can help with your child's adjustment to the new school year.
Take those first day of school pics and share them with the grandparents or on social media. Make your child's favorite meal or get carryout from their favorite restaurant for dinner. Even though this year is different, it's still worth celebrating.
Make a plan for school lunch
Another big difference to this school year will be lunch. We asked our readers about their child's school lunch options. As you can see, their answers are all over the board. (No judgment here toward parents or schools. We know everyone is doing their best to try to keep kids, staff, and family members safe.)
"Our school is serving meals, and kids will eat in the classroom." – Anna B.
"Outdoor seating! ?" – Jen L.
"Ours has to eat what is provided – no outside meals allowed." – Becky L.
"Ours must have packed lunches from home. No school/hot lunch will be provided." – Stacey L.
"I just had a tour of our school today and the plan is grab and go lunch bags. There are 5 spaces for lunch, 4 in addition to the cafeteria." – Stacy K.
If your school will allow a lunch from home, this is a great way to bring some familiarity to your child's day. Here are some fun lunch ideas….
Let your child choose a new lunchbox or bag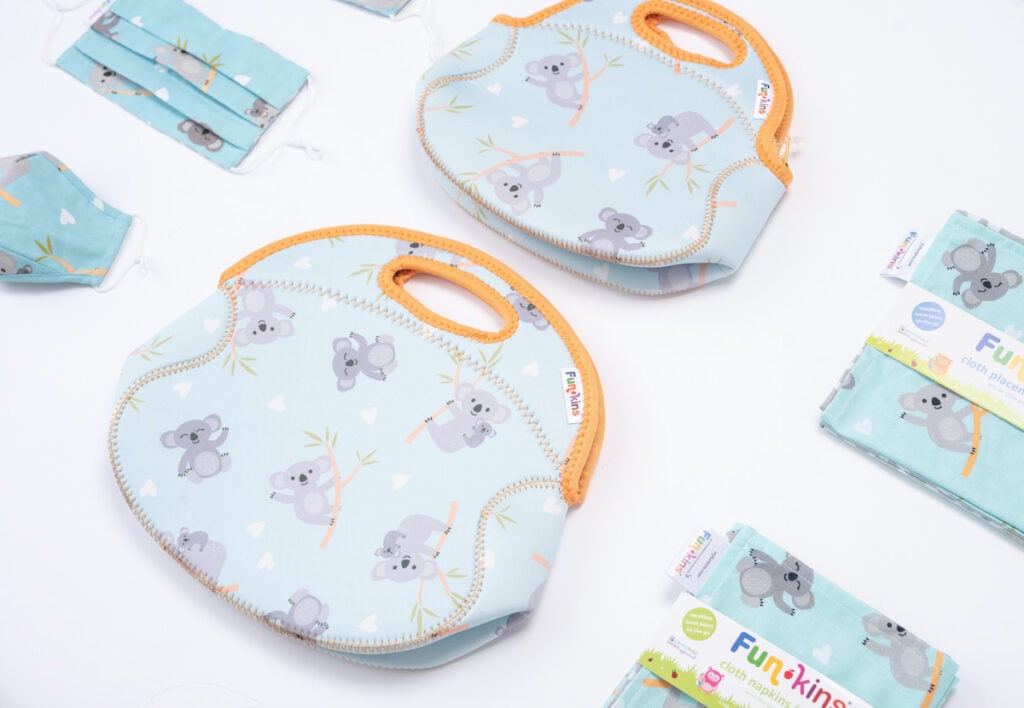 It's been a few decades, but getting a new lunchbox was always our favorite part of back to school shopping. Funkins' lunch bags are safe, non-toxic, lead, phthalate, and PVC free. That plus the fact that they're so bright and colorful put them at the top of our list of school lunch essentials. Our favorites are the koalas, sea turtles, and sharks.
Bringing a cheerful and warm reminder from home can be a big part of these reassuring routines.
Pack a placemat and cloth napkin
Especially when it comes to small children, little reminders of home can go a long way. And if your child has to eat at a regularly sanitized cafeteria table or their desk, you'll want a layer between the chemicals and the food your child is about to eat. Funkins placemats or cloth napkins make an adorable barrier / backdrop for your child's lunch.
Cloth napkins are better for the environment and they'll save you money in the long run by not having to buy paper napkins or paper towels. They last a long time. For five years now, we've tossed our Funkins cloth napkins in the washer with towels. The colors are still vibrant, and the fabric is still soft.
Let your child choose their face mask
We've heard that some schools are requiring standard disposable masks. But if your school allows for cloth masks, this is another ideal opportunity to let your child have a choice. Plus reusable masks really cut down a school's waste.
Here is yet another way Funkins is making parenting during the pandemic a little easier. They offer a variety of face masks for kids and adults, featuring 3-D face design to follow the natural curve of your child's face.
FOR DISTANCE LEARNERS & HOMESCHOOLERS
Parents who are opting for distance learning at least for the Fall term have told us their kids are begging to go back to school to be with their friends.
"It's one of the hardest parenting decisions we've made so far. Our 2nd grader is completely social, so he acts like we're punishing him – making him stay at home while his friends are together at school. We're definitely looking for ways to make it feel more like a fun, temporary experience than a punishment."
Some of the suggestions above will totally apply to your distance learners or homeschoolers. Of course, you'll want to celebrate the first day of school. And it can be really fun to let your child pack their own food or snacks in an adorable new lunch bag and enjoy a change of scenery with a picnic in the yard or nearby park.
Consider the structure of your day
Some schools have offered distance learning for the first nine weeks, with the option of returning to school. If that's the option you choose, you'll want to structure your day similarly to the school's schedule. This will help them get acclimated back into the classroom more easily if/when it's time to go back.
Education consultant Paula Bordenkecher explains that the goal of distance learning is not to recreate the traditional school setting, but rather to provide an experience that engages your child and fosters reflection and retention of their current knowledge.
Mix in some self-care
Remember to take care of yourself. This isn't easy, and at the very least, you need small pockets of time to yourself. What's currently working for us is a good book (our library does drive up loans), a nature walk (sometimes with, sometimes without kids) or an Epsom salt bath.
No matter what school looks like this year, we hope these ideas for reassuring routines will offer your family an extra boost of comfort.